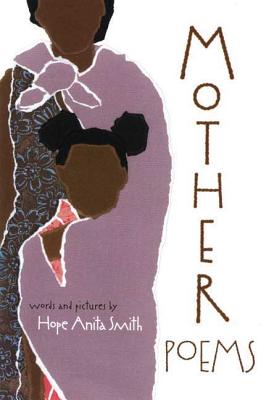 Mother Poems (Hardcover)
Henry Holt & Company, 9780805082319, 72pp.
Publication Date: March 31, 2009
Description
Ayoung girl thinks of her mom as a superhero, a doctor, her North Star. She feels loved in her mother's arms and capable of conquering the world. But when her beloved role model unexpectedly dies, she cannot even cry; sadness is too overwhelming. As she struggles with grief, she must learn how to carry on while keeping the memory of her mother very much alive inside her heart.
In moving poems, Hope Anita Smith explores a personal yet emotionally universal subject: the death of a parent. Through the eyes of a child and then a young woman, these poignant poems, together with stunning folk-art images, powerfully capture the complicated feelings of someone who shows great hope, strength, and will to overcome.
About the Author
HOPE ANITA SMITH is the author of the award-winning books The Way a Door Closes and Keeping the Night Watch. A professional storyteller and in-school poet, Hope teaches poetry-writing workshops to all grade levels. She lives in Los Angeles, California.
Praise For Mother Poems…
Praise for MOTHER POEMS: "Illustrations in torn-paper collage of a small girl, then a grown teenager, accompany the affecting poems on Smith's latest collection.  Scenes of intimacy with a mother, fixing hair or soothing sadness…give way to stark grief when the mother suddenly dies.  Smith makes simple drama out of the void she leaves …and of the daughter's acceptance of life with others she learns to love, while not forgetting."—New York Times Book Review
"Smith's (Keeping the Night Watch) deeply personal collection of poems, accompanied by free-form collages, forms a distinct narrative arc, with early poems striking an easy tone…But after the mother's death, the poems draw on complex emotions and memories that lead, eventually, to rejuvenation."—Publishers Weekly
"The collection has a depth in character growth that lingers and brings readers back to savor moments again and again."—School Library Journal
"In this touching sequence of poems, a girl speaks of her relationship with her mother...its literality rings true as the expression of a preteen girl, and the unapologetic sentimentality will touch readers. Each poem imbues the everyday with a luminous sheen of loss, anger, and grief walking the girl through periods of bargaining, sadness, and ache to acceptance and loving memory. Textured paper torn and shaped into faceless figures forms iconic representations of love and longing, adding mute eloquence to an already moving exploration of growing up with and through loss of the one who holds your heart.  Encourage patrons to read this in private, where tears can flow freely."—BCCB
"With the same lyrical simplicity as in Keeping the Night Watch (2008), Smith writes about an African American child's grief at the sudden death of her mother… Like the poetry, Smith's simple, torn-paper collages in a folk-art style show the close embraces and vignettes without overwhelming the words."—Booklist
"The raw emotion contained in these poems is undeniably visceral...The author supplies her own visual accompaniment, lovely torn-paper collages..."—Kirkus
"This book of poetry...accomplishes the difficult task of taking readers from the banal to the extraordinary...Teens of all ages who have experienced the loss of a loved one will find comfort in this powerful and affecting book of poetry.  The raw emotions sting and make the reader flinch, but they also bring the realization that memory is ultimately the gift that brings consolation."—VOYA
Advertisement