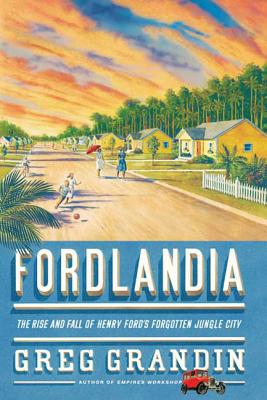 Fordlandia (Hardcover)
The Rise and Fall of Henry Ford's Forgotten Jungle City
Metropolitan Books, 9780805082364, 432pp.
Publication Date: June 9, 2009
Other Editions of This Title:
Digital Audiobook (6/10/2010)
Paperback (4/27/2010)
* Individual store prices may vary.
Description
The stunning, never before told story of the quixotic attempt to recreate small-town America in the heart of the Amazon
In 1927, Henry Ford, the richest man in the world, bought a tract of land twice the size of Delaware in the Brazilian Amazon. His intention was to grow rubber, but the project rapidly evolved into a more ambitious bid to export America itself, along with its golf courses, ice-cream shops, bandstands, indoor plumbing, and Model Ts rolling down broad streets.
Fordlandia, as the settlement was called, quickly became the site of an epic clash. On one side was the car magnate, lean, austere, the man who reduced industrial production to its simplest motions; on the other, the Amazon, lush, extravagant, the most complex ecological system on the planet. Ford's early success in imposing time clocks and square dances on the jungle soon collapsed, as indigenous workers, rejecting his midwestern Puritanism, turned the place into a ribald tropical boomtown. Fordlandia's eventual demise as a rubber plantation foreshadowed the practices that today are laying waste to the rain forest.
More than a parable of one man's arrogant attempt to force his will on the natural world, Fordlandia depicts a desperate quest to salvage the bygone America that the Ford factory system did much to dispatch. As Greg Grandin shows in this gripping and mordantly observed history, Ford's great delusion was not that the Amazon could be tamed but that the forces of capitalism, once released, might yet be contained.
Fordlandia is a 2009 National Book Award Finalist for Nonfiction.
About the Author
Greg Grandin is the author of The Empire of Necessity; Fordlandia, which was a finalist for the Pulitzer Prize and the National Book Award; as well as Empire's Workshop and The Blood of Guatemala. A professor of history at New York University and a recipient of fellowships from the Guggenheim Foundation and the New York Public Library, Grandin has served on the UN Truth Commission investigating the Guatemalan Civil War and has written for the Los Angeles Times, The Nation, & The New York Times.
Praise For Fordlandia: The Rise and Fall of Henry Ford's Forgotten Jungle City…
"Historian Greg Grandin has taken what heretofore seemed just such a marginal event. . . and turned it into a fascinating historical narrative that illuminates the auto industry's contemporary crisis, the problems of globalization and the contradictions of contemporary consumerism. For all of that, this is not, however, history freighted with political pedantry. Grandin is one of blessedly expanding group of gifted American historians who assume that whatever moral the story of the past may yield, it must be a story well told. . . Fordlandia is precisely that--a genuinely readable history recounted with a novelist's sense of pace and an eye for character. It's a significant contribution to our understanding of ourselves and engrossingly enjoyable." —Timothy Rutten, The Los Angeles Times
"Haunting. . . Joseph Conrad's Heart of Darkness resonates through every page of this book." —The New York Times Book Review
"Grandin, a distinguished historian of U.S. misadventures in Latin America, offers a fluently written, fair-minded guide to the Ford Motor Co.'s jungle escapades. In addition to his research in company records, he has ransacked the many Ford biographies to assemble a telling portrait of his central character." —Brian Ladd, San Francisco Chronicle
"Grandin offers the thoroughly remarkable story of Henry Ford's attempt, from the 1920s through 1945, to transform part of Brazil's Amazon River basin into a rubber plantation and eponymous American-style company town: Fordlandia. Grandin has found a fascinating vehicle to illuminate the many contradictions of Henry Ford. . . Readers may find it a cautionary tale for the 21st century." —Publishers Weekly, starred review
"Excellent history. . . Fordlandia is keenly and emotionally observed and a potent record of the last hundred years of economic thinking and U.S./South American relations in the form of a blunt blow to the head." —M.E. Collins, The Chicago Sun-Times
"Written with a flair and deftness that one might expect to find in a well-crafted novel. . . he brings to life the rogues and cranks who animate this tale. . . Excellent." —The American Conservative
"Fordlandia was, ultimately, the classic American parable of a failed Utopia, of soft dreams running aground on a hard world—which tends to make the most compelling tale of all. It's such an engrossing story that one wonders why it has never been told before in book-length form. Grandin takes full command of a complicated narrative with numerous threads, and the story spills out in precisely the right tone—about midway between Joseph Conrad and Evelyn Waugh." —The American Scholar
"An engaging and passionately written history. . . Grandin is alert to the tragedy and the unexpected moments of comedy in the story, which is at times reminiscent of both Joseph Conrad's Heart of Darkness and Mark Twain's The Adventures of Huckleberry Finn." —Paul Maliszewski, Wilson Quarterly
"Defines the old cliché that the truth is stranger than fiction. . . It is a masterful portrayal of capitalism and social paternalism unleashed to disastrous effect." —Nancy Bass Wyden, The Daily Beast
"Grandin's account is an epic tale of a clash between cultures, values, men, and nature." —David Siegfried, Booklist
"Stranger than fiction but with power of a first-rate novel to probe for the deepest truths, Fordlandia is an extraordinary story of American hubris. Out of the Amazon jungle, Greg Grandin brings us an unforgettable tale about the tragic limitations of a capitalist utopia." —Steve Fraser, author of Wall Street: America's Dream Palace
"Greg Grandin's Fordlandia brings to light a fascinating but little known episode in the long history of Henry Ford and the Ford Motor Company. The auto magnate's experiment with a vast rubber plantation in the Brazilian jungle involved not only economic and ecological issues of the greatest importance, but a cultural crusade to export the American Way of Life. Grandin's penetrating, provocative analysis raises important questions about the complex impulses driving the global expansion of modern capitalism." —Steven Watts, author of The Peoples Tycoon: Henry Ford and the American Century
"Grandin places the Ford story within in a much broader social history of Amazonia, and rather than a saga of some novelty or the vanity of the rich, makes the resistance and the failure part of a larger Amazonian history rather than just the exotic ambitions of a man with too much money." —Susanna Hecht, Professor, School of Public Affairs and Institute of the Environment and co-author of Defenders of the Forest
"As a reader, I was fascinated by this account of Henry Ford's short-lived rainforest Utopia, complete with golf course and square dances. As a writer, I envy Greg Grandin for finding such an intriguing subject--whose decline and fall has an eerie resonance at our own historical moment today." —Adam Hochschild, author of King Leopold's Ghost
"Magic happens when a gifted historian and master storyteller finds a treasure trove of untapped materials to exploit. And Greg Grandin's book on Fordlandia is simply magical. Here is the truly epic tale of American adventurers dispatched by Henry Ford in 1928 to conquer and civilize the Amazon by constructing an industrial/agricultural utopia the size of Tennessee. Among the dozens of reasons I will be recommending Fordlandia to friends, family, colleagues, and students is the scale and pace of the narrative, the remarkable cast of characters, the brilliantly detailed descriptions of the Brazilian jungle, and what may be the best portrait we have of Henry Ford in his final years as he struggles to recapture control of the mighty forces he has unleashed." —David Nasaw, the Arthur M. Schlesinger, Jr. Professor of History at the CUNY Graduate Center and author of Andrew Carnegie
Coverage from NPR
or
Not Currently Available for Direct Purchase