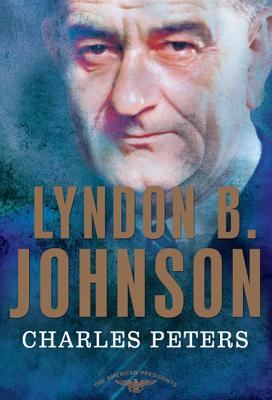 Lyndon B. Johnson
The American Presidents Series: The 36th President, 1963-1969
Hardcover

* Individual store prices may vary.
Description
The towering figure who sought to transform America into a "Great Society" but whose ambitions and presidency collapsed in the tragedy of the Vietnam War
Few figures in American history are as compelling and complex as Lyndon Baines Johnson, who established himself as the master of the U.S. Senate in the 1950s and succeeded John F. Kennedy in the White House after Kennedy's assassination on November 22, 1963.
Charles Peters, a keen observer of Washington politics for more than five decades, tells the story of Johnson's presidency as the tale of an immensely talented politician driven by ambition and desire. As part of the Kennedy-Johnson administration from 1961 to 1968, Peters knew key players, including Johnson's aides, giving him inside knowledge of the legislative wizardry that led to historic triumphs like the Voting Rights Act and the personal insecurities that led to the tragedy of Vietnam.
Peters's experiences have given him unique insight into the poisonous rivalry between Johnson and Robert F. Kennedy, showing how their misunderstanding of each other exacerbated Johnson's self-doubt and led him into the morass of Vietnam, which crippled his presidency and finally drove this larger-than-life man from the office that was his lifelong ambition.
Praise For Lyndon B. Johnson: The American Presidents Series: The 36th President, 1963-1969…
"This book is a rare gem of cogency and insight by one of America's most original thinkers on politics and government. In one slender volume, Charles Peters captures every relevant part of LBJ's life, breaks important new ground with fresh reporting, and offers peerless historical context. It's hard to believe for a book so short, but this is the finest one-volume biography of Lyndon Johnson yet written." —Jonathan Alter, author of The Promise: President Obama, Year One and The Defining Moment: FDR's Hundred Days and the Triumph of Hope
"Tired of waiting for Robert Caro to wrap up his mammoth, multivolume biography of Lyndon Johnson? If so, Charles Peters's sleek little number on the 36th president may ease your restlessness. Peters knows this material both as an insider . . . and as a longtime observer." —The Washington Post Book World
"A trim, astute portrait… Peters shrewdly assesses Johnson's legislative tactics and political manipulations, his idealism and staggering energies, his crudeness and cruelties." —The Atlantic
"The latest in the well-received American Presidents Series . . . Peters offers a nuanced portrait of Johnson's shocking ascension to the presidency in the wake of JFK's assassination--and explains how both LBJ aides and Kennedy aides became more spiteful and suspicious of one another." —The Christian Science Monitor
"This slim volume . . . will remind members of that generation what a fascinating figure Johnson was in his day and the extent to which his policies helped shape today's United States." —Dallas Morning News
"Charles Peters, who actually worked in the Johnson administration, insightfully and accessibly explores both Johnson the man and his political contradictions. . . . [An] outstanding biography." —Minneapolis Star Tribune
"[A] slim yet perceptive biography. . . . Mr. Peters, a veteran political operative who worked for President Kennedy, and founded the Washington Monthly, is admirably qualified to tell the story of Johnson and he does so with a measure of balance that most chroniclers of the Texan rarely achieve." —The Washington Times
Times Books, 9780805082395, 224pp.
Publication Date: June 8, 2010
About the Author
Charles Peters is the author of Five Days in Philadelphia and How Washington Really Works, among other books. He is the founder of The Washington Monthly, that he edited for thirty-two years, following a career in politics and government which included serving in the West Virginia legislature, working on John F. Kennedy's 1960 campaign, and helping to launch the Peace Corps. He lives in Washington, D.C.

Arthur M. Schlesinger, Jr., (1917-2007) was the preeminent political historian of our time. For more than half a century, he was a cornerstone figure in the intellectual life of the nation and a fixture on the political scene. He won two Pulitzer prizes for The Age of Jackson (1946) and A Thousand Days (1966), and in 1988 received the National Humanities Medal. He published the first volume of his autobiography, A Life in the Twentieth Century, in 2000.

Sean Wilentz, a professor of history at Princeton University, is the author or editor of several books, including Chants Democratic and The Rise of American Democracy. He has also written for The New York Times, the Los Angeles Times, The New Republic, and other publications. He lives in Princeton, New Jersey.