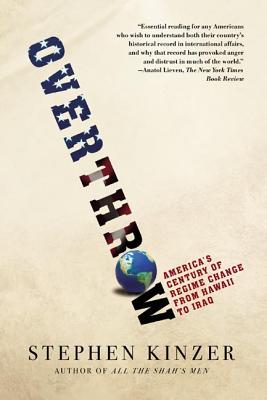 Overthrow (Paperback)
America's Century of Regime Change from Hawaii to Iraq
Times Books, 9780805082401, 416pp.
Publication Date: February 6, 2007
Other Editions of This Title:
MP3 CD (5/29/2006)
Hardcover (4/4/2006)
Pre-Recorded Audio Player (11/1/2008)
Compact Disc (5/29/2006)
Compact Disc (5/29/2006)
* Individual store prices may vary.
Description
A fast-paced narrative history of the coups, revolutions, and invasions by which the United States has toppled fourteen foreign governments -- not always to its own benefit
"Regime change" did not begin with the administration of George W. Bush, but has been an integral part of U.S. foreign policy for more than one hundred years. Starting with the overthrow of the Hawaiian monarchy in 1893 and continuing through the Spanish-American War and the Cold War and into our own time, the United States has not hesitated to overthrow governments that stood in the way of its political and economic goals. The invasion of Iraq in 2003 is the latest, though perhaps not the last, example of the dangers inherent in these operations.
In Overthrow, Stephen Kinzer tells the stories of the audacious politicians, spies, military commanders, and business executives who took it upon themselves to depose monarchs, presidents, and prime ministers. He also shows that the U.S. government has often pursued these operations without understanding the countries involved; as a result, many of them have had disastrous long-term consequences.
In a compelling and provocative history that takes readers to fourteen countries, including Cuba, Iran, South Vietnam, Chile, and Iraq, Kinzer surveys modern American history from a new and often surprising perspective.
"Detailed, passionate and convincing . . . [with] the pace and grip of a good thriller." -- Anatol Lieven, The New York Times Book Review
About the Author
Stephen Kinzer is the author of many books, including The True Flag, The Brothers, Overthrow, and All the Shah's Men. An award-winning foreign correspondent, he served as the New York Times bureau chief in Nicaragua, Germany, and Turkey. He is a senior fellow at the Watson Institute for International and Public Affairs at Brown University, and writes a world affairs column for the Boston Globe. He lives in Boston.
Praise For Overthrow: America's Century of Regime Change from Hawaii to Iraq…
"Citizens concerned about foreign affairs must read this book. Stephen Kinzer's crisp and thoughtful Overthrow undermines the myth of national innocence. Quite the contrary: history shows the United States as an interventionist busybody directed at regime change. We deposed fourteen foreign governments in hardly more than a century, some for good reasons, more for bad reasons, with most dubious long-term consequences." —Arthur M. Schlesinger, Jr.
"Stephen Kinzer has a grim message for those critics of the Iraqi war who believe George W. Bush to be America's most misguided, uninformed, and reckless president. Bush has had plenty of company in the past century—presidents who believe that America, as Kinzer tells us, has the right to wage war wherever it deems war necessary." —Seymour M. Hersh
"Stephen Kinzer's book is a jewel. After reading Overthrow, no American -- not even President Bush -- should any longer wonder 'why they hate us.' Overthrow is a narrative of all the times we've overthrown a foreign government in order to put in power puppets that are obedient to us. It is a tale of imperialism American-style, usually in the service of corporate interests, and as Kinzer points out, 'No nation in modern history has done this so often, in so many places so far from its own shores.' " —Chalmers Johnson