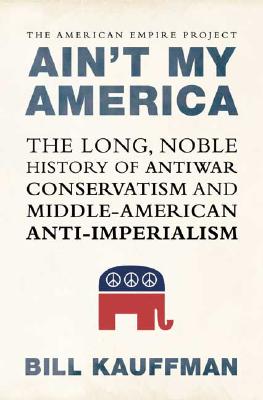 Ain't My America
The Long, Noble History of Antiwar Conservatism and Middle-American Anti-Imperialism
Hardcover

* Individual store prices may vary.
Description
From "the finest literary stylist of the American right," a surprising and spirited account of how true conservatives have always been antiwar and anti-empire (Allan Carlson, author of "The American Way") Conservatives love war, empire, and the military-industrial complex. They abhor peace, the sole and rightful property of liberals. Right? Wrong.
As Bill Kauffman makes clear, true conservatives have always resisted the imperial and military impulse: it drains the treasury, curtails domestic liberties, breaks down families, and vulgarizes culture. From the Federalists who opposed the War of 1812, to the striving of Robert Taft (known as "Mr. Republican") to keep the United States out of Korea, to the latter-day libertarian critics of the Iraq war, there has historically been nothing freakish, cowardly, or even unusual about antiwar activists on the political right. And while these critics of U.S. military crusades have been vilified by the party of George W. Bush, their conservative vision of a peaceful, decentralized, and noninterventionist America gives us a glimpse of the country we could have had--and might yet attain.
Passionate and witty, "Ain't My America "is an eye-opening exploration of the forgotten history of right-wing peace movements--and a clarion manifesto for antiwar conservatives of today.
Praise For Ain't My America: The Long, Noble History of Antiwar Conservatism and Middle-American Anti-Imperialism…
"Here begins the effort to restore a principled conservatism after the havoc wreaked by George W. Bush. Bill Kauffman is a terrific writer and Ain't My America is a terrific—and essential—book."—Andrew J. Bacevich, author of The New American Militarism
"This is my kind of book: historically grounded, fiercely honest, and wonderfully expressed. It is one of the best books I've read in years. Bill Kauffman is a conservative of the highest order, unlike the false brand now conducting our national affairs."—George McGovern
"You don't have to be a liberal, a progressive, or a socialist to oppose war and imperialism. Bill Kauffman's Ain't My America is a must read for those free-marketers, right wingers and conservatives who want to live in peace with the world. Regardless of your politics, if you are against wars of aggression and would like to try something other than bombing our way out of our problems, you will profit from this lively book."—Nicholas von Hoffman, author of Hoax: Why Americans are Suckered by White House Lies
"For those who have been neoconned into believing that conservatism means unquestioned support for the warfare state, Ain't My America is the perfect way to show that real conservatives defend peace and liberty."—Ron Paul
Metropolitan Books, 9780805082449, 304pp.
Publication Date: April 15, 2008
About the Author
Bill Kauffman is the author of six books, most recently "Look Homeward America "(named one of the best books of 2006 by the American Library Association) and "America First." ("Dispatches from the Muckdog Gazette," 2004, is available from Picador in paperback.) Kauffman has written for "The Wall Street Journal," the "Los Angeles Times," and "The American Conservative," among other publications. He lives in upstate New York with his family.
or
Not Currently Available for Direct Purchase