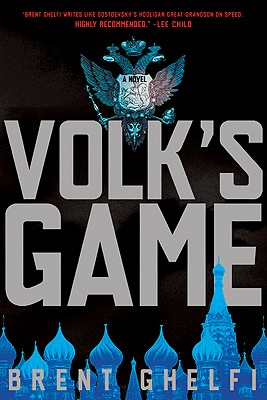 Volk's Game (Hardcover)
Henry Holt and Co., 9780805082548, 320pp.
Publication Date: June 12, 2007
* Individual store prices may vary.
or
Not Currently Available for Direct Purchase
Description
The explosive debut introducing Russian gangster Alexei Volkovoy—not since Robert Ludlum's Jason Bourne has a hero shifted so effortlessly between hunter and hunted
A firefight reverberates through Moscow's dark, rain-soaked streets; shattered glass and screams echo in the air. In the lawless ways of Russia's capital city, the gunmen melt away into the night. Two men are dead, the targets not what they seem.
A shadowy figure lopes along the riverbank outside the Kremlin walls. Known to all as Volk, a battle-hardened veteran of Russia's brutal war in Chechnya, he prowls Moscow's grim alleyways, a knife concealed in his prosthetic foot at all times.
As both a major player in the black market and a covert agent for the Russian military, Volk serves two masters: Maxim, a psychotic Azeri mafia kingpin with hordes of loyal informers; and a man known only as the General, to whom Volk is mysteriously indebted. By his side is Valya, an exotic beauty charged with protecting her lover from his unsavory associates. Valya is the most dangerous weapon in Volk's arsenal.
Together they are commissioned to steal a long-lost da Vinci painting called Leda and the Swan from St. Petersburg's Hermitage Museum. Leda's ethereal radiance is undeniably captivating and incalculably dangerous. Volk must choose which powerful man he will betray in order to escape with the painting—and with his life.
With the high-octane rush and vivid intensity of a feature film, Volk's Game delivers at every turn, announcing Alexei Volkovoy as the boldest hero of a new generation.
About the Author
Brent Ghelfi has served as a clerk on the U.S. Court of Appeals, been a partner in a Phoenix-headquartered law firm, and now owns and operates several businesses. He has traveled extensively throughout Russia, and lives in Phoenix with his wife, a former prosecutor, and their two sons. "Volk's Shadow" is due out in July 2008, and Brent is currently working on the third book in the series.
Praise For Volk's Game…
"Brent Ghelfi writes like Dostoevsky's hooligan great-grandson on speed. Volk's Game is hard, fast, and a truly excellent debut. Highly recommended."—Lee Child, New York Times bestselling author of The Hard Way
"Volk's Game is no ordinary thriller: it's a 500-horsepower Mercedes blasting through the Moscow night. Alexei Volkovoy is the most original thriller character to come down the Russian pike since Arkady Renko, yet he inhabits a Russia that Renko might have difficulty surviving. Volk moves through this frenetically paced novel like an avenging angel in the employ of both God and Satan. Brent Ghelfi's insights are rapier-sharp, and his prose seems to illuminate the page. Be glad, because you'll be finishing this novel at four a.m. I'm ready to read the next installment NOW."—Greg Iles, New York Times bestselling author of Turning Angel
"Everything we look for when we read – freshness of setting, intriguing characters, vivid prose, new understandings – is well and truly here. Brent Ghelfi may not know Vincente Huidobro's work, but in his own he does exactly what that poet counseled: Invent new worlds, and be careful what you say."—James Sallis, author of Drive
"Hypnotically suspenseful and ballistic paced, Volk's Game by Brent Ghelfi is a fascinating journey into the dark world of international intrigue. From a plot full of surprises to crackling dialogue and often lyrical prose, this masterful debut novel belongs on every thriller-lover's bookshelf."—Gayle Lynds, New York Times bestselling author of The Last Spymaster
"It's rare to find a thriller this fast paced and breathlessly dangerous that is also beautifully written. Ghelfi hits as hard as his hero Volk. Like staring down the barrel of a Sig-Sauer, you can't look away from Volk's Game."—David L. Robbins, author of The Assassin's Gallery
"Moving at breakneck speed through Moscow, St. Petersburg and Manhattan, leaving a slippery trail of body parts and exploded vehicles, Ghelfi handles the conventions of his genre like a pro. The violent derring-do is anchored in a portrait of contemporary Russian that is compelling and brutal on its own terms."—Newsday
"Stunning and brilliant.... Ghelfi's prose is like a dark drug that pulls you further under its spell with each taste, so that by the end of the book, the reader is exhausted and, though satiated, ready and frantic for more."—Bookreporter.com
"I have to give it up to Ghelfi for carving out a singular voice for his broken hero…[Volk] has enough heart and steel to become something really special."—Bookslut
"This is a novel that could appeal to two audiences. At a visceral level, it will please readers, mostly men, who get off on guns, war and extreme violence. At a more elevated it could impress others with the excellence of its storytelling."—Patrick Anderson, Washington Post
"Impressive debut . . . the twists and turns accumulate at an almost dizzying pace . . . This thriller could mark the start of a successful long-running series."—Publishers Weekly
Advertisement