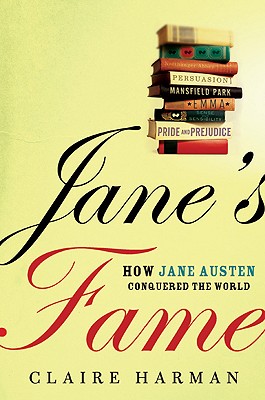 Jane's Fame
How Jane Austen Conquered the World
Hardcover

* Individual store prices may vary.
Other Editions of This Title:
Paperback (2/1/2011)
Compact Disc (4/19/2010)
MP3 CD (4/19/2010)
Compact Disc (4/19/2010)
Paperback (3/4/2010)
Compact Disc (4/19/2010)
MP3 CD (4/19/2010)
Description
"Wonderful . . . not only scholarly but indecently entertaining . . . her prose rings with good sense, affection, and humour."—Daily Mail
Mention Jane Austen and you'll likely incite a slew of fervent opinions from anyone within earshot. Regarded as a brilliant social satirist by scholars, Austen also enjoys the sort of popular affection usually reserved for girl-next-door movie stars, leading to the paradox of an academically revered author who has served as the inspiration for chick lit (The Jane Austen Book Club) and modern blockbusters (Becoming Jane). Almost two hundred years after her death, Austen remains a hot topic, and the current flare in the cultural zeitgeist echoes the continuous revival of her works, from the time of original publication through the twentieth century. In Jane's Fame, Claire Harman gives us the complete biography—of both the author and her lasting cultural influence—making this essential reading for anyone interested in Austen's life, works, and remarkably potent fame.
Praise For Jane's Fame: How Jane Austen Conquered the World…
"Harman's shrewd critical study, brimming with Brit wit, freshens up our impression of Austen — an enterprise always hampered by the overarching fact that Austen's life, like Shakespeare's, left behind few biographical fossils, not even a decent portrait to bow down before and worship.... With nimble steps, Harman dances through 200 years' worth of critical reception of Austen's novels, sharing the good, the bad and the brainless.... Harman's informed and elegant chronicle of the rise of 'Divine Jane' (as the late Victorians called her) is an eye-opener. The fact that Austen's posthumous success is also an affirmation of the ideal of a literary meritocracy — the notion that the canonical cream always rises to the top — makes Jane's Fame as happy a fairy tale as any of Austen's own novels."—Maureen Corrigan, NPR's Fresh Air
"Harman's book ... presents the story of Austen's self-fashioning and later popularity in a convincing, enjoyable way. Harman describes Austen's reputation from her own lifetime to the current era of Jane Austen Inc., synthesizing a good deal of scholarship into a series of tidy chapters offering an accessible guide to the evolution of her subject's renown."—Sophie Gee, The New York Times Book Review
"There is much to divert and please in Claire Harman's well-blended biography and cultural commentary, Jane's Fame: How Jane Austen Conquered the World. Harman, an award-winning biographer, turns her sharp scholarly eye, acutely sensible prose and considerable wit on the life of the 'divine Jane' in this gem of a book, tracing Austen's early years and literary pursuits through to the present-day cult of Austenmania.... This biography-history fills in many blanks, brimming with entertaining anecdotes and quotes, robust scholarship and ironic humor."—Alison Hood, BookPage
"A must for Austen bibliophiles."—Kirkus Reviews
"[A] sharp and scholarly analysis of Jane Austen's life and the posthumous exploitation of her.... Harman herself delights with this comprehensive catalogue of Austen-mania."—PW, Starred Review
"Though her focus is on the stories others have told of Austen, Harman has her own story to tell, too. Harman's Austen is neither sweet nor retiring, but a fire poker—a metaphor evoked by her bearing and manner, according to a contemporary visiting her household. Think tall, strong. and 'formidable,' not small and sweet."—Elizabeth Toohey, The Christian Science Monitor
"Harman conjures a blooming portrait of the brilliant, modest nineteenth-century author who wrote her masterpieces on small, easily concealed sheafs of paper in the busy family sitting room."—Elle Magazine
"Anyone who thinks that an author shouldn't have a rest from time to time should read Claire Harman's Jane's Fame, about the evolution of Jane Austen's career from about 1802, when, at the age of 27, she sold her first manuscript (of Northanger Abbey, never published in her lifetime) for £10, to now. The common misconception about Austen, according to Harman, is that she was reclusive and indifferent to her own concerns, including the reception of her books, but Harman makes a convincing case that she was neither as indifferent nor as obscure as we have been led to believe."—Jane Smiley, Globe and Mail
"Wonderful… Not only scholarly, but indecently entertaining.... Her prose rings with good sense, affection and humour."—Daily Mail
"Rich, incisive."—Sunday Times
"An exhilarating look at the rise of Divine Jane's worldwide influence. Harman charts its course with wit and style, as well as scholarly precision, making this a book that no Austen addict will want to resist."—Literary Review
"Fascinating and sophisticated... a sparkling addition to the canon."—Evening Standard
"Splendid… Harman is the first to treat this fascinating subject in an accessible, lively manner unshackled by academic jargon."—Sunday Telegraph
"Deft, elegant… a happy blend of critical insight and narrative bounce."—Kathryn Hughes, Guardian
"Pleasingly unstuffy."—Times
"Beautifully researched, fascinating."—The Scotsman
"A fascinating compendium of absolutely everything relating to Austen.... Extraordinary."—Independent on Sunday
"Harman unpicks the cultural and sexual fantasies at the heart of Jane fandom with great skill.… The material [she] has deftly put together makes two things strikingly apparent: no reading of Jane, however seemingly wayward, is a misreading; and Austen's major effect is to inspire good writing."—Daily Telegraph
"Harman's narrative is brisk and incisive, and her emphases distinctive and provocative. She invites us to conceive of Austen both as a dedicated writer and also a 'hard-nosed' one…We never tire of reading or writing about Austen, and all the ever-ramifying epiphenomena she generates do deliver real pleasure. Jane's Fame both chronicles and exemplifies this tirelessness, and readers will take pleasure in it accordingly."—Times Literary Supplement
Henry Holt and Co., 9780805082586, 304pp.
Publication Date: March 2, 2010
About the Author
Claire Harman is the author of "Sylvia Townsend Warner," which won the John Llewellyn Rhys Prize; "Fanny Burney," which was short-listed for the Whitbread Prize, and the critically acclaimed "Robert Louis Stevenson." Elected a Fellow of the Royal Society of Literature in 2006, Harman teaches at the universities of Manchester and Oxford in England and Columbia University in New York City.
Coverage from NPR
or
Not Currently Available for Direct Purchase