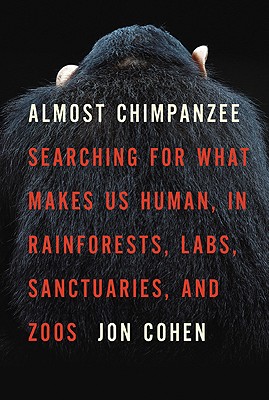 Almost Chimpanzee
Searching for What Makes Us Human, in Rainforests, Labs, Sanctuaries, and Zoos
Hardcover

* Individual store prices may vary.
Other Editions of This Title:
Paperback (12/20/2011)
Description
The captivating story of how a band of scientists has redrawn the genetic and behavioral lines that separate humans from our nearest cousins
In the fall of 2005, a band of researchers cracked the code of the chimpanzee genome and provided a startling new window into the differences between humans and our closest primate cousins. For the past several years, acclaimed Science reporter Jon Cohen has been following the DNA hunt, as well as eye-opening new studies in ape communication, human evolution, disease, diet, and more.
In Almost Chimpanzee, Cohen invites us on a captivating scientific journey, taking us behind the scenes in cutting-edge genetics labs, rain forests in Uganda, sanctuaries in Iowa, experimental enclaves in Japan, even the Detroit Zoo. Along the way, he ferries fresh chimp sperm for a time-sensitive analysis, gets greeted by pant-hoots and chimp feces, and investigates an audacious attempt to breed a humanzee. Cohen offers a fresh and often frankly humorous insider's tour of the latest research, which promises to lead to everything from insights about the unique ways our bodies work to shedding light on stubborn human-only problems, ranging from infertility and asthma to speech disorders.
And in the end, Cohen explains why it's time to move on from Jane Goodall's plea that we focus on how the two species are alike and turns to examining why our differences matter in vital ways—for understanding humans and for increasing the chances to save the endangered chimpanzee.
Praise For Almost Chimpanzee: Searching for What Makes Us Human, in Rainforests, Labs, Sanctuaries, and Zoos…
"[An] engrossing new book . . . like something out of Beckett, or maybe the Marx Brothers . . . deeply skeptical."—Jennifer Schuessler, The New York Times

"It has been years, decades really, since researchers worried about idealizing chimpanzees or emphasizing their similarities to ourselves. The shift is largely credited to the fieldwork and educational activism of another pioneering scientist, Jane Goodall. Indeed, as Jon Cohen points out in his gently provocative new book, Almost Chimpanzee, the conservation-minded Goodall deliberately dwelled on people-parallels. 'She believed that a critical mass of humans would most likely come to her cause if they imagined their own hands reaching for the curl of a chimpanzee's finger.' But today, Cohen suggests, it may be time to dwell again on our differences. Chimpanzees are well established as our closest cousins on Earth; some research sets the genetic difference at a mere one percent. On the other hand, even that slight deviation set us on widely divergent evolutionary paths and, in the end, provided only one species with real power over life on Earth. 'Humans will determine the fate of chimpanzees,' Cohen notes. 'Chimpanzees of course will have no say in the fate of humans.' Cohen's book, then, is a meticulous exploration of how both small quirks and large kinks in biology and culture led to such different destinations. He searches for the best evidence of when human and chimpanzee ancestors first separated—usually fixed at about five million years ago—and whether it was a genuinely dramatic break. He mulls over why small genetic variances have such enormous impact, leading him into a wonderfully weird discussion of whether human-chimpanzee hybrids are possible—a notion dubbed 'humanzees' by some researchers . . . [Almost Chimpanzee is] a briskly told, clear-headed survey of research that looks at the innate differences between two closely linked species, never forgetting that one of those species—at least for now—stands as the most successful primate in the planet's history. There's a terrific section on life expectancy built around the evolutionary biology work of University of Utah anthropologist Kristen Hawkes that neatly connects everything from chimpanzee menopause to the role of elderly females in hunter-gatherer societies. And there's a fascinating look at the importance of cooking food, which allowed early humans to spend less energy sleepily digesting their dinners and more, apparently, devising a route to world domination. All of this leads to the ever-troubling question of what comes next. Many scientists working with chimpanzees in labs find their studies restricted or too expensive to maintain over the long term. And many conducting field research wonder how much longer the animals will last as a wild species, because of habitat loss, poaching and the notorious African bush meat trade. One scientist whom Cohen interviewed predicted that within 50 years only captive chimpanzees will be left alive, almost entirely due to the activities of their human cousins."—Deborah Bloom, The Washington Post

"Almost Chimpanzee is an extraordinary journey into a world of great interest but—until now—little understanding. An astute observer and engaging writer on complex issues at the intersection of science and society, Cohen summons his prodigious talents in this examination of chimpanzee research and conservation. For too long, Cohen persuasively argues, chimpanzees have been presented and widely understood as 'almost human,' analogues worthy of attention and protection by virtue of their similarities to us. In this wide-ranging synthesis of genetics, epidemiology, anthropology, history, and the sociology of science, Cohen demonstrates how much we can learn about chimpanzees—and ourselves—by exploring their unique qualities."—Paul Farmer, MD, PhD, Partners In Health, Harvard Medical School

"How human are chimpanzees? Jon Cohen, in his well-written and carefully argued report, provides an up-to-date examination of the question. The bottom line is that we are far from understanding chimp/human relationships, but Almost Chimpanzee is a fascinating look at how investigators are probing the unknowns and searching for definitive answers."—David Baltimore, Nobel Laureate and professor at the California Institute of Technology

"It's often been said that we can look into a chimpanzee's eyes and see ourselves. Well . . . almost. And it's that very big almost that Jon Cohen so tenaciously explores in this extraordinary scientific odyssey. There are important matters at hand here—such as the uniqueness of speech and the origins of bipedalism—but Almost Chimpanzee is far from being a cold analysis. To get at the truth, Cohen clomps through malarial jungles, travels in an RV with a baby orangutan, even handles fresh chimp sperm. The result is world-class science writing that is also a rollicking adventure story—one that takes us to the ends of the earth and to the margins of our species."—Hampton Sides, editor-at-large at Outside magazine and bestselling author of Hellhound On His Trail

"A dazzling look at a field in which no two scientists seem to agree on what makes us either human, animal, or both. Jon Cohen has a gift for bringing this issue to life: he gives our species its due without losing respect for our fellow evolutionary travelers, the apes."—Frans de Waal, author of The Age of Empathy

"Precious animals are rapidly disappearing, victimized by hunters, collectors, and habitat encroachment. Among them, chimpanzees have earned a special place in humanity's imagination because we look in their eyes and see ourselves. Jon Cohen has done a magnificent, masterful job of showing us why chimps are not like humans, yet—or because of the differences—they must be saved, in the wild. Controversial? You bet. But it's high time humanity takes responsibility for both its sins: Killing species with the 'kindness' of making them us and through outright ruthless slaughter."—Laurie Garrett, Pulitzer Prize winner and author of The Coming Plague: Newly Emerging Diseases in a World Out of Balance

"How are we different from chimps? That's the question that Cohen sets out to answer in his absorbing account of current chimpanzee research. Too often, Cohen argues, scientists have focused on the similarity between the two species, when it is in fact an understanding of our differences that can reveal 'what, exactly, it means to be human.' Cohen's survey spans investigations into the chimp genome, brain, and physiognomy, with a fascinating chapter on chimp sex (one captive female chimp was observed 'flipping through Playgirl, sometimes using a vacuum cleaner hose for stimulation') and a colorful portrait of Richard Lynch Garner, a 19th-century adventurer who lived in a cage in a jungle for 112 days, studying and recording chimp and gorilla language. [The book is] replete with surprising theories for the origins of human traits from 'concealed ovulation' to endurance running. One scientist, for instance, believes that humanness derives from the simple fact that our babies, unlike their ape counterparts, can lie flat on their backs, which allows them to gaze into their mothers' eyes."—Publishers Weekly
Times Books, 9780805083071, 384pp.
Publication Date: September 14, 2010
About the Author
Jon Cohen is the author of "Shots in the Dark" and "Coming to Term." He is a correspondent at the internationally renowned Science magazine and has also written for "The Atlantic," "The New Yorker," "The New York Times Magazine," "The Washington Post," "Discover," "Smithsonian," and "Slate." He lives in Cardiff-by-the-Sea, California.
Coverage from NPR
or
Not Currently Available for Direct Purchase