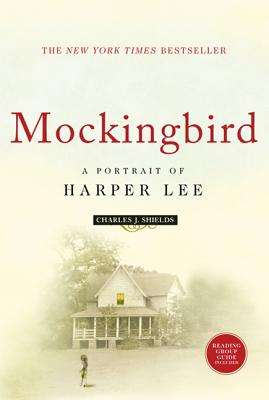 Mockingbird
A Portrait of Harper Lee
Paperback

* Individual store prices may vary.
Description
"A fine, well-rounded portrait of Harper Lee. Mockingbird is good reading."—Star-Tribune (Minneapolis)
To Kill a Mockingbird—the twentieth century's most widely read American novel—has sold thirty million copies and still sells a million yearly. Yet despite her book's perennial popularity, its creator, Harper Lee, has become a somewhat mysterious figure. Now, after years of research, Charles J. Shields brings to life the warmhearted, high-spirited, and occasionally hardheaded woman who gave us two of American literature's most unforgettable characters—Atticus Finch and his daughter, Scout.
At the center of Shields's evocative, lively book is the story of Lee's struggle to create her famous novel, but her colorful life contains many highlights—her girlhood as a tomboy in overalls in tiny Monroeville, Alabama; the murder trial that made her beloved father's reputation and inspired her great work; her journey to Kansas as Truman Capote's ally and research assistant to help report the story of In Cold Blood. Mockingbird—unique, highly entertaining, filled with humor and heart—is a wide-ranging, idiosyncratic portrait of a writer, her dream, and the place and people whom she made immortal.
Praise For Mockingbird: A Portrait of Harper Lee…
"Harper Lee caught the beauty of America with To Kill a Mockingbird, but has remained something of a mystery ever since. Charles J. Shields's portrait of her, Mockingbird, shows us a quietly reclusive, down-to-earth woman with an enormous gift and documents her struggle to live with that gift for the rest of her life. Shields evocation of both the woman and her beautiful, sleepy, and smoldering South are pitch perfect." —Anne River Siddons, author of Sweetwater Creek and other books
"Harper Lee's intense personal privacy sets daunting limitations for a biographer, but Charles Shields has ingeniously recovered the feel of her childhood world of Monroeville, Alabama, and the small-town Southern customs and vivid personalities that shaped her prickly independence. Detailed memories of Lee's classmates and friends are interwoven with dramatic recreations of key events and stories of her friendships and literary collaborations, all fleshing out the general narrative of her development as a novelist. Close attention to her friendship with Truman Capote and the conditions of the writing and then the filming of To Kill a Mockingbird offer special fascination." —Louise Westling, Professor of English, University of Oregon, author of Sacred Groves and Ravaged Gardens: The Fiction of Eudora Welty, Carson McCullers, and Flannery O'Connor
"If there is a great American novel, certainly To Kill a Mockingbird is it. But, for all of us who love it, its author has always been an enigma. Did Harper Lee really write this classic? And if she did, why didn't she ever write another book? And who is Harper Lee, anyway? Finally, a writer has done the necessary research to reveal the surprising answers. To every To Kill a Mockingbird reader, I send this message: The story isn't over. There's so much more to come, and you'll find it all in Charles Shields' delightful and insightful Mockingbird." —Homer Hickam, author of Rocket Boys
Holt Paperbacks, 9780805083194, 352pp.
Publication Date: April 3, 2007
About the Author
Charles J. Shields is the author of And So It Goes: Kurt Vonnegut: A Life, Mockingbird: A Portrait of Harper Lee, the highly acclaimed, bestselling biography of Harper Lee, and I Am Scout: The Biography of Harper Lee (Henry Holt Books for Young Readers). He grew up in the Midwest and taught in a rural school in central Illinois for several years. He has been a reporter for public radio, a journalist, and the author of nonfiction books for young people. He and his wife live near Charlottesville, Virginia.
or
Not Currently Available for Direct Purchase