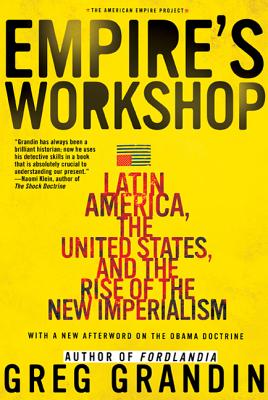 Empire's Workshop
Latin America, the United States, and the Rise of the New Imperialism (American Empire Project)
Paperback

* Individual store prices may vary.
Description
"Grandin has always been a brilliant historian; now he uses his detective skills in a book that is absolutely crucial to understanding our present."—Naomi Klein, author of No Logo

The British and Roman empires are often invoked as precedents to the Bush administration's aggressive foreign policy. But America's imperial identity was actually shaped much closer to home. In a brilliant excavation of long-obscured history, Empire's Workshop shows how Latin America has functioned as a proving ground for American strategies and tactics overseas. Historian Greg Grandin follows the United States' imperial operations from Jefferson's aspirations for an "empire of liberty" in Cuba and Spanish Florida to Reagan's support for brutally oppressive but U.S.-friendly regimes in Central America. He traces the origins of Bush's current policies back to Latin America, where many of the administration's leading lights first embraced the deployment of military power to advance free market economics and enlisted the evangelical movement in support of their ventures.

With much of Latin America now in open rebellion against U.S. domination, Grandin asks: If Washington failed to bring prosperity and democracy to Latin America—its own backyard "workshop"—what are the chances it will do so for the world?
Praise For Empire's Workshop: Latin America, the United States, and the Rise of the New Imperialism (American Empire Project)…
"The western hemisphere is in turmoil, facing severe crises. There could hardly be a more auspicious moment for the appearance of this highly informed updating of Greg Grandin's invaluable insights into Latin America and its troubled relations with the 'colossus of the North.'"
—Noam Chomsky, author of Who Rules the World?

"Only reality could be as captivating and disturbing as Greg Grandin's revelations in this significant update of his classic Empire's Workshop. Latin America, he shows, is the leading, bleeding edge of US foreign policy. Empire's Workshop is truly essential reading."
—Stephen Wertheim, author of Tomorrow, the World: The Birth of U.S. Global Supremacy

"It was in Latin America that the U.S. government first honed its repertoire of imperial domination, often in the service of capital's relentless expansion. As Grandin shows, perhaps the most effective of these weapons is ideological: the steadfast denial that the U.S. is an empire at all."
—Thea Riofrancos, author of Resource Radicals: From Petro-Nationalism to Post-Extractivism in Ecuador

"Provocative and lucid, Grandin examines how the United States has used Latin America as a proving ground for imperial war strategies employed later elsewhere. This important book deserves a wide audience."
—The Washington Post

"Greg Grandin's examination of America's empire in Latin America provides a critical view—squarely opposing any notion that the United States has advanced toleration, the rule of law, or democracy in its imperial realm . . . He addresses empire in terms of its dominated periphery and makes important contributions by presenting imperial and domestic policies as inseparable realms."
—Emily S. Rosenberg, The Chronicle of Higher Education

"With its vivid depiction of neocon militarists, religious evangelicals, and neoliberal economists coming together, Empire's Workshop offers a cogent analysis of how past interventions in Latin America provide the United States with a troubling model for present policy."
—Mother Jones

"Read Empire's Workshop and the whole disastrous Bush adventure in Iraq suddenly appears as the logical continuation of a century of U.S. interventions in that sad laboratory called Latin America."
—Ariel Dorfman, The Guardian

"Insightful and informative."
—San Francisco Chronicle

"Grandin shows how much of Latin America, which today clearly opposes the domination of Washington, questions the ability of this superpower to bring prosperity, stability and democracy to the rest of the world when she was unable to do so in her own backyard."
—Le Monde

"A superb book that clarifies, like few others, the role of Latin America in Washington's grand design and the importance of the current uprising against the empire in Venezuela, Bolivia, and beyond."
—John Pilger, author of The New Rulers of the World

"Grandin is especially good on the odious 'public diplomacy' of Reagan/Bush I/Bush II, a giant step in the degradation of American democracy."
—George Scialabba, The Nation

"In this incisive study, historian Greg Grandin sketches the vexed course of U.S. relations with Latin America . . . This timely book offers an analysis of the ideological foundations of today's foreign policy consensus and a cautionary tale about its dark legacy."
—Publishers Weekly

"If you want to know why the American intervention in Iraq has failed, look at the El Salvador of a quarter-century ago . . . Nixon observed that the U.S. could do what it wanted in Latin America because his compatriots didn't give a damn about the place. Grandin's excellent book makes a good case for caring."
—Kirkus Reviews

"Meticulous . . . Greg Grandin's book is a highly readable and deeply unsettling account of how the strategies, tactics, and diplomacy that the United States government developed to deal with the Central American 'crisis' of the 1980s became the very policies that resulted in the current U.S. involvement in Iraq."
—The American Historical Review

"Grandin convincingly argues that Latin America served as a crucible in which the ingredients of current U.S. foreign policy were first blended . . . Grandin's distinctive contribution lies in documenting Latin America's role as a staging ground for the rise of militaristic idealists within the Republican Party . . . Vivid."
—Global Policy Forum
Holt Paperbacks, 9780805083231, 320pp.
Publication Date: May 1, 2007
About the Author
Greg Grandin is the author of The End of the Myth, which won the Pulitzer Prize, and Fordlandia, a finalist for the Pulitzer Prize, the National Book Award, and the National Book Critics Circle Award. His widely acclaimed books also include The Last Colonial Massacre, Kissinger's Shadow, and The Empire of Necessity, which won the Bancroft and Beveridge awards in American history. He is Peter V. and C. Van Woodward Professor of History at Yale University.
or
Not Currently Available for Direct Purchase