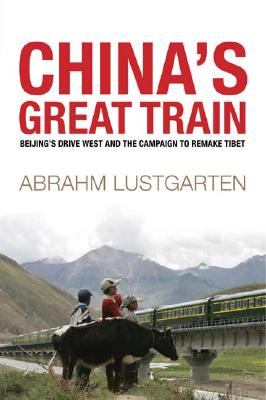 China's Great Train: Beijing's Drive West and the Campaign to Remake Tibet (Hardcover)
Beijing's Drive West and the Campaign to Remake Tibet
Times Books, 9780805083248, 320pp.
Publication Date: May 13, 2008
* Individual store prices may vary.
or
Not Currently Available for Direct Purchase
Description
A vivid account of China's unstoppable quest to build a railway into Tibet, and its obsession to transform its land and its people
In the summer of 2006, the Chinese government fulfilled a fifty-year plan to build a railway into Tibet. Since Mao Zedong first envisioned it, the line had grown into an imperative, a critical component of China's breakneck expansion and the final maneuver in strengthening China's grip over this remote and often mystical frontier, which promised rich resources and geographic supremacy over South Asia.
Through the lives of the Chinese and Tibetans swept up in the project, Fortune magazine writer Abrahm Lustgarten explores the "Wild West" atmosphere of the Chinese economy today. He follows innovative Chinese engineer Zhang Luxin as he makes the train's route over the treacherous mountains and permafrost possible (for now), and the tenacious Tibetan shopkeeper Rinzen, who struggles to hold on to his business in a boomtown that increasingly favors the Han Chinese. As the railway—the highest and steepest in the world—extends to Lhasa, and China's "Go West" campaign delivers waves of rural poor eager to make their fortunes, their lives and communities fundamentally change, sometimes for good, sometimes not.
Lustgarten's book is a timely, provocative, and absorbing first-hand account of the Chinese boom and the promise and costs of rapid development on the country's people.
About the Author
Abrahm Lustgarten is a contributing writer for "Fortune" magazine and the recipient of a MacArthur Foundation grant for international reporting. His articles have appeared in "Esquire," "The New York Times," "Outside," "Sports Illustrated," "National Geographic Adventure," "Salon," and many other publications, and in 2003 he was awarded the Horgan Prize for excellence in science reporting. He splits his time between New York City and Oregon.
Praise For China's Great Train: Beijing's Drive West and the Campaign to Remake Tibet…
"I can't think of any story that better captures the exhilaration and the agony of our pell-mell globalization. China's Great Train is a powerful piece of reporting and of reflection, and it never edges away from the tough questions."—Bill McKibben, author of Deep Economy
"Lustgarten has pulled off something quite extraordinary: by shining a finely-pointed and intimate light on a handful of people directly affected by one of the modern era's greatest engineering feats—or follies—he has rendered a far broader portrait of what happens when two great cultures come into collision. In the process, he not only explores the age-old question of what price progress, but the far more essential question of just how progress might be defined. A must read for anyone who seeks to understand the colossal changes taking place in today's China."—Scott Anderson, author of Moonlight Hotel and The Man Who Tried to Save the World
"China's Great Train is a wonderful account of a project that combined technological ambition, nationalistic and ethnic hubris, and individual determination, cunning, and vision. It is a saga in the spirit of David McCullough's accounts of the building of the Brooklyn Bridge and the Panama Canal —but about a project happening right now. Its implications aren't all positive—about China, Tibet, or the process of modernization—but Abrahm Lustgarten does an admirable job of leading the reader to surprising understandings of all those topics."—James Fallows, author of Blind Into Baghdad and Looking at the Sun
"Lustgarten lifts the rug off the grand national project of the Qinghai-Tibet Railway. His compelling descriptions of bureaucratic struggles and bitter human costs are contrasted with the great Chinese national pride and the heroism of those who tried to solve the problems to make the train work. This is an insider's view and an important contribution to understanding the enigmas of China."—James R. Lilley, author of China Hands and former U.S. ambassador to the People's Republic of China
Advertisement