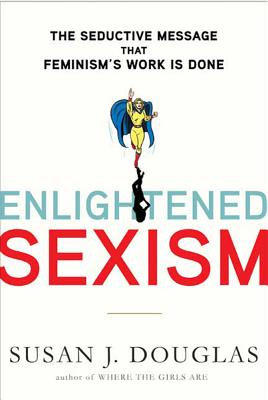 Enlightened Sexism
The Seductive Message That Feminism's Work Is Done
Hardcover

* Individual store prices may vary.
Other Editions of This Title:
Paperback (12/21/2010)
Description
From the author of "Where the Girls Are," a sharp and irreverent critique of how women are portrayed in today's popular culture
Women today are inundated with conflicting messages from the mass media: they must either be strong leaders in complete command or sex kittens obsessed with finding and pleasing a man. In "Enlightened Sexism," Susan J. Douglas, one of America's most entertaining and insightful cultural critics, takes readers on a spirited journey through the television programs, popular songs, movies, and news coverage of recent years, telling a story that is nothing less than the cultural biography of a new generation of American women.
Revisiting cultural touchstones from "Buffy the Vampire Slayer" to "Survivor" to "Desperate Housewives," Douglas uses wit and wisdom to expose these images of women as mere fantasies of female power, assuring women and girls that the battle for equality has been won, so there's nothing wrong with resurrecting sexist stereotypes all in good fun, of course. She shows that these portrayals not only distract us from the real-world challenges facing women today but also drive a wedge between baby-boom women and their "millennial" daughters.
In seeking to bridge this generation gap, Douglas makes the case for casting aside these retrograde messages, showing us how to decode the mixed messages that restrict the ambitions of women of all ages. And what makes "Enlightened Sexism" such a pleasure to read is Douglas's unique voice, as she blends humor with insight and offers an empathetic and sisterly guide to the images so many women love and hate with equal measure.
Praise For Enlightened Sexism: The Seductive Message That Feminism's Work Is Done…
"Douglas's writing is quick and witty; an easy, fun read. . . . 'Enlightened Sexism' is the perfect description for a feeling young women have long struggled to name. It's sure to dominate the vernacular for years to come."—Newsweek.com "Susan Douglas wrote the most important book of the year. In book-reviewese, 'important' is usually code for boring, but not in this case. Douglas' book is anything but. It's exciting and it's relevant and it's sassy."--Las Vegas Weekly "Combines solid academic research with a witty, irreverent and frequently hilarious writing style."—Detroit Free Press "A rambunctious jaunt down pop culture memory lane with a wisecracking guide pointing out interesting stuff you didn't know about intimately familiar landmarks."--AnnArbor.com "Susan J. Douglas says of today's media images of liberated womanhood: Not so fast, buddy! ... [Douglas] shows how glam representations of women calling the shots in the boardroom, the bedroom, and beyond lull us into thinking we're much more powerful than we really are."—Elle "Enlightened Sexism is a delightful read. Douglas had me laughing out loud as she made her irreverent but persuasive case against a popular culture that promises girls and women they can be whatever they want as long as they don't want the wrong things."—Ms. magazine "[A] lively critique ... Douglas' informal prose and irreverent sense of humor make this book an enjoyable read."—Bust "An entertaining read ... The author's takes on the media's obsession with the foibles and pregnancies of celebrities and the biased news coverage of prominent successful women have the ring of truth ... Sharp and savvy."—Kirkus Reviews "A sharp-witted polemic against the media's stereotyping of females and feminism ... Well argued and well documented."—Publishers Weekly "A must-read: Whip-smart, witty, and scathingly insightful. Susan Douglas has penned a brilliant -- and often funny -- critique of the myths about equality, ambition, and femininity that are currently being served up as 'reality' in our media-crazed culture. She challenges those who insist that feminism is outmoded, that strong women are scary and unlovable, and that 'real' girl power comes from Botox, a bustier, and the ability to pole-dance in a pair of size-two hot pants. Best yet, Enlightened Sexism offers an antidote to the contradictory messages and predicaments many women experience today. It's a call to action and an inspiration."—Susan Jane Gilman, bestselling author of Kiss My Tiara, Hypocrite in a Pouffy White Dress, and Undress Me in the Temple of Heaven "Here is an incisive history of the liberation that doesn't liberate, the story of how the same-old is peddled as ever-so radical. In Enlightened Sexism, Susan Douglas dissects pop-culture pseudo-feminism with wit, style, and a considerable amount of humor."—Thomas Frank, bestselling author of What's the Matter with Kansas? and The Wrecking Crew "In this witty skewering of pop culture, Susan Douglas shows how girl-power fantasies – vampire slayers, tomb raiders, lean girls, and mean girls – hold women back by obscuring how far we haven't come. Douglas manages the difficult trick of bringing disquieting news while remaining funny, erudite, warm, and delightful. She's our most enjoyable – and smartest – media critic."—Katha Pollitt, columnist for The Nation and author of Learning to Drive and Reasonable Creatures "Enlightened Sexism is an all-too-important reminder that sexism, sadly, is alive and well—and that it's being sold to women as feminism. Whether it's a consumer culture that tells women the Pussycat Dolls and Girls Gone Wild are bastions of feminism, or the media that would have us believe that women have nothing left to fight for—Susan Douglas makes sure her readers know that the battle for equality is far from over."—Jessica Valenti, author of The Purity Myth
Times Books, 9780805083262, 354pp.
Publication Date: March 2, 2010
About the Author
Susan J. Douglas is the author of "Where the Girls Are," "The Mommy Myth," and other works of cultural history and criticism. She is the Catherine Neafie Kellogg Professor of Communication Studies and chair of the department at the University of Michigan, where she has taught since 1996. Her work has appeared in "The Nation," "The Progressive," "Ms.," "The Village Voice," and "In These Times." She lives in Ann Arbor, Michigan.
or
Not Currently Available for Direct Purchase