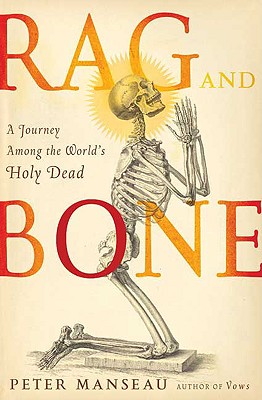 Rag and Bone
A Journey Among the World's Holy Dead
Hardcover

* Individual store prices may vary.
Other Editions of This Title:
Paperback (3/2/2010)
Description
A fascinating, intelligent, and sometimes funny tour of the human relics at the root of the world's major religions
By examining relics—the bits and pieces of long-dead saints at the heart of nearly all religious traditions—Peter Manseau delivers a book about life, and about faith and how it is sustained. The result of wide travel and the author's own deep curiosity, filled with true tales of the living and dubious legends of the dead, Rag and Bone tells of a California seeker who ended up in a Jerusalem convent because of a nun's disembodied hand; a French forensics expert who travels on the metro with the rib of a saint; two young brothers who collect tickets at a Syrian mosque, studying English beside a hair from the Prophet Muhammad's beard; and many other stories, myths, and peculiar histories.
With these, and an array of other digits, limbs, and bones, Manseau provides a respectful, witty, informed, inquisitive, thoughtful, and fascinating look into the "primordial strangeness that is at the heart of belief," and the place where the abstractions of faith meet the realities of physical objects, of rags and bones.
Praise For Rag and Bone: A Journey Among the World's Holy Dead…
"An entertaining… affecting inquiry into man's yearning for spiritual transcendence."—The New York Times Book Review

"A globe-traveling tale of the one thing all humanity shares: the body."—USA Today

"Reveal[s] the enduring power of faith, regardless of ideology, and the obsessive nature of religious belief -- which, as this entertaining book amply proves, is all too capable of taking peculiar turns."—Los Angeles Times

"Manseau … lavishly scatters gems … as he travels the world in search of the bones, teeth, hair and other scraps from the religiously renowned…. A lively lope among fragments from famous faith figures."—Publishers Weekly

"Adroit, worldly … Transports readers around the globe to check out places accessible and remote where fabric, wood, sinew and other materials are venerated…. An amusing romp."—Kirkus Reviews

"Talk about a long, strange trip…. There's proper respect for believers and a nod and a wink for the others."—Billy Heller, The New York Post

"Manseau brings the same expansive perspective on belief to "Rag and Bone" that fueled his ... memoir, "Vows" -- the understanding that every leap of faith can benefit from a little push." —Washington Post

"A beautiful, and at times very funny and insightful journey of faith, culture, religious history, and exotic locales…. A truly great book."—Sacramento Book Review

"Manseau's unerring eye for detail makes for a fascinating travelogue. But Rag and Bone is more than that. Drawing on history, spiritual traditions, legend and contemporary reports, this book is a totally exuberant compendium of human beliefs, certain to satisfy devotees of all stripes."—Barnes & Noble Review

"A thoughtful invitation to explore locations, myths, legends, and truths of relics…. In Rag and Bone, Manseau brings bare bones to life, and he has composed an intriguing … travelogue that takes the reader around the world, exploring truth and legend, but more importantly on a journey of understanding why they matter."—Beliefnet

"Dry bones dance in Rag and Bone, as Peter Manseau brings death to life through his fascinating exploration of religious relics: the skull fragments, detached digits, and ashes of the holy. This is a book that might have been written in the 15th century just as easily as now, but we're lucky to have here the unique 21st century voice of Manseau--a Yiddish-speaking, Buddha-curious son of a Catholic priest and a nun--and one of the most peculiar and most entertaining travelogues in years."—Jeff Sharlet, New York Times bestselling author of The Family: The Secret Fundamentalism at the Heart of American Power

"Peter Manseau's Rag and Bone reads like a novel, entertains like a television docudrama, and educates like the best college professor you ever had. It is at once informative, quirky, and funny. Do people really think that the leathery tongue of a 12th century saint can bless them with good fortune? They do. Why do people believe in such weird things as the holy relics of religion? Read this book to find out. WARNING: you may very well discover that you also hold beliefs in holy relics and not even know it!"—Michael Shermer, Publisher of Skeptic magazine, monthly columnist for Scientific American, author of Why People Believe Weird Things and Why Darwin Matters

"A text for the devoted and devoutly lapsed, Rag and Bone is part religious study and part travelogue. Peter Manseau proves a reliable guide, getting both the concepts and the corpses right: the idea of the thing, and the thing itself. And how far afield his curiosities take us – fellow pilgrims one and all – for whom the dead may be more than the sum of parts."—Thomas Lynch, author of The Undertaking: Life Studies from the Dismal Trade

"The dead may tell no tales, but the relics they leave behind do, if only we will listen to what they have to say. Happily, one of America's best young writers has his ear to the ground at reliquaries from San Francisco to Sri Lanka. The result is an intriguing tour of the world's most holy hairs, hearts, and hands that refuses to lapse into the sort of confessional cant that deadens much writing on religion today. Rag and Bone is alive with both humorous and heartbreaking observations about the chicanery and mystery of things seen and unseen."—Stephen Prothero, Professor of Religion at Boston University and author of the New York Times bestseller Religious Literacy

"A dead saint's bones, an ancient prophet's whisker, the Buddha's tooth: As Peter Manseau traces the trail of religious relics, he merges the holy and the human with keen insight. The language shines and the humor delights, but even more, we come away having learned something profound about the making of religious meaning."—Barbara J. King, author of Evolving God
Henry Holt and Co., 9780805086522, 256pp.
Publication Date: March 31, 2009
About the Author
Peter Manseau studied religion and literature at the University of Massachusetts and Boston University. He is the author of "Killing the Buddha: A Heretic's Bible"; "Vows: The Story of a Priest, a Nun, and Their Son"; and "Songs for the Butcher's Daughter," a novel. An adjunct professor of writing at Georgetown University, he lives in Washington, D.C., with his wife and daughter.
or
Not Currently Available for Direct Purchase