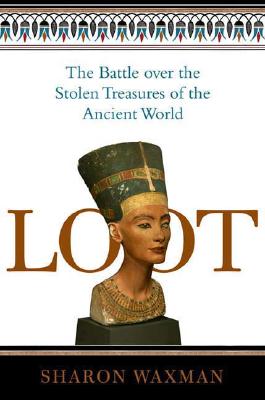 Loot
The Battle over the Stolen Treasures of the Ancient World
Hardcover

* Individual store prices may vary.
Other Editions of This Title:
Paperback (9/1/2009)
Description
A journey across four continents to the heart of the conflict over who should own the great works of ancient art

Why are the Elgin Marbles in London and not on the Acropolis? Why do there seem to be as many mummies in France as there are in Egypt? Why are so many Etruscan masterworks in America? For the past two centuries, the West has been plundering the treasures of the ancient world to fill its great museums, but in recent years, the countries where ancient civilizations originated have begun to push back, taking museums to court, prosecuting curators, and threatening to force the return of these priceless objects.


Where do these treasures rightly belong? Sharon Waxman, a former culture reporter for The New York Times and a longtime foreign correspondent, brings us inside this high-stakes conflict, examining the implications for the preservation of the objects themselves and for how we understand our shared cultural heritage. Her journey takes readers from the great cities of Europe and America to Egypt, Turkey, Greece, and Italy, as these countries face down the Louvre, the Metropolitan Museum, the British Museum, and the J. Paul Getty Museum. She also introduces a cast of determined and implacable characters whose battles may strip these museums of some of their most cherished treasures.


For readers who are fascinated by antiquity, who love to frequent museums, and who believe in the value of cultural exchange, Loot opens a new window on an enduring conflict.
Praise For Loot: The Battle over the Stolen Treasures of the Ancient World…
"Sharon Waxman has written a compelling page turner about the world of antiquities and art-world skulduggery. She manages to combine rigorous, scholarly reporting with a flair for intrigue and personality that gives Loot the fast pace of a novel. I enjoyed it immensely."—Tina Brown
"Loot is a riveting foray into the biggest question facing museums today: who should own the great works of ancient art? Sharon Waxman is a first-rate reporter, a veritable Euphronios of words, who not only explores the legal and moral ambiguities of the conflict but brings to life the colorful -- even outrageous -- personalities facing off for a high noon showdown over some of the world's iconic works of art. Vivid, witty, and delightful, this book will beguile any reader with an interest in art and museums."—Douglas Preston, author of The Monster of Florence
"Sharon Waxman's Loot is the most instructive as well as the most intelligent (and the most entertaining) guide through the labyrinth of antiquity and the ways in which the claims of the departed intersect with the rights of the living."—Christopher Hitchens author of God Is Not Great and The Elgin Marbles: Should They Be Returned to Greece?
"Sharon Waxman approaches her subject with the passion of a great journalist and the rigor of a scholar. It may never again be possible for some of us to walk down the halls of the Louvre or the British Museum or the Metropolitan without a vague sense of disquietude, a frisson of wonder about the provenance of some of their showcase works of ancient art."—Lucette Lagnado, author of The Man in the White Sharkskin Suit
Sharon Waxman's Loot is indispensable for everyone concerned with the illicit trade in smuggled antiquities. She exposes the self-serving humbug that too often afflicts both affluent possessors and righteous nationalists and shows that we all have a stake in getting an honest account of how great objects came to rest in our grandest museums."—Karl E. Meyer, author of The Plundered Past and co-author of Kingmakers: The Invention of the Modern Middle East
"Fast-paced and compelling….Waxman has an array of wondrous tales to tell….Considerable, admirable, and totally absorbing."The Boston Globe

"Loot is hip to the politics underlying the whole repatriation craze. . . . This book's title is absolutely true."—Newark Star-Ledger

"A journalistic tour de force -- an exhaustively researched, even-handed compendium of the disputes roiling museums and source countries."—CultureGrrl art blog

"[An] insightful new exploration into cultural plunder."—Dallas Morning News

"A measured, detailed and accessible history of cultural custody cases, bringing the ages-old quandary up to date."—Kansas City Star
"Absorbing and well-researched . . . [Waxman] gives all actors in this bitterly antagonistic drama a hearing and writes with flair and an earnest sense of inquiry."—The Washington Post Book World
"A remarkable book . . . After reading [Loot] you will never again view an antiquity in a museum in the same light."—Kings Features Syndicate
"Loot does an excellent job of exploring the political underpinnings of the contest over antiquities…[Waxman's] critical distance allows her to see both sides of this tangled story. . . Loot is an engaging and informative read."—Art + Auction Magazine
"Lively and wide-ranging. . . Waxman has written the definitive volume."—ARTnews Magazine
"Skillfully blending history and reportage . . . Waxman's account is animated by interviews with museum curators, accused smugglers and government officials, putting a human spin on the complex cultural politics before arriving at a middle ground that strives for international collaboration in preserving a broad global heritage."—Publishers Weekly, starred review
"Former New York Times culture correspondent [Sharon] Waxman adroitly and expertly explores a centuries-old struggle . . . In Waxman's hands, the question of justice remains intriguingly slippery, and the argument over who owns history takes on new depth. Erudite and wholly satisfying."—Kirkus Reviews
"Exposes hypocrisy on all sides of the debates."—The Roanoke Times
"Comprehensive and revealing . . . Waxman is a congenial, globe-hopping tour guide through cramped offices, dank tomb sites, and sleek, art-filled palaces."—Booklist
"[An] intelligent, well-informed book . . . [Waxman] skillfully interweaves lucid historical accounts with savvy contemporary interviews. . . . This wide-ranging narrative limns a multifaceted problem with no single solution. Facing facts would be a good place to start, Waxman concludes."--Los Angeles Times
"Waxman, a former correspondent for the New York Times, recounts tales of arrogance, greed and lust in museum personnel who, however well educated, are all too human in their daily affairs. . . . The questions Waxman raises are real, and her proposals to remedy the situation are the start of a much-needed discussion."--San Francisco Chronicle Book Review
"Waxman illustrates this overstuffed book with the colorful personalities and histories behind some of the most famous ancient artworks (the Elgin Marbles, the Rosetta Stone), and the questions she raises are fascinating ones...Loot contains its share of golden treasures underneath all that dust."--Gilbert Cruz,
Time
"Loot
... is a timely account of how the world ofantiquities arrived at the situation it is in today ... an engaging and informative read." --Andrew Slayman, ArtInfo.com
Times Books, 9780805086539, 432pp.
Publication Date: October 28, 2008
About the Author
Sharon Waxman is a former culture correspondent for "The New York Times "and holds a master's degree in Middle East studies from Oxford University. She covered Middle Eastern and European politics and culture for ten years before joining "The Washington Post "and then "The New York Times "to report on Hollywood and other cultural news. She is the author of "Rebels on the Backlot: Six Maverick Directors and How They Conquered the Hollywood Studio System." She lives in Southern California.
or
Not Currently Available for Direct Purchase