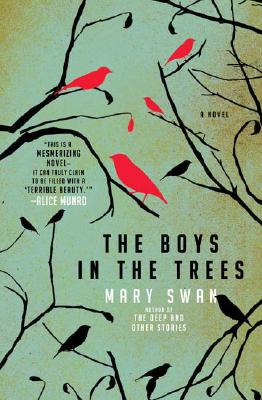 The Boys in the Trees (Paperback)
Holt Paperbacks, 9780805086706, 224pp.
Publication Date: January 22, 2008
* Individual store prices may vary.
or
Not Currently Available for Direct Purchase
Description
"This is a mesmerizing novel, that can truly claim to be filled with a 'terrible beauty.'"—Alice Munro
Newly arrived to the countryside, William Heath, his wife, and two daughters appear the picture of a devoted family. But when accusations of embezzlement spur William to commit an unthinkable crime, those who witnessed this affectionate, attentive father go about his routine of work and family must reconcile action with character. A doctor who has cared for one daughter, encouraging her trust, examines the finer details of his brief interactions with William, searching for clues that might penetrate the mystery of his motivation. Meanwhile the other daughter's teacher grapples with guilt over a moment when fate wove her into a succession of events that will haunt her dreams.
In beautifully crafted prose, Mary Swan examines the volatile collisions between our best intentions—how a passing stranger can leave an indelible mark on our lives even as the people we know most intimately become alienated by tides of self-preservation and regret. In her nuanced, evocative descriptions a locket contains immeasurable sorrow, trees provide sanctuary and refuge to lost souls, and grief clicks into place when a man cocks the cold steel barrel of a revolver. A supreme literary achievement, The Boys in the Trees offers a chilling story that swells with acutely observed emotion and humanity.
About the Author
Mary Swan is the winner of the 2001 O. Henry Award for short fiction and is the author of the collection "The Deep and Other Stories "(Random House). Her work has appeared in several Canadian literary magazines, including "The Malahat Review," the "Ontario Review," and "Best Canadian Stories," as well as American publications such as "Harper's." She lives with her husband and daughter near Toronto.
Praise For The Boys in the Trees…
"This is a mesmerizing novel, that can truly claim to be filled with a 'terrible beauty.'"—Alice Munro
"Intricate, haunting, entrancing, its mystery woven in the texture of the tiny details."—Tessa Hadley, author of The Master Bedroom
"A lovely poignant novel, the movement of the narrative in time and space as natural and intricate as the movement of waves. The stories seem to be telling themselves, yet they are the product of tender and attentive craftsmanship. . . . After finishing it, I feel as if I am still listening for it. It has the compelling logic of a lingering, powerful dream."—Hilary Mantel, author of Beyond Black "Beautifully written, the novel transpires in close-up, conveying a sense of intimacy and moving us right into the realm of the sometimes glorious, sometimes ghastly details. There are scenes you will not soon forget."—Ann Beattie
"[T]he novel is wonderful. The Boys in the Trees reads like a palimpsest, layering significance on significance . . .This is a book that will grow on rereading, and an author who may prove to be a master of the genre."—The San Francisco Chronicle (2/23/08)
"Swan's prose is tense, rhythmic and emotionally evocative . . . with its forceful observations and willed ambiguities, this challenging and often beautiful book can be as unsettling—and sometimes maddening—as a long look in the mirror."—The New York Times Book Review
Advertisement