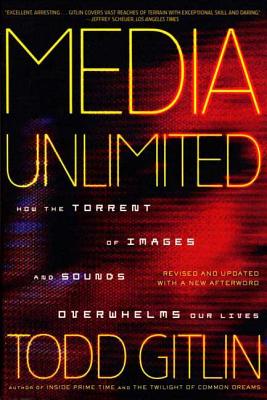 Media Unlimited, Revised Edition
How the Torrent of Images and Sounds Overwhelms Our Lives
Paperback

* Individual store prices may vary.
Description
Both a startling analysis and a charged polemic, this revised edition of Media Unlimited: How the Torrent of Images and Sounds Overwhelms Our Lives reveals the unending stream of manufactured images and sounds as a defining feature of our civilization and a perverse culmination of Western hopes for freedom.

With an afterword by the author.

In this original look at our electronically glutted, speed-addicted world, sociology professor and cultural historian Todd Gitlin evokes a reality of relentless sensation, instant transition, and nonstop stimulus, which he argues is anything but progress. He shows how all media, all the time fuels celebrity worship, paranoia, and irony, and how attempts to ward off the onrush become occasion for yet more media. Far from bringing about a "new information age," Gitlin argues, the digital torrent has fostered a society of disposable emotions and casual commitments, and threatens to make democracy a sideshow.

"A balanced yet biting critique . . . Gitlin is a savvy guide to our increasingly kinetic times."—San Francisco Chronicle
Picador, 9780805086898, 272pp.
Publication Date: September 18, 2007
About the Author
Todd Gitlin (1943-2002) was a professor of journalism, sociology, and mass communication at the University of California at Berkeley, New York University, and Columbia University who wrote several books on politics and cultural history as well as poetry, memoirs and novels. His essays and articles appeared in such publications as the New York Times, Los Angeles Times, and The New Republic.

As one of the most vocal activists of the 1960s, Gitlin served as president of Students for a Democratic Society in 1963-64, helped organize the first national Vietnam War protest, and lead demonstrations against apartheid in South Africa. He was also an editor and contributor to the underground newspaper, the San Francisco Express Times.

Gitlin's books include The Sixties: Years of Hope, Days of Rage, The Twilight of Common Dreams: Why America is Wracked by Culture Wars, Media Unlimited: How the Torrent of Images and Sounds Overwhelms Our Lives, and Occupy Nation: The Roots, the Spirit, and the Promise of Occupy Wall Street.