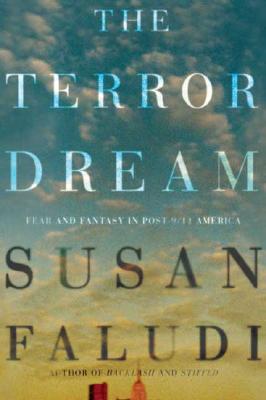 The Terror Dream
Fear and Fantasy in Post-9/11 America
Hardcover

* Individual store prices may vary.
Other Editions of This Title:
Digital Audiobook (10/1/2007)
Paperback (9/2/2008)
Compact Disc (10/2/2007)
Description
From the Pulitzer Prize-winning journalist and bestselling author of "Backlash"--an unflinching dissection of the mind of America after 9/11 In this most original examination of America's post-9/11 culture, Susan Faludi shines a light on the country's psychological response to the attacks on that terrible day. Turning her acute observational powers on the media, popular culture, and political life, Faludi unearths a barely acknowledged but bedrock societal drama shot through with baffling contradictions. Why, she asks, did our culture respond to an assault against American global dominance with a frenzied summons to restore "traditional" manhood, marriage, and maternity? Why did we react as if the hijackers had targeted not a commercial and military edifice but the family home and nursery? Why did an attack fueled by hatred of Western emancipation lead us to a regressive fixation on Doris Day womanhood and John Wayne masculinity, with trembling "security moms," swaggering presidential gunslingers, and the "rescue" of a female soldier cast as a "helpless little girl"?
The answer, Faludi finds, lies in a historical anomaly unique to the American experience: the nation that in recent memory has been least vulnerable to domestic attack was forged in traumatizing assaults by nonwhite "barbarians" on town and village. That humiliation lies concealed under a myth of cowboy bluster and feminine frailty, which is reanimated whenever threat and shame looms.
Brilliant and important, "The Terror Dream" shows what 9/11 revealed about us--and offers the opportunity to look at ourselves anew.
Praise For The Terror Dream: Fear and Fantasy in Post-9/11 America…
"Susan Faludi, as always, is simply stunning. With heroic acuity, she digs through the mythological debris of the Bush era to recover the dark fairytale--shades of white savagery on the early Frontier--that founds the vengeance fantasy we call the 'war on terrorism.'"--Mike Davis, author of Ecology of Fear

"No system has more completely failed us since 9/11 than the print and television media. The American public is too misinformed even to think of elementary oversight of its government. In painstaking and documented detail, Susan Faludi demonstrates that this was not just a matter of neglect but a failure of intent--the Sean Hannitys, Diane Sawyers, and network anchors misled us in service of an ideological agenda. Her chapter on Jessica Lynch is a tour de force of how the military-journalistic complex works. You cannot find a more eye-opening book to read."--Chalmers Johnson, author of the Blowback Trilogy "An important contribution to our understanding of the cultural and political reaction to 9/11, which shows how deeply ingrained beliefs about masculinity, femininity and sanctified violence have shaped our national identity, and our ways of responding to crisis."--Richard Slotkin, author of Gunfighter Nation: The Myth of the Frontier in Twentieth-Century America

"When the viciously misogynist al Qaeda attacked America, the mainstream media responded, strangely enough, with a call for a revival of manly men, frail females, and traditional domesticity. In The Terror Dream, our premiere cultural reporter exposes the backlash and offers a fascinating explanation of why 9/11 led to such a perverse retreat from our own values. This is a book that had to be written, and only Susan Faludi could do it so brilliantly and engrossingly."--Barbara Ehrenreich, author of Nickel and Dimed

"In this bold and courageous book, Susan Faludi peels away the veneer of post-9/11 bravado to expose our collective national psyche, bringing us face to face with our nation's innermost fears and fantasies. The Terror Dream unmasks the Lone Rangers running our nation and their loyal media Tontos who hark back to a mythic frontier where men were men and women were victims. Faludi shows how the revival of these myths since 9/11 has made us weaker and less secure, and the world a more dangerous place."--Elaine Tyler May, author of Homeward Bound: American Families in the Cold War Era "If you are wondering what's come over America since 9/11, this is the book you've been waiting for. The Terror Dream does for 9/11 and its effects what Backlash did for women in the '90s. Once again, Susan Faludi combines her unparalleled gifts for research, reporting and, of course, great writing, with an arresting and wholly original thesis."--Katha Pollitt, author of Virginity or Death!: And Other Social and Political Issues of Our Time

"Blistering and brilliant, The Terror Dream is cultural criticism at its best."--Peter Biskind "Susan Faludi is an eloquent researcher and a remarkable journalist whose response to social crisis is invariably shrewd and original. Now she gives us a work of eye-opening documentation of how American culture, instead of being changed by 9/11, has absorbed it into its own mythic sense of self. The Terror Dream is a bold, brave book that joins the literature of dissent during one of the most dangerous, flag-waving moments in American history."--Vivian Gornick
Metropolitan Books, 9780805086928, 368pp.
Publication Date: October 2, 2007
About the Author
Susan Faludi is the author of "Stiffed: The Betrayal of the American Man" and "Backlash: The Undeclared War Against American Women," which won the National Book Critics Circle Award for Nonfiction. Her work has appeared in "The New Yorker," "The Wall Street Journal," "The New York Times," the "Los Angeles Times," and "The Nation," among other publications. She lives in San Francisco.
or
Not Currently Available for Direct Purchase