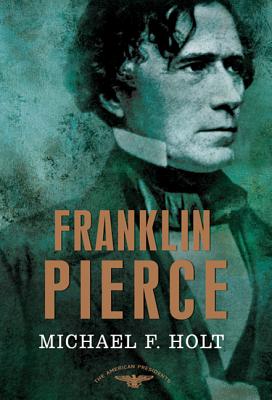 Franklin Pierce (Hardcover)
The American Presidents Series: The 14th President, 1853-1857
Times Books, 9780805087192, 176pp.
Publication Date: March 30, 2010
* Individual store prices may vary.
Description
The genial but troubled New Englander whose single-minded partisan loyalties inflamed the nation's simmering battle over slavery
Charming and handsome, Franklin Pierce of New Hampshire was drafted to break the deadlock of the 1852 Democratic convention. Though he seized the White House in a landslide against the imploding Whig Party, he proved a dismal failure in office.
Michael F. Holt, a leading historian of nineteenth-century partisan politics, argues that in the wake of the Whig collapse, Pierce was consumed by an obsessive drive to unify his splintering party rather than the roiling country. He soon began to overreach. Word leaked that Pierce wanted Spain to sell the slave-owning island of Cuba to the United States, rousing sectional divisions. Then he supported repeal of the Missouri Compromise, which limited the expansion of slavery in the west. Violence broke out, and "Bleeding Kansas" spurred the formation of the Republican Party. By the end of his term, Pierce's beloved party had ruptured, and he lost the nomination to James Buchanan.
In this incisive account, Holt shows how a flawed leader, so dedicated to his party and ill-suited for the presidency, hastened the approach of the Civil War.
About the Author
Michael F. Holt is the Langbourne M. Williams Professor of American History at the University of Virginia. He is the author of six books, including the award-winning The Rise and Fall of the American Whig Party and By One Vote: The Disputed Presidential Election of 1876. He lives in Charlottesville, Virginia.

Arthur M. Schlesinger, Jr., (1917-2007) was the preeminent political historian of our time. For more than half a century, he was a cornerstone figure in the intellectual life of the nation and a fixture on the political scene. He won two Pulitzer prizes for The Age of Jackson (1946) and A Thousand Days (1966), and in 1988 received the National Humanities Medal. He published the first volume of his autobiography, A Life in the Twentieth Century, in 2000.

Sean Wilentz, a professor of history at Princeton University, is the author or editor of several books, including Chants Democratic and The Rise of American Democracy. He has also written for The New York Times, the Los Angeles Times, The New Republic, and other publications. He lives in Princeton, New Jersey.
Praise For Franklin Pierce: The American Presidents Series: The 14th President, 1853-1857…
"Thought-provoking… Holt gives Pierce his due as a politician serving in fractious times and as a man pulling against the swells of a difficult life… a valuable book." —Concord Monitor
"Professor Holt brings to his task his considerable knowledge of the ins and outs of party politics in the 1850's. This is the book's greatest strength… Holt's book presents a more incisive and more realistic understanding of [Pierce's] fateful presidency." —Civil War Book Review, Louisiana State University Library's Special Collections
"Holt writes well, delivering a lively, opinionated account of a president who served in turbulent times and did not improve matters. This is an admirable addition to the already admirable American Presidents series." —Publishers Weekly
"Pierce deserves his low ranking by historians, but not, Holt argues, because he was a bad man or politician... Another excellent American Presidents series volume." —Booklist