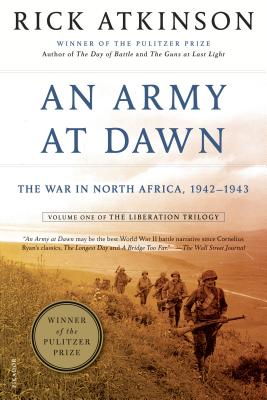 An Army at Dawn (Paperback)
The War in North Africa, 1942-1943 (Liberation Trilogy #1)
Owlet Paperbacks, 9780805087246, 681pp.
Publication Date: May 15, 2007
Description
WINNER OF THE PULITZER PRIZE AND NEW YORK TIMES BESTSELLER
"A splendid book... The emphasis throughout is on the human drama of men at war."--The Washington Post Book World

The liberation of Europe and the destruction of the Third Reich is an epic story of courage and calamity, of miscalculation and enduring triumph. In this first volume of the Liberation Trilogy, Rick Atkinson shows why no modern reader can understand the ultimate victory of the Allied powers without a grasp of the great drama that unfolded in North Africa in 1942 and 1943.
Opening with the daring amphibious invasion in November 1942, An Army at Dawn follows the American and British armies as they fight the French in Morocco and Algiers, and then take on the Germans and Italians in Tunisia. Battle by battle, an inexperienced and sometimes poorly led army gradually becomes a superb fighting force. At the center of the tale are the extraordinary but flawed commanders who come to dominate the battlefield: Eisenhower, Patton, Bradley, Montgomery, and Rommel.
Brilliantly researched, rich with new material and vivid insights, Atkinson's vivid narrative tells the deeply human story of a monumental battle for the future of civilization.
About the Author
Rick Atkinson, recipient of the 2010 Pritzker Military Library Literature Award for Lifetime Achievement in Military Writing, is the bestselling author of The Day Of Battle, The Long Gray Line, and In the Company of Soldiers. He was a staff writer and senior editor at The Washington Post for twenty years, and his many awards include Pulitzer Prizes for journalism and history. He lives in Washington, D.C.
Praise For An Army at Dawn: The War in North Africa, 1942-1943 (Liberation Trilogy #1)…
"A splendid book... The emphasis throughout is on the human drama of men at war."—The Washington Post Book World

"Exceptional... A work strong in narrative flow and character portraits of the principle commanders... A highly pleasurable read."—The New York Times Book Review

"A master of the telling profile... This vivid, personality-driven account of the campaign to drive Axis forces from North Africa shows the political side of waging war, even at the tactical level."—Chicago Tribune

"In his gripping An Army at Dawn, Rick Atkinson skilfully chronicles... the invasion of North Africa in World War II... [This is] the first volume of the Liberation Trilogy, in which Mr. Atkinson intends to tell the entire story of the U.S. armed forces in the European theatre. Based on this book, he is off to a rip-roaring start. An Army at Dawn may be the best World War II battle narrative since Cornelius Ryan's classics, The Longest Day and A Bridge Too Far."—Max Boot, The Wall Street Journal

"A book that stands shoulder to shoulder with the other major books about the war, such as the fine writing of Cornelius Ryan and John Keegan."—Associated Press

"Atkinson's book is eminently friendly and readable, but without compromising normal standards of accuracy and objectivity. More than a military history, it is a social and psychological inquiry as well. His account of the Kasserine Pass disaster is alone worth the price of the book and stands as an exciting preview of the rich volumes to come. I heartily recommend this human, sensitive, unpretentious work."—Paul Fussell, author of Doing Battle and Wartime

"This is a wonderful book—popular history at its best. It is impressively researched and superbly written, and it brings to life in full detail one of the vitally important but relatively 'forgotten' campaigns of World War II. What Bruce Catton and Shelby Foote did for the Civil War in their trilogies, Rick Atkinson is doing for World War II in the European Theater."—Professor Mark A. Stoler, author of Allies and Adversaries

"One of the most compelling pieces of military history I've ever read, An Army at Dawn will become a military history and strategy studies classic. Atkinson writes with incredible insight and mastery of the details, and he is always mindful of the larger picture. He goes from the highest political levels to the deepest foxhole without missing a beat. This is history at its finest."—Gen. Wesley K. Clark, U.S.A. (ret.), former NATO supreme commander

"Rick Atkinson has done a beautiful job of research and writing in An Army at Dawn. This is the North African campaign—warts, snafus, feuding allies, incompetence—unvarnished. It whets my appetite for the rest of the Liberation Trilogy Atkinson has promised us."—Joseph L. Galloway, co-author of We Were Soldiers Once... and Young


"A masterpiece. Rick Atkinson strikes the right balance between minor tactical engagements and high strategic direction, and he brings soldiers at every level to life, from private to general. An Army at Dawn is history with a soldier's face."—General Gordon R. Sullivan, U.S.A. (ret.), former Army chief of staff

"For sheer drama, the Tunisian campaign far overshadowed any other phase of the Second World War. Rick Atkinson has told the story with zest and brutal realism. His account will be a monument among accounts of World War II."—John S. D. Eisenhower, author of Allies and The Bitter Woods

"An Army At Dawn is an absolute masterpiece. Atkinson conveys both the human drama and historical significance of this campaign with a power and intensity that is nothing short of electrifying. This book is storytelling—and history—at its most riveting."—Andrew Carroll, editor of War Letters: Extraordinary Correspondence from American Wars

"Rick Atkinson combines meticulous research and attention to detail with an extraordinary ability to tell a story. It is a rich and powerful narrative which is certain to become a classic."—Ronald Spector, author of At War At Sea and Eagle Against the Sun

"Atkinson's An Army at Dawn is a superb account of the Allied invasion of North Africa. From the foxhole to Eisenhower's supreme headquarters, Atkinson has captured the essence of war in one of the most neglected campaigns of World War II."—Carlo D'Este, author of Patton and Eisenhower

"Atkinson's writing is lucid, vivid... Among the many pleasures of an Army at Dawn are the carefully placed details—shells that whistle into the water with a smoky hiss; a colonel with 'slicked hair and a wolfish mustache'; a man dying before he can fire the pistols strapped in his holster."—Milwaukee Journal Sentinel

"What distinguishes his narrative is the way he fuses the generals' war... with the experiences of front-line combat soldiers."—Raleigh News & Observer

"Brilliant... This is history and war in the hands of a gifted and unflinching writer."—The Kansas City Star

"The most thorough and satisfying history yet of the campaigns in North Africa . . . Given his success with modern military history, the penetrating historical insights Atkinson brings to bear on America's 1942-43 invasion of the North African coast are not surprising."—Kirkus Reviews

"Atkinson, author of the best-selling The Long Grey Line (1989), a chronicle of the West Point class of 1966, here debuts an ambitious three-volume saga about the North African and European theaters of World War II. This first volume covers the conception of Operation Torch through the German surrender in Tunisia in May 1943 and reveals the author's skill in balancing big-picture strategizing with unit-level tactical fighting... The ground of every battle is precisely assessed, with the author apprising readers of how often the experienced German army was superior to the green American army in exploiting hills and roads. Having personally tramped over the battlefields in Morocco and Tunisia, Atkinson incorporates their look—the mud, the dust, and the cactus. An exemplary work that feeds anticipation of the succeeding volumes."—Gilbert Taylor, Booklist

"Atkinson here offers the initial volume in a trilogy concerning the liberation of Europe during World War II. The invasion of North Africa was the first joint military operation conducted by the Allies, and it influenced many future decisions. Using battlefield reports and archival material, Atkinson tells a fascinating story of the North African campaign that is hard to stop reading, even though one knows the outcome. He includes the perfect combination of biographical information and tactical considerations, and eyewitness accounts give readers an idea of what the average soldier must have endured."—Mark Ellis, Albany State University Library, Georgia, Library Journal
Advertisement