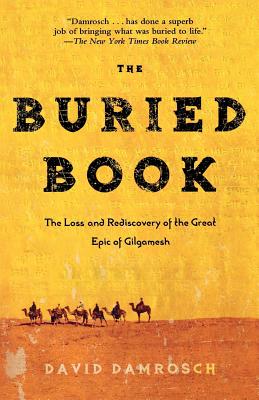 The Buried Book (Paperback)
The Loss and Rediscovery of the Great Epic of Gilgamesh
Holt Paperbacks, 9780805087253, 336pp.
Publication Date: December 26, 2007
Other Editions of This Title:
Compact Disc (12/1/2007)
Compact Disc (1/1/2008)
Audio Cassette (1/1/2008)
Audio Cassette (12/1/2007)
MP3 CD (1/1/2008)
* Individual store prices may vary.
Description
Adventurers, explorers, kings, gods, and goddesses come to life in this "useful, entertaining and informative" story of the first great epic (The Washington Post)
Composed in Middle Babylonia around 1200 BCE, The Epic of Gilgamesh foreshadowed later stories that would become as fundamental as any in human history: The Odyssey and the Bible. But in 600 BCE, the clay tablets that bore the story were lost to the world, buried beneath ashes and ruins.
David Damrosch begins with the rediscovery of the epic in 1872 and from there goes backward in time, all the way to Gilgamesh himself. The Buried Book is an illuminating tale of history as it was written, stolen, lost, and—after 2,000 years and countless battles, conspiracies, and revelations—finally found.
About the Author
David Damrosch is a professor of English and comparative literature at Columbia University. He is the general editor of The Longman Anthology of World Literature and the founding general editor of The Longman Anthology of British Literature. He lives in New York City.
Praise For The Buried Book: The Loss and Rediscovery of the Great Epic of Gilgamesh…
"An altogether compelling narrative of a crucial episode in cultural history. This is a book that vividly demonstrates why humanism matters and how it is enhanced by exercising an unconventionally broad reach." —Robert Alter, author of The Five Books of Moses: A Translation with Commentary, and Class of 1937 Professor of Hebrew and Comparative Literature at the University of California at Berkeley
"The Buried Book is a thrilling intellectual adventure: a brilliant study of Gilgamesh, it is also a rich and complex narrative of colonialist adventurers, obsessed scholars, anxious theologians, and contemporary writers all caught up in the ancient epic's amazingly wide net." —Stephen Greenblatt, author of Will In The World: How Shakespeare Became Shakespeare
"David Damrosch's The Buried Book is a remarkably original, narrative analysis of the loss, rediscovery, and literary-spiritual values of the ancient epic, Gilgamesh. There is somber wisdom and wit in Damrosch's comprehensive story, which finds room for Philip Roth's The Great American Novel and the murderous fictions of Saddam Hussein. It is salutary to be reminded by Damrosch that ultimately we and Islam share a common literary culture that commenced with Gilgamesh." —Harold Bloom, author of Where Shall Wisdom Be Found?