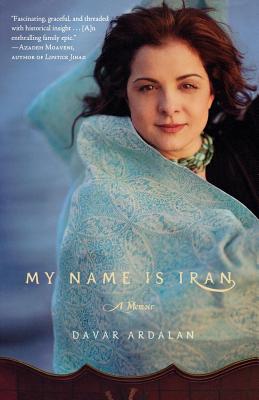 My Name Is Iran
A Memoir
Paperback

* Individual store prices may vary.
Description
"Ardalan's testimony to the feminist spirit of the pioneering women in her family, and in the face of centuries-long strictures against the advancement of women, is a supreme achievement."—Publishers Weekly

Drawing on her remarkable personal history, Davar Ardalan brings us the lives of three generations of women and their ordeals with love, rejection, and revolution. Ardalan's Iranian American parents, who barely spoke Farsi, moved from San Francisco to rural Iran in 1964. After her parents' divorce, Ardalan briefly joined her father in Brookline, Massachusetts, then, however improbably, decided to move back to an Islamic Iran. When she arrived, she discovered a world she hardly recognized, and one which demanded a near-complete renunciation of the freedoms she experienced in the West. In time, she and her young family make the opposite migration and discover the difficulties, however paradoxical, inherent in living a free life in America.
Praise For My Name Is Iran: A Memoir…
"At once insightful and symbolic, My Name Is Iran is an intimate, readable and revealing tale of a maverick daughter of modern Iran and a rare glimpse into the many layers of life in that nation and the aspirations and frustrations that have shaped its recent history." —Vali Nasr, author of The Shia Revival: How Conflicts within Islam Will Shape the Future

"Here you will meet the Iran Davar Ardalan who long ago captured my imagination and encouraged my love for Iran. Without fear, she reveals her place as the great-grand daughter of the Revolution, caught in its complexities. A product of dreamers and do-ers who are both unforgettable and amazing, her story is a broad tapestry on which East and West commingle. This book is her gift to both cultures, and to you." —Jacki Lyden, Senior Correspondent & Host, NPR and author of Daughter of the Queen of Sheba

"This is a fascinating story about one woman's remarkable life between the worlds of Iran and America." —Ole D. Mjøs, Chairman of the Norwegian Nobel committee

"Fascinating, graceful, and threaded with historical insight, My Name is Iran offers a rich account of a life shaped by both Iranian tradition and Western individualism. Davar Ardalan tells a story that is at once an enthralling family epic, and a textured exploration of how the political, the religious, and the personal intersect across three generations of remarkable women." —Azadeh Moaveni, author of Lipstick Jihad: A Memoir of Growing up Iranian in America and American in Iran

"My Name Is Iran is a wonderfully told story of the author's growth in understanding who she is—both American and Iranian. It is a story for all Americans who maintain their heritage of origin, while becoming an American." —Juan Williams, Senior Correspondent NPR News
Holt Paperbacks, 9780805087277, 336pp.
Publication Date: January 8, 2008
About the Author
Davar Ardalan is a senior producer with NPR News. In February 2004, in a three-part Morning Edition series, she traced Iran's struggle for a lawful society along with her own personal journey between Iran and America. She lives in Severna Park, Maryland.