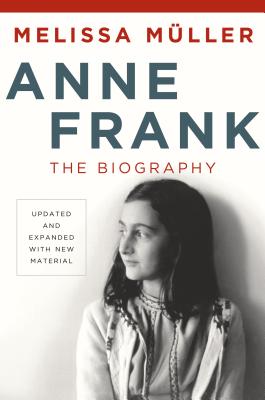 Anne Frank
The Biography: Updated and Expanded with New Material
Hardcover

* Individual store prices may vary.
Other Editions of This Title:
DVD-Video (4/1/2005)
Description
Updated and filled with striking new revelations, the bestselling, "superb" biography that "honors in full a life we thought we knew" (Newsweek)

Praised as "remarkable," "meticulous," and "long overdue," Anne Frank: The Biography, originally published in 1998, still stands as the definitive account of the girl who has become "the human face of the Holocaust." For this nuanced portrait of her famous subject, biographer Melissa Müller drew on exclusive interviews with family and friends as well as on previously unavailable correspondence, even, in the process, discovering five missing diary pages. Full of revelations, Müller's richly textured narrative returned Anne Frank to history, portraying the flesh-and-blood girl unsentimentalized and so all the more affecting.

Now, fifteen years after the book first appeared, much new information has come to light: letters sent by Otto Frank to relatives in America as he sought to emigrate with his family, the identity of other suspects involved in the betrayal of the Franks, and important details about the family's arrest and subsequent fate.

Revised and updated with more than thirty percent new material, this is an indispensable volume for all those who seek a deeper understanding of Anne Frank and the brutal times in which she lived and died.
Praise For Anne Frank: The Biography: Updated and Expanded with New Material…
"Flawlessly researched and compellingly written . . . In her comprehensive and nuanced portrait of Anne and her collapsing world, Müller has given us Anne Frank for adults." —The Christian Science Monitor

"In this updated edition of her superb 1998 biography, Müller adds immeasurably to a well-known story . . . An invaluable complement to an immortal testimony." —Kirkus (starred review)

"Superb. . . . This meticulous and gripping narrative honors in full a life we thought we knew." —Newsweek

"Müller pays respect to the legend, but she also does something long overdue. She saves Anne Frank from idolatry and impersonal symbolism by restoring her physical presence." —R.Z. Sheppard, Time

"One might ask, what remains to be said about Anne Frank? Quite a bit, as it turns out. . . . In addition to revealing the missing diary pages, this biography also acts as a supplement to the diary, filling in Anne's fragmentary view of her own life. . . . One of the things that lends this biography such power is the awful juxtaposition of the ordinary and the horrific." —Michiko Kakutani, The New York Times

"Remarkable. . . . Müller has achieved the near-impossible by restoring human proportions to the near mythical Anne. . . . Müller has returned the young writer to history." —Susan Jacoby, Newsday

"Mueller's book reminds us of the powerful role of contingency in history. It also ably celebrates what it calls 'a life of singular intensity' and offers noteworthy additions to Anne Frank's story . . . .Mueller's biography, in the end, does exactly what it should: it sends us back to Anne's words." —Julia M. Klein, The Philadelphia Inquirer

"Müller offers an especially impressive portrait of Anne's father, Otto, as well as a chilling, convincing theory about the Dutch informant who likely led the Gestapo to the secret annex." —Carolyn Alessio, Chicago Tribune (editor's choice)

"A thoughtful book, honorable and fluent . . . humane." —Robert Skloot, The Nation

"The author's literary gifts and exhaustive research distinguish Anne Frank: The Biography as both an absorbing and definitive text." —Deborah Hornblow, The Hartford Courant

"Müller succeeds in rounding out the picture of the sensitive and talented Jewish schoolgirl though interviews with friends and family, letters and previously unavailable documents." —The Minneapolis Star Tribune

"The first serious biography of Anne Frank." —David Barnouw and Gerrold van der Stroom, editors of The Diary of Anne Frank: The Critical Edition
Metropolitan Books, 9780805087314, 480pp.
Publication Date: June 11, 2013
About the Author
Melissa Müller is the author of numerous books on the history of the Third Reich. Her biography of Anne Frank has been translated into eighteen languages to date. Müller lives in Munich with her family.
or
Not Currently Available for Direct Purchase