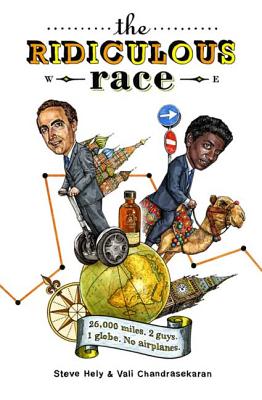 The Ridiculous Race
26,000 Miles, 2 Guides, 1 Globe, No Airplanes
Paperback

* Individual store prices may vary.
Description
The most absurd, hilarious, and ridiculous travelogue ever told, by two hit-TV comedy writers who raced each other around the world—for bragging rights and a very expensive bottle of Scotch

It started as a friendly wager: two old friends from The Harvard Lampoon, Steve Hely and Vali Chandrasekaran now hotshot Hollywood scribes, challenged each other to a race around the globe in opposite directions. There was only one rule: no airplanes. The first man to cross every line of longitude and arrive back in L.A. would win Scotch and infamy. But little did one racer know that the other planned to cheat him out of the big prize by way of a ride on a quarter-million-dollar jet pack.

What follows is a pair of hilarious, hazardous, and eye-opening journeys into the farthest corners of the world. From the West Bank to the Aleutian Islands, the slums of Rio to the steppes of Mongolia, traveling by ocean freighter and the Trans-Siberian Railway (pranking each other mercilessly along the way), Vali and Steve plunge eagerly and ill-prepared into global adventure.

The Ridiculous Race is a comic travelogue unlike any other, an outrageous tale of two gentlemen travelers who can't wait to don baggy cardigan sweaters, clench corncob pipes between their teeth, and yell at their sons, "You lazy bums! When we were your age, we raced around the world without airplanes!"
Praise For The Ridiculous Race: 26,000 Miles, 2 Guides, 1 Globe, No Airplanes…
"No one should set off for a plane ride, a day at the beach, or a lengthy visit to the bathroom without a copy of The Ridiculous Race. I laughed so much I almost died from a lack of oxygen reaching my brain." —Seth MacFarlane, creator of Family Guy and American Dad!

"…will make readers laugh and cry, often simultaneously. Hely's Victorian notions of world travel and the glory of bygone eras provide the perfect foil for Chandrasekaran's glib embrace of the comforts of modern life. Their comically inoffensive braggadocio is akin to your older brother's tales of his misspent youth; Chandrasekaran and Hely might be slightly obnoxious, but therein lies their charm. Hilarious travel writing for the chronically snarky." —Kirkus Reviews

"Riotous fun." —People Magazine

"Hilarious." —Entertainment Weekly

"Reads like a 300-page Simpsons episode." —WIRED

"Hilarious race around the world." —Publisher's Weekly

"This is one of the funniest books I've read in years….The hilarity lasts the whole way." —Anne Stephenson, The Arizona Republic
Holt Paperbacks, 9780805087406, 336pp.
Publication Date: July 8, 2008
About the Author
Steve Hely writes for the Fox animated comedy American Dad! He was twice president of The Harvard Lampoon, and has been a writer and performer on Last Call with Carson Daly and a writer for The Late Show with David Letterman, the latter earning him an Emmy Award nomination for Outstanding Writing for a Variety or Comedy Show.
Vali Chandrasekaran writes for television's My Name Is Earl. In 2006, his script Jump for Joy was nominated for a Writer's Guild Award. He has been an editor of The Harvard Lampoon and a management consultant for Boston Consulting Group, and he runs the Web site Vali's Views. In a memorable turn on-screen, he played the role of "Vali" on the NBC hit comedy The Office.