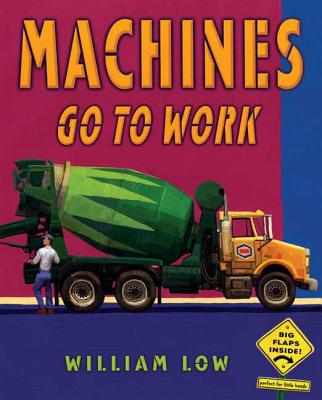 Machines Go to Work (Hardcover)
Henry Holt & Company, 9780805087598, 42pp.
Publication Date: May 12, 2009
Description
Toddlers love machines and things that go, and this book gives them everything they want, from a cement mixer to a helicopter to a backhoe. Six interactive gatefolds extend the original pictures to three pages, revealing something new about each situation. The final double gatefold opens into a very long train and shows all the machines at work
The last spread provides additional information about each machine for young readers to pore over again and again.
William Low's classically trained artist's eye adds a new layer to this genre both parents and children will appreciate the beautiful illustrations, the attention to detail, and the clever situational twists revealed by lifting the flaps.
About the Author
WILLIAM LOW has had a lifelong fascination with machines. He is the author and illustrator of Chinatown and Old Penn Station (a New York Times Best Illustrated Book), as well as the illustrator of Henry and the Kite Dragon by Bruce Edward Hall and Willy and Max by Amy Littlesugar. Mr. Low is a four-time Silver Medal winner at the Society of Illustrators. He teaches at the Fashion Institute of Technology in New York.
Praise For Machines Go to Work…
Praise for MACHINES GO TO WORK:
"Here is a fine picture book for little boys who have an innate love of machinery and the noises that big machines make. In fact, the richly colored pages of 'Machines Go to Work' probably could not be more exactly calibrated to entrance the vehicle-oriented, 2-to-6-year-old male demographic."—Wall Street Journal
"This design, along with terrific sound effects, encourages listeners to join in the reading…Low's digital art brightly colors each page with slightly impressionistic tones. Let these machines do all the work; the reading about them is pure pleasure."—The Horn Book Magazine, starred review
"Surprising use of color (a railroad crossing sign lights up against a swirling lavender backdrop) make the mechanical subject matter, always a favorite, spring off the page."—Publishers Weekly
"A fun and feisty tour of big, powerful and fascinating machines; each of them is ready, willing and eager to 'go to work.'… The illustrations have a bright, active and brushy effect, and they incorporate a pleasing palette that is heavy on bold primary colors. Low knows what works for kids who like their machines big and busy."—Kirkus Reviews
"This well-constructed picture book is a surefire hit."—School Library Journal, Starred Review
"Combining the excitement of powerful machines in action with reminders of how they help humans, Low adds a surprising dimension to the familiar story of vehicles at work. Children mesmerized by the vrooming motion will be drawn by the unframed, double-page spreads and big flaps that open to show overviews and close-ups of trucks, trains, and boats."—Booklist
"With glorious saturated colors, William Low demonstrates how various vehicles and vessels keep a community operating efficiently."—Kirkus Reviews
Advertisement