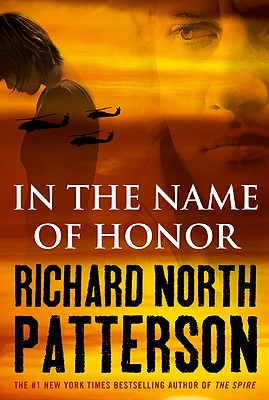 In the Name of Honor (Hardcover)
Henry Holt and Co., 9780805087741, 416pp.
Publication Date: June 29, 2010
Other Editions of This Title:
Digital Audiobook (6/28/2010)
Mass Market Paperbound (5/24/2011)
Compact Disc (6/29/2010)
Paperback, Large Print (6/10/2011)
Paperback (6/1/2011)
Hardcover (2/1/2011)
Hardcover, Large Print (7/1/2010)
* Individual store prices may vary.
Description
Home from Iraq, a lieutenant kills his commanding officer—was it self-defense or premeditated murder? An enthralling novel of suspense about the high cost of war and secrets
The McCarrans and the Gallaghers, two military families, have been close for decades, ever since Anthony McCarran—now one of the army's most distinguished generals—became best friends with Jack Gallagher, a fellow West Pointer who was later killed in Vietnam. Now a new generation of soldiers faces combat, and Lt. Brian McCarran, the general's son, has returned from a harrowing tour in Iraq. Traumatized by wartime experiences he will not reveal, Brian depends on his lifelong friendship with Kate Gallagher, Jack's daughter, who is married to Brian's commanding officer in Iraq, Capt. Joe D'Abruzzo. But since coming home, D'Abruzzo also seems changed by the experiences he and Brian shared—he's become secretive and remote.
Tragedy strikes when Brian shoots and kills D'Abruzzo on their army post in Virginia. Brian pleads self-defense, claiming that D'Abruzzo, a black-belt martial artist, came to his quarters, accused him of interfering with his marriage, and attacked him. Kate supports Brian and says that her husband had become violent and abusive. But Brian and Kate have secrets of their own, and now Capt. Paul Terry, one of the army's most accomplished young lawyers, will defend Brian in a high-profile court-martial. Terry's co-counsel is Meg McCarran, Brian's sister, a brilliant and beautiful attorney who insists on leaving her practice in San Francisco to help save her brother. Before the case is over, Terry will become deeply entwined with Meg and the McCarrans—and learn that families, like war, can break the sturdiest of souls.
About the Author
Richard North Patterson is the author of "Exile, Degree of Guilt, Silent Witness, The Spire, Eclipse, Eyes Of A Child, Conviction," and many other bestselling and critically acclaimed thrillers. Formerly a trial lawyer, he was the SEC liaison to the Watergate special prosecutor, the assistant attorney general for the state of Ohio, and has served on the boards of several Washington advocacy groups. In 1993, he retired from his law practice to devote himself to writing. His first novel, "The Lasko Tangent," was the winner of the Edgar Allen Poe Award for Best First Novel in 1980. He is a graduate of Ohio Wesleyan University and Case Western Reserve University School of Law, and is a recipient of their President's Award for Distinguished Alumni. He lives in Martha's Vineyard, San Francisco, and Cabo San Lucas with his wife, Dr. Nancy Clair.
Praise For In the Name of Honor…
"A powerful and devastating study of war and its aftermath on those who fight… Patterson long ago established himself as one of the nation's best writers of serious thrillers, and his latest novel burnishes his reputation as the thinking reader's best friend."—Richmond Times-Dispatch "Bestseller Patterson explores the concept of honor—and how men and women can sometimes embody and sometimes blacken this lofty concept—in this riveting legal thriller…. Superior genre fiction from a writer at the top of his game."—Publishers Weekly (starred review) "Patterson's insights into PTSD are fascinating but never interrupt the story's flow to its explosive ending, and his courtroom drama is as intensely engaging as the most action-filled thrillers."—Library Journal (starred review) "Patterson runs a taut ship in the courtroom, and his crafty dissection of the problems of traumatized veterans returning home will have older readers fondly recalling Anatomy of a Murder."—Kirkus Reviews "In The Name of Honor is an absolute humdinger of a murder mystery, with a you-will-never-guess twist that I greeted with pure envy.  This is a beautifully crafted book that offers not merely unrelenting suspense, but a close look at the dysfunctions of military justice and of one particular family."
—Scott Turow "A compelling and gripping read. Patterson explores the very real pressures of the loyalty, honor, and duty that accompany military service. It's a thriller that strikes at the heart of every soldier."—Senator John McCain "As always, Richard North Patterson demonstrates an uncanny knack for selecting a topic as hot as tomorrow's headlines, but the pleasures of this book far transcend its gripping and timely subject. In the Name of Honor is a family saga, a courtroom drama, and also a rare kind of love story. There is romance, of course, but also an exploration of other kinds of love—of country, comrades, ideas. This is Patterson's best book yet."—Geraldine Brooks
 
"No one knows the courtroom better—no one writes the courtroom better—than Richard North Patterson. In the Name of Honor is a riveting tale of love and betrayal, truth and its role in a search for justice, war and its devastating effect on combatants and their families. As always, Patterson's plotting is brilliant and nuanced, his characters richly developed, and his prose is as elegant as it is gripping."—Linda Fairstein "Stephen King, in one of his novels, has his main character reflect that 'Patterson and DeMille are probably the best of the current popular novelists.' I could not agree more, and Richard North Patterson has done it again with In the Name of Honor, which will be very favorably compared to The Caine Mutiny."—Nelson DeMille
or
Not Currently Available for Direct Purchase