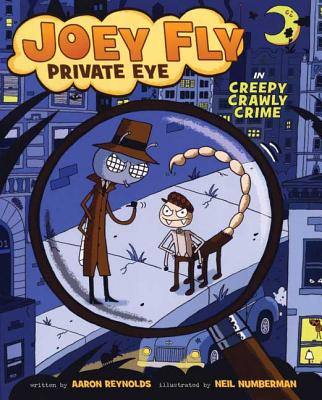 Creepy Crawly Crime (Joey Fly, Private Eye #1) (Paperback)
Square Fish, 9780805087864, 96pp.
Publication Date: April 14, 2009
* Individual store prices may vary.
Description
Have you ever had one of those moments? You know—you're trying to find a stolen diamond pencil box for your beautiful butterfly customer, your mosquito witness won't give you any information, and your clumsy scorpion assistant has just tampered with your only bit of evidence?
Joey Fly has those moments a lot. In fact, he's probably having one right now. But that won't stop him from solving the mystery in Creepy Crawly Crime, his fantastic first graphic novel!
About the Author
AARON REYNOLDS is the author of numerous great books for kids, including Chicks and Salsa, Tale of the Poisonous Yuck Bugs, The Nineteenth of Maquerk, and Breaking Out of the Bungle Bird. He lives near Chicago, where his wife, two kids, and four cats keep life spicy.

Neil Numberman is okay with flies and ladybugs, but he's deathly afraid of cockroaches. He graduated from the MFA illustration program at the School of Visual Arts and lives in Manhattan. He is the illustrator of Creepy Crawly Crime by Aaron Reynolds.
Praise For Creepy Crawly Crime (Joey Fly, Private Eye #1)…
"In this first installment of the Joey Fly, Private Eye series, Reynolds (Buffalo Wings) and Numberman, who makes a wowser of a debut, marry the film noir spoof to the graphic novel, and the result has the sweet smell of success written all over it." —Publishers Weekly, Starred Review
"This playful pun-a-minute comic-book mystery is sure to charm. Numberman provides detailed backgrounds set in cool blues and warm sepia tones to create a visually engaging landscape smacking of noir-lite. Included at the end is a list of items that young detectives must then page back through the art to find. An auspicious series kick-off." —Kirkus Reviews
"The plot, characters, and setting in this graphic novel are all inspired from the novels of hardboiled-detective legends Hammett and Chandler, but Reynolds expertly injects a buggy layer of hilarious high jinks. Numberman takes it one step further by using the dark color schemes most associated with film noir combined with clean, detailed art. Kids will get caught in the web of this classic mystery cleverly disguised as a simple bug's tale." —Booklist
"Simple, whimsical drawings and humorous dialogue give the book child appeal." —School Library Journal