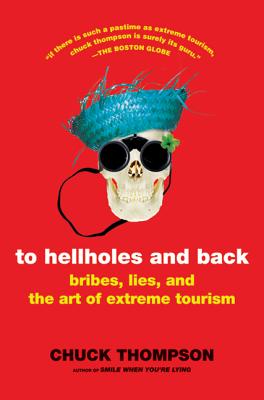 To Hellholes and Back (Paperback)
Bribes, Lies, and the Art of Extreme Tourism
Holt Paperbacks, 9780805087888, 336pp.
Publication Date: December 8, 2009
* Individual store prices may vary.
Description
The guru of extreme tourism sets out to face his worst fears in Africa, India, Mexico City, and—most terrifying of all—at Disney World
In the widely-acclaimed Smile When You're Lying, Chuck Thompson laid bare the travel industry's dirtiest secrets. Now he's out to discover if some of the world's most ill-reputed destinations live up to their bad raps, while confronting a few of his own travel anxieties in the process. Whether he's traveling across the Congo with a former bodyguard from notorious dictator Joseph Mobutu's retinue or diving into the heart of India's monsoon season, To Hellholes and Back delivers Thompson's trademark combination of hilarious stories and wildly provocative opinions, as well as some surprising observations about America's evolving place in the world.
About the Author
Chuck Thompson, the author of Smile When You're Lying, is a former features editor for Maxim and was the first editor in chief of Travelocity magazine and served as part of the editorial team for the launch of CNNGo.com. He has traveled on assignment in more than thirty-five countries and his writing and photography have appeared in The Atlantic, Esquire, National Geographic Adventure, Playboy, Spy, Escape, WWE Magazine, Outside, Men's Journal, and the Los Angeles Times. He lives in the Pacific Northwest.
Praise For To Hellholes and Back: Bribes, Lies, and the Art of Extreme Tourism…
"Thompson is wickedly entertaining...reminiscent of Chuck Klosterman and David Foster Wallace....The unvarnished reality in these pages might just make you more eager than ever to hit the road." —San Francisco Chronicle on Smile When You're Lying
"If there is such a pastime as extreme tourism, Chuck Thompson is surely its guru." —Boston Globe on Smile When You're Lying
"[Thompson] knows the score and he tallies it accurately....A dead-on demolition job...The book is a savagely funny act of revenge." —The New York Times on Smile When You're Lying
"Riveting, hilarious, and wildly entertaining." —Booklist
"His observations are sharp and honest. A witty, provocative tale that … packs in plenty of local flavor and amusing anecdotes." —Kirkus
"[From] the original rogue travel writer…. Well-written, funny, and fast-paced.… It's refreshing to read a travel writer who eschews all the 'sun-dappled vista'-style prose and tells it like it is." —Jaunted.com
"Filled with hilarious stories, wildly provocative opinions and unvarnished observations about world travel, To Hellholes and Back proves Thompson is not only a sharp, gritty writer but a fearless man of travel." —Zink Magazine
"Extremely irreverent." —Outside Magazine
"[A] tour de force à la Eat, Pray, Love, only with snarky commentary and well, not a hint of spirituality…" —Brave New Traveler
"[A] humorous send-up to these four … fascinating destinations…. It's dirty, scandalous, and it'll give you a completely fresh perspective on travel, travel writing, and the travel industry." —The Lost Girls
"[Thompson's] incisive observations and biting sense of humor make for some riveting reading." —The Denver Post