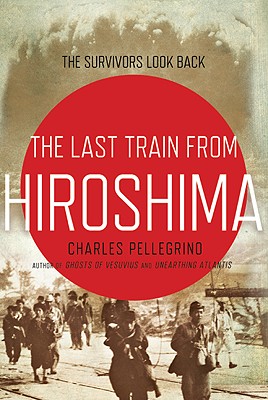 The Last Train from Hiroshima: The Survivors Look Back (Hardcover)
The Survivors Look Back
Henry Holt and Co., 9780805087963, 384pp.
Publication Date: January 19, 2010
* Individual store prices may vary.
or
Not Currently Available for Direct Purchase
Description
Drawing on the voices of atomic-bomb survivors and the new science of forensic archaeology, Charles Pellegrino describes the events and aftermath of two days in August when nuclear devices detonated over Japan changed life on Earth forever
Last Train from Hiroshima offers readers a stunning "you are there" time capsule, gracefully wrapped in elegant prose. Charles Pellegrino's scientific authority and close relationship with the A-bomb's survivors make his account the most gripping and authoritative ever written.
At the narrative's core are eyewitness accounts of those who experienced the atomic explosions firsthand—the Japanese civilians on the ground and the American flyers in the air. Thirty people are known to have fled Hiroshima for Nagasaki—where they arrived just in time to survive the second bomb. One of them, Tsutomu Yamaguchi, is the only person who experienced the full effects of the cataclysm at ground zero both times. The second time, the blast effects were diverted around the stairwell in which Yamaguchi had been standing, placing him and a few others in a shock coccoon that offered protection, while the entire building disappeared around them.
Pellegrino weaves spellbinding stories together within an illustrated narrative that challenges the "official report," showing exactly what happened in Hiroshima and Nagasaki—and why.
Praise For The Last Train from Hiroshima: The Survivors Look Back…
"Heart-stopping. Pellegrino dissects the complex political and military strategies that went into the atomic detonations and the untold suffering heaped on countless Japanese civilians, weaving all of the book's many elements into a wise, informed protest against any further use of these terrible weapons."--Publishers Weekly, Starred Review
"Sober and authoritative. . . . A firm, compelling synthesis of earlier memoirs and archival material, as well as of the author's own interviews and research. This is gleaming, popular wartime history, John Hersey infused with Richard Preston and a fleck of Michael Crichton."--Dwight Garner, The New York Times
"The tragedies and atrocities of World War II now belong to history, while Hiroshima is still part of our world, our continuing present, maybe our dreaded future. The Last Train from Hiroshima reminds us why this is so. Charles Pellegrino's account of what it was actually like on the ground in both Hiroshima and Nagasaki, culled from survivors' memories and his own work in forensic archaeology, is the most powerful and detailed I have ever read. It puts flesh on the skeletons."--Joseph Kanon, The Washington Post
"Pellegrino here chronicles history's most destructive attack by human beings on others of their species . . . . The author includes stories of instant and total devastation—people vaporizing, buildings disappearing—and improbable survivals and bizarre effects: permanent human shadows cast on walls; a teacher whose face bore the imprint of a student's writing she was examining when the flash came; a man whose eye problems were cured, another whose cancer went into remission . . . . Enormously painful to read, but absolutely essential to do so."--Kirkus, Starred Review
"The train of the title was bound for Nagasaki: 30 survivors of the bombing of Hiroshima fled there, only to run straight into a second catastrophe. Charles Pellegrino's account is full of such terrible ironies, which he describes with a lucid, almost lyrical precision."--Time Magazine, Pick of the Week
"A frightening, grim, yet fascinating examination of the nuclear attacks on Japan. . . . This is shocking, well-written, and will counter the oft expressed opinion that [nuclear bombs] are 'just another weapon.'"--Jay Freeman, Booklist
"This book somehow combines intense forensic detail—some of it new to history —with unfathomable heartbreak. Pellegrino unflinchingly chronicles these most devastating of events, the only times nuclear weapons have been used against human beings, and begs us to hold hands and to pray that it never happens again. A must-read for anyone with a conscience."--James Cameron, director and producer
"Charles Pellegrino's gripping new book is to Hiroshima and Nagasaki what Walter Lord's A Night to Remember was to the Titanic. Pellegrino fills this fascinating work with dark revelations, incredible imagery, and unforgettable characters. With a scientist's eye for detail, the author sets the record straight about what actually happened. So forget what you thought you knew about the August 1945 atomic bombings and their aftermath. Last Train from Hiroshima is the definitive account." --Bill Schutt, Research Associate, The American Museum of Natural History, and author of Dark Banquet
"Charles Pellegrino's unique forensic archaeological approach . . .  should be required reading for all those making decisions of war.  Despite past attempts to suppress this history, Charles has succeeded in a detailed immortalization of one of the true turning points in human existence."--Tom Dettweiler, NOAA Ocean Explorer
"Let's hope this book touches at the hearts of the many and that such extreme methods of societal control are finally eliminated . . . A monumental work." --Dr. Roy Cullimore, Founder and President of Droycon Bioconcepts, Inc.
Coverage from NPR
Advertisement