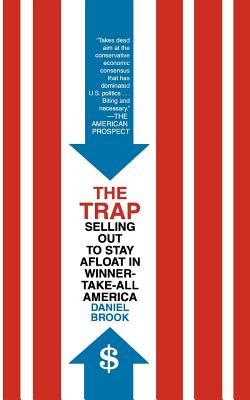 The Trap
Selling Out to Stay Afloat in Winner-Take-All America
Paperback

* Individual store prices may vary.
Description
"Takes dead aim at the conservative economic consensus that has dominated U.S. politics . . . Biting and necessary."—The American Prospect

In this witty and revealing polemic, journalist Daniel Brook's The Trap argues that the exploding income gap—a product of the conservative ascendance—is systematically dismantling the American dream, as debt-laden, well-educated young people are torn between their passions and the pressure to earn six-figure incomes.

Rising education, housing, and health-care costs have made it virtually impossible for all but the corporate elite to enjoy what were once considered middle-class comforts. Thousands are afflicted with a wrenching choice: take up residence on America's financial and social margins or sell out. From the activist who works to give others a living wage but isn't paid one himself, to the universal health-care advocate who becomes a management consultant for Big Pharma, Brook presents a damning indictment of the economic and political landscape that traps young Americans.
Praise For The Trap: Selling Out to Stay Afloat in Winner-Take-All America…
"Daniel Brook has written a searing indictment of an unequal America in which anxiety rules and even idealists sell their souls to the highest bidder. This book is funny, smart, and compulsively readable, but most of all it is terrifying." —David Callahan, author of The Cheating Culture and The Moral Center

"The Trap shows how the decimation of the middle class is making the most meaningful kind of work unsustainable. When jobs that are altruistic and creative are a sure ticket to penury, the whole society loses. This is an incisive, important, consciousness-raising book that should inspire professionals to understand their financial insecurity as the system's failure, not their own--and to demand change." —Michelle Goldberg, author of Kingdom Coming: The Rise of Christian Nationalism

"Daniel Brook makes a truly powerful case against the hyperindividualism rotting away at the foundations of our society. He shows, with data and also with one story after another, what a tough time it is to be coming up in America. If you know someone (maybe yourself) who feels trapped in a job that doesn't really reflect their hopes and dreams, then this book will help explain how it happened, and how, together, we might be able to change it." —Bill McKibben, author of Deep Economy: The Wealth of Communities and the Durable Future

"Daniel Brook's The Trap will transform the way we think and talk about America's most pressing economic and social problem, growing income inequality. It's a terrific book." —Robert H. Frank, author of The Economic Naturalist and The Winner Take All Society

"We let inequality call itself 'freedom,' when freedom is precisely what inequality is costing us. Daniel Brook's The Trap is a powerful corrective to this enormous mistake." —Benjamin Kunkel, author of Indecision
Holt Paperbacks, 9780805088014, 288pp.
Publication Date: April 1, 2008
About the Author
Daniel Brook is a journalist whose writing has appeared in Harper's, Dissent, The San Francisco Chronicle, and The Boston Globe, among other publications. Brook was a finalist in the 2003 Livingston Awards for Young Journalists and won the 2000 Rolling Stone College Journalist Competition while a student at Yale. He is the author of The Trap: Selling Out to Stay Afloat in Winner-Take-All America. He lives in Philadelphia.