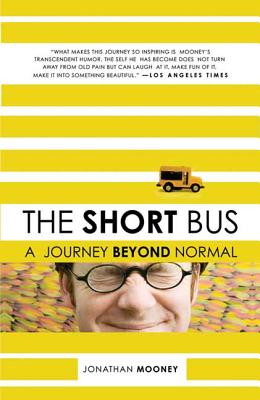 The Short Bus
A Journey Beyond Normal
Paperback

* Individual store prices may vary.
Other Editions of This Title:
Digital Audiobook (3/26/2019)
Description
"What makes this journey so inspiring is Mooney's transcendent humor; the self he has become does not turn away from old pain but can laugh at it, make fun of it, make it into something beautiful."—Los Angeles Times

Labeled "dyslexic and profoundly learning disabled," Jonathan Mooney was a short-bus rider—a derogatory term used for kids in special education. To learn how others had moved beyond labels, he bought his own short bus and set out cross-country, looking for kids who had dreamed up magical, beautiful ways to overcome the obstacles that separated them from the so-called normal world.
The Short Bus is his irreverent and poignant record of that odyssey, meeting thirteen people in thirteen states who taught Mooney that there's no such thing as normal—and that to really live, every person must find their own special way of keeping on. The Short Bus is a unique gem, propelled by Mooney's heart, humor, and outrageous rebellions.
Praise For The Short Bus: A Journey Beyond Normal…
"Jonathan Mooney is an uplifting, rebellious voice who will strike a chord with anyone who has ever had a hard time marching in step in a culture of conformity. His book is not just about how Jon found personal success after growing up with severe learning differences (dyslexia and ADHD), it's the story of his journey to accept himself by finding others labeled "disabled" or "not normal" who have survived and even triumphed. In person, in his amazing speeches around the country, Jonathan speaks with heart, spirit and energy, helping audiences re-imagine their lives. He does this same thing in his remarkable, magical book. Get on the short bus and fasten your seat belts. No matter who you are, you won't be the same at the end of this ride." —Edward M. Hallowell M.D., author of Delivered from Distraction: Getting the Most Out of Life with Attention Deficit Disorder and other books

"Curious and compassionate, clearheaded and self-questioning, enlightened and illuminating, Jonathan Mooney takes us on a modern yet timeless odyssey. In his drive across America, he steers us past his own painful memories, through the history of disabilities, and into the lives of people who refuse to be oppressed. A long overdue tribute to our brothers and sisters on the short bus, and a desperately needed battle cry against the tyranny of normalcy." —Rachel Simon, author of Riding the Bus with My Sister

"Hop on board The Short Bus with Jonathan Mooney to experience a one of a kind ride. Purposefully taking readers far beyond the limits of 'normalcy,' he drives deep into the heart of human existence--asking us where do we truly stand in our acceptance of diversity? As the informative, insightful, and irreverent guide of the tour, Mooney bares his soul and his ass in equal measure. Passing through the unpredictable landscape, we encounter the often disarming beauty of human difference embodied in the everyday lives of (extra)ordinary people who--by their very existence--shatter the ideals of "mainstream" America. Ultimately, The Short Bus is a true celebration of survival and diversity." —Dr. David J. Connor, Co-author of Reading Resistance

"The Short Bus is a must-read account of a subversive journey through the heartland of normalcy. Mooney's trip is like Steinbeck's Travels with Charley or Kerouac's On the Road, only his subjects are a colorful gaggle of people with learning disabilities who share a refreshing irreverence towards the received ideas of a therapeutic society. Mooney writes with a strong power of observation and a refreshing writing style that makes you understand how good a writer a card-carrying dyslexic can be. Anyone interested in America, disability, or the pleasures of being alive should read this work." —Lennard Davis, author of Enforcing Normalcy

"This book should be required reading for anyone who thinks they are in the business of "helping" or "serving" people with disabilities. Mooney understands the power that comes when disabled children and adults claim their identity, reject social constructs of what is normal, and define success on their own terms. By journeying beyond normal, Mooney shows the way to a more human, more interesting destination that can transform the field of education, lay bare the shortcomings of the helping professions, and help disabled people get in touch with their own power." —Andrew Imparato, President and CEO American Association of People with Disabilities

"Get on Jonathan Mooney's bus--he will drive you to the heart of the matter." —Simi Linton, author of the memoir My Body Politic

"The Short Bus is a wonderful 'on the road' story that beats out even Kerouac's book. . . . Superbly written." —John McKnight, author of The Careless Society.

"In this wonderful memoir, John Mooney charts his passage out of ableism and saneism. Along the way, he teaches us the possibility of joining him in a state of mind beyond the binaries of the normal and the pathological. A true pleasure to read!" —Bradley Lewis, MD, PhD, Gallatin School of Individualized Study, New York University

"The Short Bus should be tucked into the back of every short bus seat as a treat. And it should be required reading for every PTA, every school board, and every person involved with kids in any way." —Josh Blue, Card-carrying member of the Freak Club

"The view from The Short Bus is candid, irreverent and eye opening. Mooney takes us On the Road, asking what happens when you stop chasing the horizon of normalcy and start reveling in your differences." —Harold S. Koplewicz, M.D., Chairman, Department of Child and Adolescent Psychiatry, NYU School of Medicine, Author of Moore than Moody and It's Nobody's Fault

"Ride Jonathan Mooney's The Short Bus and you will be changed. With captivating storytelling, Mooney kidnaps the reader away from 'normal' for a journey that is hilarious, heartbreaking, and ultimately liberating. Anyone has had to deal with the ill fitted suit of 'normalcy' in their coming-of-age will recognize the struggles in these stories -- and as it turns out that means every one of us! The Short Bus gives us a whole new way to understand all young people, and to support the genius of difference in our communities." —Michael Patrick MacDonald, author of All Souls and Easter Rising
Holt Paperbacks, 9780805088045, 288pp.
Publication Date: May 27, 2008
About the Author
Jonathan Mooney's work has been featured in The New York Times, The Los Angeles Times, The Chicago Tribune, USA Today, HBO, NPR, ABC News, New York Magazine, The Washington Post, and The Boston Globe, and he continues to speak across the nation about neurological and physical diversity, inspiring those who live with differences and advocating for change. He is the author of The Short Bus and Learning Outside the Lines.
or
Not Currently Available for Direct Purchase