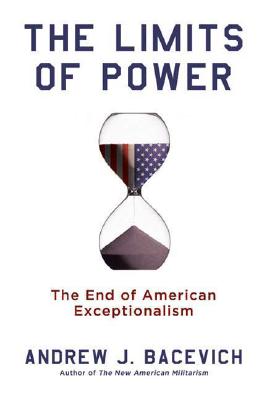 The Limits of Power (Hardcover)
The End of American Exceptionalism
Metropolitan Books, 9780805088151, 224pp.
Publication Date: August 5, 2008
Other Editions of This Title:
Digital Audiobook (9/2/2008)
Paperback (4/27/2009)
CD-Audio (10/14/2008)
* Individual store prices may vary.
Description
From an acclaimed conservative historian and former military officer, a bracing call for a pragmatic confrontation with the nation's problems
"The Limits of Power "identifies a profound triple crisis facing America: the economy, in remarkable disarray, can no longer be fixed by relying on expansion abroad; the government, transformed by an imperial presidency, is a democracy in form only; U.S. involvement in endless wars, driven by a deep infatuation with military power, has been a catastrophe for the body politic. These pressing problems threaten all of us, Republicans and Democrats. If the nation is to solve its predicament, it will need the revival of a distinctly American approach: the neglected tradition of realism.
Andrew J. Bacevich, uniquely respected across the political spectrum, offers a historical perspective on the illusions that have governed American policy since 1945. The realism he proposes includes respect for power and its limits; sensitivity to unintended consequences; aversion to claims of exceptionalism; skepticism of easy solutions, especially those involving force; and a conviction that the books will have to balance. Only a return to such principles, Bacevich argues, can provide common ground for fixing America's urgent problems before the damage becomes irreparable.
About the Author
Andrew J. Bacevich, a professor of history and international relations at Boston University, retired from the U.S. Army with the rank of colonel. He is the author of "The New American Militarism," among other books. His writing has appeared in "Foreign Affairs," "The Atlantic Monthly," "The Nation," "The New York Times," "The Washington Post," and "The Wall Street Journal." He is the recipient of a Lannan award and a member of the Council on Foreign Relations.
Praise For The Limits of Power: The End of American Exceptionalism…
"This compact, meaty volume ought to be on the reading list of every candidate for national office in November's elections. In an age of cant and baloney, Andrew Bacevich offers a bracing slap of reality. The Limits of Power is gracefully written and easy to read… chockablock with provocative ideas and stern judgments. Bacevich's brand of intellectual assuredness is rare in today's public debates. Many of our talking heads and commentators are cocksure, of course, but few combine confidence with knowledge and deep thought the way Bacevich does here. His big argument is elegant and powerful."—The Washington Post
"Strongly felt and elegantly written… The Limits of Power is painfully clear-sighted and refreshingly uncontaminated by the conventional wisdom of Washington, D.C."—The Economist
"Andrew Bacevich speaks truth to power, no matter who's in power, which may be why those of both the left and right listen to him."—Bill Moyers
"Compelling."—Lou Dobbs
"Bacevich is the real deal. A quiet, cool voice of sanity with his spare, rigorous and unfailing honest analyses of America's role in the world and deepening strategic predicaments. This book should be essential reading for every National Security Council staffer in the next Washington administration, be it Republican or Democratic. In any sane political system, Mr. Bacevich would be immediately recruited to run intelligence and research at the State Department or policymaking at the Pentagon. The Limits of Power is destined to stand as a lonely classic signpost pointing the way to any future hope of renewed international and political security for the American people."
—Martin Sieff, The Washington Times
"In this utterly original book, Andrew Bacevich explains how our 'empire of consumption' contains the seeds of its own destruction and why our foreign policy establishment in Washington is totally incapable of coming to grips with it. Indispensable reading for every citizen."—Chalmers Johnson, author of the Blowback Trilogy
"A clear-eyed look into the abyss of America's failed wars, and the analysis needed to climb out. In Andrew Bacevich, realism and moral vision meet."—James Carroll, author of House of War
"In The Limits of Power, Andrew Bacevich takes aim at America's culture of exceptionalism and scores a bulls eye. He reminds us that we can destroy all that we cherish by pursuing an illusion of indestructibility."—Lt. Gen. Bernard E. Trainor USMC (Ret.), co-author of The General's War and Cobra II
"Andrew Bacevich has written a razor sharp dissection of the national myths which befuddle U.S. approaches to the outside world and fuel the Washington establishment's dangerous delusions of omnipotence. His book should be read by every concerned US citizen."—Anatol Lieven, author of America Right or Wrong: An Anatomy of American Nationalism
"In The Limits of Power, Andrew Bacevich delivers precisely what the Republic has so desperately needed: an analysis of America's woes that goes beyond the villain of the moment, George W. Bush, and gets at the heart of the delusions that have crippled the country's foreign policy for decades. Bacevich writes with a passionate eloquence and moral urgency that makes this book absolutely compelling. Everyone should read it."—Mark Danner, author of Torture and Truth: America, Abu Ghraib, and the War on Terror
or
Not Currently Available for Direct Purchase