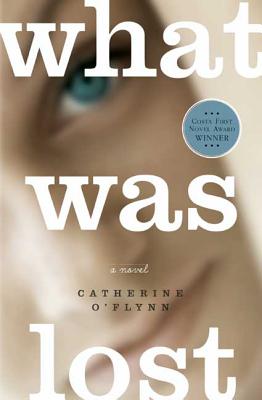 What Was Lost
A Novel
Paperback

* Individual store prices may vary.
Other Editions of This Title:
Digital Audiobook (6/23/2008)
Compact Disc (7/1/2008)
Compact Disc (12/13/2011)
Description
A tender and sharply observant debut novel about a missing young girl—winner of the Costa First Novel Award and long-listed for the Booker Prize, the Orange Prize, and The Guardian First Book Award

In the 1980s, Kate Meaney—"Top Secret" notebook and toy monkey in tow—is hard at work as a junior detective. Busy trailing "suspects" and carefully observing everything around her at the newly opened Green Oaks shopping mall, she forms an unlikely friendship with Adrian, the son of a local shopkeeper. But when this curious, independent-spirited young girl disappears, Adrian falls under suspicion and is hounded out of his home by the press.

Then, in 2003, Adrian's sister Lisa—stuck in a dead-end relationship—is working as a manager at Your Music, a discount record store. Every day she tears her hair out at the outrageous behavior of her customers and colleagues. But along with a security guard, Kurt, she becomes entranced by the little girl glimpsed on the mall's surveillance cameras. As their after-hours friendship intensifies, Lisa and Kurt investigate how these sightings might be connected to the unsettling history of Green Oaks itself. Written with warmth and wit, What Was Lost is a haunting debut from an incredible new talent.
Praise For What Was Lost: A Novel…
"What Was Lost is a terrific, wonderful book and I loved every page of it." —Douglas Coupland, author of The Gum Thief

"An off-beat quirky little mystery which punches way above its weight. Set in Birmingham in the mid-eighties, adolescent loner Kate aspires to be a great detective, spending days on stake-out at her local shopping centre. The narrative then jumps 20 years, when the ghost of a little girl starts appearing in service corridors. The author's achingly astute observations on consumerism make this far more than a generic mystery and the icing on the cake is a twist in the tail which I really didn't see coming." —Marian Keyes, author of Anybody Out There? and Angels

"What Was Lost is a delight to read--poignant, suspenseful, funny and smart. . . . [It] is a moving novel, bespeaking not only the energy and inventiveness of its author but also the power of good old realism." —Jane Smiley, LA Times Sunday Book Review

"The bravest and most appealing adolescent this side of The Lovely Bones, aspiring detective Kate Meaney vanishes partway through Catherine O'Flynn's mesmerizing debut novel, What Was Lost. . . There are many ways to feel invisible, we learn from this gentle, sharp-sighted tale of love and loneliness. And there are many ways to be found." —O, The Oprah Magazine

"Engrossing. . . With a sure hand for both suspense and satire, O'Flynn is a masterful writer, and her book a delicious mash-up of Nancy Drew and High Fidelity--teary and tart in the right proportions." —Marie Claire

"At once moving and wickedly funny, [What Was Lost] is one dazzling debut." —People (four stars)
Holt Paperbacks, 9780805088335, 256pp.
Publication Date: June 24, 2008
About the Author
Catherine O'Flynn is the author of the bestselling debut novel, What Was Lost, which won the Costa First Novel Award in 2007, was short-listed for The Guardian First Book Award, and was long-listed for the Booker Prize and the Orange Prize. Her second novel, The News Where You Are was an Indie Next List selection and was shortlisted for the 2011 Edgar Award for Best Paperback Original. She lives in Birmingham, England.
What drove Kate into an imaginary detective world? What sort of heroism does she fantasize about?
How was Kate influenced by her father, both before and after his death? How did his approach to parenting compare to her grandmother's?
What makes Green Oaks so appealing to Kate? Why is it important for her to go where no one knows her?
How did you react to the shift in point of view after Kate disappeared? How did the adults' perceptions compare to hers?
How does Lisa cope with the aftermath Kate's disappearance has on her brother and her parents?
How would you characterize Kurt and Kurt Sr.? How do the differences between Kurt and his sister, Loretta, affect their roles in the family?
Discuss Green Oaks itself and the closed factory that looms in its history. What do shopping and stores such as Your Music bring to the community? How pervasive is mall culture in our society?
How did your understanding of Teresa unfold? What had the dynamics between Kate and Teresa been like when they first met? How was Teresa affected by abuse once she reached adulthood?
Ultimately, who was responsible for Kate's death? Could it have been prevented?
What is evoked by the top-secret detective notebook entry that forms chapter 41 in the novel? In what way do Kate's observations in those last scenes bring her story full circle?
How would you describe the relationship between Lisa's co-workers? What do their interactions with each other and with the customers say about their personalities? Why do they stay in their jobs? How does Lisa handle the task of disciplining the volatile Steve in chapter 25? Why did Ian string Mr. Wake along for nearly two years regarding the classical-music cassette (chapter 31)?
Discuss the novel's title and its double meanings. In what way does Kate's disappearance serve as a metaphor for the other lost souls depicted by Catherine O'Flynn (including the mall generation itself)? How did Lisa and Kurt become lost? Is their apathy indicative of their generation as a whole?