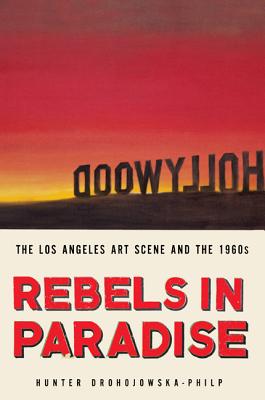 Rebels in Paradise (Hardcover)
The Los Angeles Art Scene and the 1960s
Henry Holt and Co., 9780805088366, 288pp.
Publication Date: July 19, 2011
* Individual store prices may vary.
Description
The extraordinary story of the artists who propelled themselves to international fame in 1960s Los Angeles
Los Angeles, 1960: There was no modern art museum and there were few galleries, which is exactly what a number of daring young artists liked about it, among them Ed Ruscha, David Hockney, Robert Irwin, Bruce Nauman, Judy Chicago and John Baldessari. Freedom from an established way of seeing, making, and marketing art fueled their creativity, which in turn inspired the city. Today Los Angeles has four museums dedicated to contemporary art, around one hundred galleries, and thousands of artists. Here, at last, is the book that tells the saga of how the scene came into being, why a prevailing Los Angeles permissiveness, 1960s-style, spawned countless innovations, including Andy Warhol's first exhibition, Marcel Duchamp's first retrospective, Frank Gehry's mind-bending architecture, Rudi Gernreich's topless bathing suit, Dennis Hopper's Easy Rider, even the Beach Boys, the Byrds, the Doors, and other purveyors of a California style. In the 1960s, Los Angeles was the epicenter of cool.
About the Author
Hunter Drohojowska-Philp is the author of Full Bloom: The Art and Life of Georgia O'Keeffe, considered the most definitive biography of the popular artist. She lives in Los Angeles, where she is a journalist and art critic for Artnet, ARTnews and the Los Angeles Times.
Praise For Rebels in Paradise: The Los Angeles Art Scene and the 1960s…
"Rebels in Paradise recounts the story of how adventurous contemporary art developed in Los Angeles in the late 1950s, and how an 'art scene' took off in the city during the '60s. Hunter Drohojowska-Philp is especially interested in the 'scene' part--how little-known artists joined together to form a cool cohort. . . . Throughout the book we get good stories, the kind that artists often tell one another over drinks, and that they or their friends shared with Drohojowska-Philp." —Michael S. Roth, The Washington Post
"This snappy, gossipy book is…more about artists than art. This is as it should be…The People-magazine-meets-modern-art tone might be tedious if it weren't for Ms. Drohojowska-Philp's way with capsule descriptions." —Peter Plagens, The Wall Street Journal
"More Vanity Fair than standard art history, it's an affectionate, deliciously gossipy account of the decade when a convergence of renegade artists, entrepreneurs, curators, collectors and writers put Los Angeles on the art world's map. Hunter Drohojowska-Philp, a longtime observer of the scene and a biographer of artist Georgia O'Keeffe ... has conducted numerous interviews and pored over oral histories, exhibition catalogs, books and magazines to compile a scrapbook-like story of the period's leading personalities .... Who knew that Eve Babitz--the 19-year-old nude who played chess with Duchamp at the Pasadena Art Museum--wore a size 36 DDD bra? Or that Gehry participated in a rock band of makeshift instruments by ringing a bicycle bell and pumping a toilet plunger in a pail? ... An entertaining, often insightful guide to the spirit of the scene." —Suzanne Muchnic, L.A. Times
"Brilliantly illuminated .... Drohojowska-Philp skillfully interlinks the art movement with news events and cultural milestones in film, fashion, novels, theater, and music, from Frank Gehry's architecture to the Watts riots. Having interviewed many of the participants, she introduces David Hockney and others with in-depth profiles and colorful anecdotes. Recreating an electric era when the art world made an axis shift, Drohojowska-Philp successfully paints a Day-Glo image of those days when anything seemed possible." —PW, Starred Review
"Drohojowska-Philp has done massive research to compile this generous account of a movement and its movers--not just the artists (and their biographies) but many of the personalities and celebrities and hangers-on who enjoyed the decade-long whirlpool.... Comprehensive, educative and entertaining for eye, mind, imagination and libido." —Kirkus
"Rebels in Paradise has a light, almost breezy tone, but Drohojowska-Philp delves into thornier social issues as easily as she conveys the excitement of, say, the nearly simultaneous openings of Andy Warhol's show at Ferus and Marcel Duchamp's retrospective at the Pasadena Art Museum…Los Angeles was an exciting place in the '60s, and her book makes you wish you had been there." —Richard Kalina, Art in America
"Drohojowska-Philp's extensively researched, highly readable text details the skeins of tribal relationships that bound the major artists who emerged in L.A. in the 1950's, '60's and '70's: Ed Ruscha, Robert Irwin, John McCracken, Bruce Nauman, Vija Celmins, John Baldessari, Ed Moses, and others, all photo-documented by the very much on-the-scene Dennis Hopper and many represented by the legendary Ferus Gallery." —Interior Design
"From the opening chapter. . . [Rebels in Paradise] defines that legendary space as the epicenter of SoCal cool. Hunter Drohojowska-Philp, who has written about the scene for decades, works in all the key figures, from the artists John Baldessari, Ed Kieholz, and Ed Ruscha to the crucial dealer Irving Blum, a seemingly omnipresent Dennis Hopper, and countless supporting collectors. This action-packed tome is the perfect preparation for next fall's Pacific Standard Time festival of museum shows celebrating the Southland art scene in the postwar years." —Art + Auction
"An entertaining page-turner, and I couldn't set it down. Drohojowska-Philp wanted to make sure these stories were not lost, and thanks to her research and smooth narrative, an earlier time is effectively brought to life. Anyone wishing to write a period history should read this book to see how it is meant to be done." —James Croak, ArtNet
"An affectionate account of how artists such as Ed Ruscha, John Baldessari and David Hockney transformed the city by igniting a quest for artistic freedom that spread from L.A. to all of America. Drohojowska-Philp's new book is filled with art history that provides thoughtful insight into Marcel Duchamp's first retrospective, Andy Warhol's first exposition, even the Doors and Dennis Hopper's Easy Rider. Plus, Rebels in Paradise takes a page from TMZ and includes the juicy gossip of the artists' sex lives, love affairs and crumbling marriages." —Joe Lapin, LA Weekly
"Hunter's vivid and breezy drive through the brimming LA art scene of the Sixties will come as a revelation to those who as yet know nothing of that marvelous era, but perhaps even more so to those who figure they knew pretty much knew it all. As one of the latter, I kept on being visited by hunh! and ha! moments as Hunter merrily connected dots and filled in back story, generously lavishing both wide context and wry insight." —Lawrence Weschler, author of Seeing is Forgetting the Name of the Thing One Sees
"You should read Hunter Drohojowska-Philp's Rebels in Paradise if you are interested in the art scene in Los Angeles in the Sixties, or if you are interested in any art scene for that matter (since they are all too mystifyingly similar). Ms. Drohojowska-Philp fleshes out the blank spaces, the back stories, the black stories and the vendettas accurately, but with benign confidence. In another tone, this would be an exposé. In Hunter's tone, it is well-meant reminder that the legend was, well, just that." —Dave Hickey, author of Air Guitar and The Invisible Dragon
"Hunter Drohojowska-Philp's breezy, fast-paced new book Rebels in Paradise brings to life many of the main characters in [Los Angeles'] art history, including Billy Al Bengston, Ed Ruscha, David Hockney, Larry Bell, Craig Kaufman, Dennis Hopper and Robert Irwin, among others…The accounts veer toward the gossipy, moving from intriguing detail to surprising revelation, without quite being lurid or lascivious. Indeed, despite the often humorous anecdotal accounts of the private lives of artists, curators and girlfriends, the book conjures both the sweep of history and its vicissitudes while grounding all of the stories in very specific places, from Brentwood to Pasadena, from the hills of Topanga to the beaches of Malibu in a way that makes you see parts of the city anew." —Holly Willis, KCET.org
or
Not Currently Available for Direct Purchase