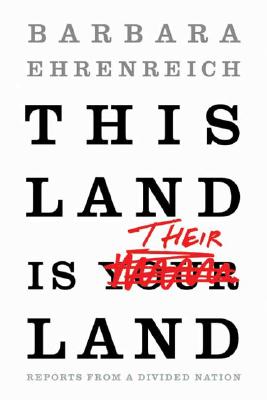 This Land Is Their Land (Hardcover)
Reports from a Divided Nation
Metropolitan Books, 9780805088403, 256pp.
Publication Date: June 24, 2008
Other Editions of This Title:
Digital Audiobook (7/7/2008)
Paperback (4/27/2009)
MP3 CD (7/8/2008)
Compact Disc (7/8/2008)
Compact Disc (7/8/2008)
Pre-Recorded Audio Player (12/1/2009)
* Individual store prices may vary.
Description
America in the 'aughts--hilariously skewered, brilliantly dissected, and darkly diagnosed by the bestselling social critic hailed as "the soul mate"* of Jonathan Swift
Barbara Ehrenreich's first book of satirical commentary, "The Worst Years of Our Lives," about the Reagan era, was received with bestselling acclaim. The one problem was the title: couldn't some prophetic fact-checker have seen that the worst years of our lives--far worse--were still to come? Here they are, the 2000s, and in "This Land Is Their Land," Ehrenreich subjects them to the most biting and incisive satire of her career.
Taking the measure of what we are left with after the cruelest decade in memory, Ehrenreich finds lurid extremes all around. While members of the moneyed elite can buy congressmen, many in the working class can barely buy lunch. While a wealthy minority obsessively consumes cosmetic surgery, the poor often go without health care for their children. And while the corporate C-suites are now nests of criminality, the less fortunate are fed a diet of morality, marriage, and abstinence. Ehrenreich's antidotes are as sardonic as they are spot-on: pet insurance for your kids; Salvation Army fashions for those who can no longer afford Wal-Mart; and boundless rage against those who have given us a nation scarred by deepening inequality, corroded by distrust, and shamed by its official cruelty.
Full of wit and generosity, these reports from a divided nation show once again that Ehrenreich is, as Molly Ivins said, "good for the soul."--*"The Times" (London)
About the Author
Barbara Ehrenreich is the author of fourteen books, including "Dancing in the Streets" and "The""New York Times" bestsellers "Nickel and Dimed" and "Bait and Switch." A frequent contributor to "Harper's" and "The Nation," she has also been a columnist at "The New York Times" and "Time" magazine.
or
Not Currently Available for Direct Purchase