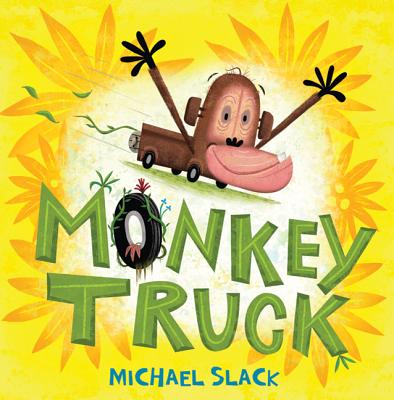 Monkey Truck (Hardcover)
Henry Holt & Company, 9780805088786, 24pp.
Publication Date: January 18, 2011
Description
Monkey Truck is a truck with a mission. He's on the lookout for all sorts of jungle bungles -- there are chameleons to rescue before they are squashed, snakes to untangle, and hippos to pull free. And look out for that TSUNAMI! This playful picture book, with its chant-along language and plucky pictures, is perfect for little ones who like trucks and animals (probably the two most popular toddler topics). The paper-over-board format complete with heavy interior stock makes it an excellent choice for preschoolers.
About the Author
Michael Slack is an artist and graphic designer whose work has been featured in various forms including books, comics, television, and games. He lives in Lafayette, California.
Praise For Monkey Truck…
"My three-year-old loves Michael Slack's new picture book Monkey Truck…The artwork is great, colorful and elaborated with lots of details that are fun to talk about during storytime. All told, it's a darned fun storytime treat." --Cory Doctorow, BoingBoing.com
"The bright, blocky and, above all, goofy digitally painted illustrations will grab attention, and Monkey Truck's hooting mug (and tooting bottom) will keep the giggles flowing. Hope for more from this outrageous imagination." --Kirkus Reviews
"Slack's choppy, rhyming text is propelled by sound effects and exclamations that enhance the book's read-aloud appeal…A slight yet spirited romp." --Publishers Weekly
"Slack's digitally rendered artwork is abundant with enjoyable texture and detail, however, and the jungle citizens are remarkably expressive." --BCCB
Advertisement