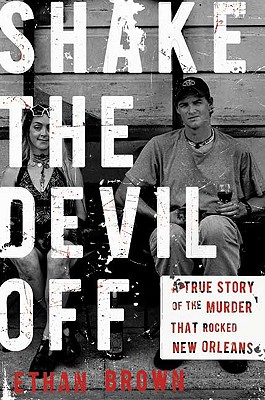 Shake the Devil Off (Hardcover)
A True Story of the Murder that Rocked New Orleans
Henry Holt and Co., 9780805088939, 304pp.
Publication Date: September 1, 2009
Other Editions of This Title:
Paperback (11/2/2010)
Mass Market Paperback (11/2/2010)
Pre-Recorded Audio Player (8/1/2010)
Compact Disc (9/1/2009)
* Individual store prices may vary.
Description
A charismatic young soldier meets a tragic end in this moving and mesmerizing account of the war in Iraq, Hurricane Katrina, and no-safety-net America
Zackery Bowen was thrust into two of America's largest recent debacles. He was one of the first soldiers to encounter the fledgling insurgency in Iraq. After years of military service he returned to New Orleans to tend bar and deliver groceries. In the weeks before Hurricane Katrina made landfall, he met Addie Hall, a pretty and high-spirited bartender. Their improvised, hard-partying endurance during and after the storm had news outlets around the world featuring the couple as the personification of what so many want to believe is the indomitable spirit of New Orleans.
But in October 2006, Bowen leaped from the rooftop bar of a French Quarter hotel. A note in his pocket directed the police to the body of Addie Hall. It was, according to NOPD veterans, one of the most gruesome crimes in the city's history. How had this popular, handsome father of two done this horrible thing?
Journalist Ethan Brown moved from New York City to the French Quarter in order to investigate this question. Among the newsworthy elements in the book is Brown's discovery that this tragedy—like so many others—could have been avoided if the military had simply not, in the words of Paul Sullivan, executive director of Veterans for Common Sense, "absolutely and completely failed this soldier." Shake the Devil Off is a mesmerizing tribute to these lives lost.
About the Author
Ethan Brown has written for "New York" magazine, "The New York Observer," "Wired," "Vibe," "The Independent," "GQ," "Rolling Stone," "Details," "The Guardian," and "The Village Voice," among other publications. He is the author of two previous books, "Queens Reigns Supreme" and "Snitch." He lives with his wife in New Orleans.
Praise For Shake the Devil Off: A True Story of the Murder that Rocked New Orleans…
"Heartbreaking."—Publishers Weekly
"The value of this provocative … book lies in its careful examination of a tragic crime; the author has also made a significant contribution to the literature about the Iraq war. Shake the Devil Off can … be read as a follow-up to Dexter Filkins's … The Forever War. If Filkins taught us about the war over there, Brown has brought the war home."—Lisa Scottoline, The New York Times Book Review
"Brown creates a riveting portrait of a gruesome crime while detailing the heart of a city in distress. A grim … story delivered with skill and verve."—Kirkus Reviews

"A nicely crafted shocker." —Booklist

"Ethan Brown examines a notorious murder case, rescues it from the talons of tabloid journalists, and comes up with something much more than a true crime book. Shake the Devil Off is a gripping suspense story, an indictment of the military's treatment of our soldiers in and out of war, and a celebration of the resilience and worth of a great American city."—George Pelecanos, New York Times bestselling author of The Turnaround and Hell to Pay

"Ethan Brown establishes himself as a prodigious reporter and masterful storyteller in Shake the Devil Off, a chilling portrait of a broken hero failed by the system."—Evan Wright, author of the New York Times bestseller Generation Kill

"A 'coming home' story that rivals any written about veterans of the war in Iraq, and a true crime account that raises the bar for the genre. Measured, thoroughly reported, and written with true empathy."—Nate Blakeslee, author of Tulia

"Looking more deeply at that from which the rest of us turned in horror, Ethan Brown has transformed an ugly and disturbing shard of the post-Katrina anguish. In this book, that which was lurid and sensational becomes, chapter by chapter, something genuinely sad and reflective, something that now has true meaning for New Orleans and for all of us."—David Simon, author of Homicide and The Corner
"The account of a volatile relationship gone terribly wrong, but [a] lot more than that…. Demonstrates a deep understanding of how New Orleans is…. [Brown] gets New Orleans and the people who choose to reside here."—OffBeat
"[A] sensational chronicle…. Bowen's story … draws at least as much of its moral from Sid and Nancy as it does from Full Metal Jacket…. Brown deftly summons up [Zack and Addie's] immediate social world as a testament to how the city felt to certain residents on the ground in the wake of Katrina."—Bookforum
"The chilling story of Zackery Bowen… a fall that indicts the military's treatment of its soldiers."—St. Petersburg Times
"Delves straight into the heart of darkness…. Well-investigated, well-written and tautly paced…. A unique portrait of tenacious New Orleans, pre- and post-Katrina, and a reflective—though utterly chilling—account of how veterans of the Iraq war are suffering from mental degradation and lack of support."—BookPage
"Gripping and honest."—Amy Wilentz, Democracy: A Journal of Ideas
or
Not Currently Available for Direct Purchase