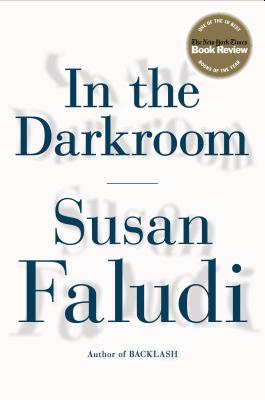 In the Darkroom
Hardcover

* Individual store prices may vary.
Other Editions of This Title:
Digital Audiobook (8/22/2016)
Paperback (5/2/2017)
MP3 CD (8/23/2016)
Compact Disc (8/23/2016)
Compact Disc (8/23/2016)
Description
PULITZER PRIZE FINALIST
ONE OF THE NEW YORK TIMES BOOK REVIEW'S 10 BEST BOOKS OF THE YEAR
WINNER OF THE KIRKUS PRIZE

From the Pulitzer Prize-winning journalist and bestselling author of Backlash, comes In the Darkroom, an astonishing confrontation with the enigma of her father and the larger riddle of identity consuming our age.

"In the summer of 2004 I set out to investigate someone I scarcely knew, my father. The project began with a grievance, the grievance of a daughter whose parent had absconded from her life. I was in pursuit of a scofflaw, an artful dodger who had skipped out on so many things—obligation, affection, culpability, contrition. I was preparing an indictment, amassing discovery for a trial. But somewhere along the line, the prosecutor became a witness."

So begins Susan Faludi's extraordinary inquiry into the meaning of identity in the modern world and in her own haunted family saga. When the feminist writer learned that her 76-year-old father—long estranged and living in Hungary—had undergone sex reassignment surgery, that investigation would turn personal and urgent. How was this new parent who identified as "a complete woman now" connected to the silent, explosive, and ultimately violent father she had known, the photographer who'd built his career on the alteration of images?

Faludi chases that mystery into the recesses of her suburban childhood and her father's many previous incarnations: American dad, Alpine mountaineer, swashbuckling adventurer in the Amazon outback, Jewish fugitive in Holocaust Budapest. When the author travels to Hungary to reunite with her father, she drops into a labyrinth of dark histories and dangerous politics in a country hell-bent on repressing its past and constructing a fanciful—and virulent—nationhood. The search for identity that has transfixed our century was proving as treacherous for nations as for individuals.

Faludi's struggle to come to grips with her father's metamorphosis takes her across borders—historical, political, religious, sexual--to bring her face to face with the question of the age: Is identity something you "choose," or is it the very thing you can't escape?
Praise For In the Darkroom…
"This book is a masterpiece."
—Ann Patchett

"In the Darkroom is an absolute stunner of a memoir—probing, steel-nerved, moving in ways you'd never expect. Ms. Faludi is determined both to demystify the father of her youth—'a simultaneously inscrutable and volatile presence, a black box and a detonator'—and to re-examine the very notion and nature of identity."
—The New York Times (daily review)

"Penetrating and lucid . . . In the Darkroom is Faludi's rich, arresting, and ultimately generous investigation of her father."
—The New York Times Book Review (front page)

"A searching investigation of identity barely disguised as a sometimes funny and sometimes very painful family saga. . . .Faludi is a mercilessly droll and careful writer. The emotional incontinence and narcissism that pass for insight and power in memoirs these days is not for her. . . .All the same, I cried quite often as I read her book, and at [one] point, I had to go off and stare at some flowers for a while. . . . An out-and-out masterpiece of its kind."
—The Guardian (UK)

"Faludi's remarkable, moving and courageous book is extremely fair-minded all the way through."
—The Guardian, (U.S. edition)

"It's a gripping and honest personal journey—bolstered by reams of research—that ultimately transcends family and addresses much bigger questions of identity and reinvention."
—Entertainment Weekly

"Many great writers eventually turn to biography, but rarely does it so directly crash into their lifelong intellectual pursuits. . . . very few can dissect a prevailing cultural norm as well as Faludi can."
—The Washington Post

"In this riveting book about a very complicated subject, Ms. Faludi . . . does a remarkable job tracking down the truth about her father, a person of multiple and contradictory identities . . . Ms. Faludi unfolds her father's story like the plot of a detective novel."
—The Wall Street Journal

"Moving . . . In the Darkroom is Faludi's emotionally harrowing quest to understand her dad
. . . Faludi presents her father's surgery in the context of a complicated, lifelong, protean search for identity."
—Newsweek

"Faludi's eloquent, timely, and sweeping-yet-intimate new book . . . is a mash-up of genres and themes about family secrets, masculinity and femininity, feminism, violence, the Holocaust, taking revenge. Knitting it all together are questions of identity: Who?or what?makes us who and what we are? How immutable is the end result?"
—Elle

"In the Darkroom is an intensely personal journey for Faludi, and despite the intimate subject matter, she never loses her reportorial edge. . . . Through [her father's] experiences, Faludi explores the larger questions of transgender politics and sexual identity in a nation whose past has detrimentally shaped its present. In the process, the hard-nosed reporter and feminist is forced to reevaluate the identity she has built as retaliation against an abusive and domineering father."
—Shelf Awareness

"Wow. Susan Faludi's new book is so good. Like a really dry martini. Pow!"
—The Observer (UK)

"Astonishing, unique . . . should be essential reading."
—The Irish Independent

"A classic autobiographical quest. . .Especially pertinent reading in these, our own dark times, when questions of identity keep coming to the fore, as matters of life and death."
—NPR, Fresh Air (Maureen Corrigan)

"Ultimately this book is an act of love . . . a fascinating chronicle of a decade spent trying to understand a parent who had always been inscrutable."
—The Economist (UK)

"Susan Faludi weaves together these strands of her father's identity – Jewishness, nationality, gender – with energy, wit and nuance. . . . It is rare to read anything about anti-Semitism or transgender issues that works so hard to forgo polemic in favour of understanding. . . . Faludi has paid her late father a fine tribute by bringing her to life in such a compelling, truthful story."
—New Statesman (UK)

"Impressive. . .Sometimes reality delivers up not just a remarkable story, but a remarkable story containing a set of parallel motifs that seem too absurdly perfect to be credible. . .the epic battle, and eventually the epic rapprochement, between Susan and [her father] Stefánie?an irresistible force meeting an immovable object. . . .As impossible as her father is, Susan comes to recognize and feel compassion for the bewildering and titanic forces, inside and out, that batter Stefánie's psyche."
—Slate

"A wrought and multi-layered memoir . . . Powerful and absorbing."
—Publishers Weekly (starred)

"Moving and penetrating . . . A gripping exploration of sexual, national, and ethnic identity."
—Kirkus Reviews (starred)

"Extraordinary: part riveting family memoir, part revelatory Holocaust history, but most of all a profound meditation on human identity. . . . In the Darkroom is nothing if not timely. It is also highly significant. . . .We live in an age overflowing with bitter battles over identity?with too little of Susan Faludi's humane desire to understand."
—National Book Review

"A record of Stefanie Faludi's extraordinary life, and an unsettling interrogation of that modern obsession, identity. . . .Few have asked these questions with such riveting precision."
—The Spectator (UK)

"In the Darkroom is a unique, deeply affecting and beautifully written book, full of warmth, intelligence and. . .humour. It makes a flawless weave of biography and autobiography with an examination of identity politics, Hungarian history, the Holocaust and the reparable bond between parent and child."
—The Saturday Paper (Australia)
Metropolitan Books, 9780805089080, 432pp.
Publication Date: June 14, 2016
About the Author
Susan Faludi is a Pulitzer Prize–winning journalist and the author of The Terror Dream, Stiffed, and Backlash, which won the National Book Critics Circle Award for Nonfiction. A former reporter for The Wall Street Journal, she has written for The New Yorker, The New York Times, Harper's, and The Baffler, among other publications.
Coverage from NPR
or
Not Currently Available for Direct Purchase