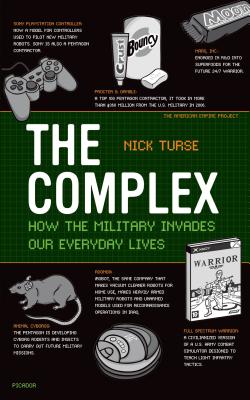 The Complex (Paperback)
How the Military Invades Our Everyday Lives (American Empire Project)
Metropolitan Books, 9780805089196, 304pp.
Publication Date: March 3, 2009
Other Editions of This Title:
Hardcover (3/18/2008)
* Individual store prices may vary.
Description
"Fascinating, no matter where you place yourself on the ideological spectrum."—Wired
Now in paperback, a stunning breakdown of the modern military-industrial complex—an omnipresent, hidden-in-plain-sight system of systems that penetrates all our lives.
From iPods to Starbucks to Oakley sunglasses, historian Nick Turse explores the Pentagon's little-noticed contacts (and contracts) with the products and companies that now form the fabric of America. He investigates the remarkable range of military incursions into the civilian world: the Pentagon's collaborations with Hollywood filmmakers; its outlandish schemes to weaponize the wild kingdom; its joint ventures with Marvel Comics and NASCAR. Similarly disturbing is the way in which the military, desperate for fresh recruits, has tapped into the "culture of cool" by making "friends" on MySpace.
A striking vision of this brave new world of remote-controlled rats and super-soldiers who need no sleep, The Complex will change our understanding of the militarization of America. We are a long way from Eisenhower's military-industrial complex: this is the essential book for understanding its twenty-first-century progeny.
About the Author
Nick Turse, an award-winning journalist and historian, is the author of The Complex and the research director for the Nation Institute's TomDispatch.com. His work has appeared in the Los Angeles Times, the San Francisco Chronicle, and The Nation. Turse's investigations of U.S. war crimes in Vietnam have gained him a Ridenhour Prize for Reportorial Distinction, a Guggenheim Fellowship, and a fellowship at Harvard University's Radcliffe Institute for Advanced Study. He lives near New York City.
Praise For The Complex: How the Military Invades Our Everyday Lives (American Empire Project)…
"This is a deeply disturbing audit of the Pentagon's influence on American life, especially its subtle conscription of popular imagination and entertainment technology. If Nick Turse is right, the 'Matrix' may be just around the corner." —Mike Davis, author of Buda's Wagon: A Brief History of the Car Bomb
"When President Eisenhower warned of the dangers to democracy posed by the military-industrial complex, he had no idea how far it would penetrate into every aspect of our everyday lives. In impressive detail, Nick Turse shows how the military is now tied to everything from your morning cup of Starbucks to the video games your kids play before turning in for the night. It's not just political anymore--it's personal. Turse sounds the alarm bell about the militarization of everyday life. Now it's up to us to do something about it." —Bill Hartung, author of How Much Are You Making on the War Daddy?
"Nick Turse's searing, investigative journalism reveals just how deeply embedded in our lives the war-making system is and why we should be viscerally alarmed. He exposes how, with a growing contingent of corporate/entertainment/academic/media collaborators, the Pentagon has not only garrisoned the globe, but come home to dominate the United States. For anyone interested in understanding the crisis this country is in, The Complex is indispensable reading." —Dahr Jamail, author of Beyond the Green Zone
"Americans who still think they can free themselves from the clutches of the military-industrial complex need to read this book. For example, the gimmicks the Pentagon uses to deceive, entrap, and sign up gullible 18 to 24 year-olds are anything but voluntary. Nick Turse has produced a brilliant exposé of the Pentagon's pervasive influence in our lives." —Chalmers Johnson, author of Nemesis: The Last Days of the American Republic