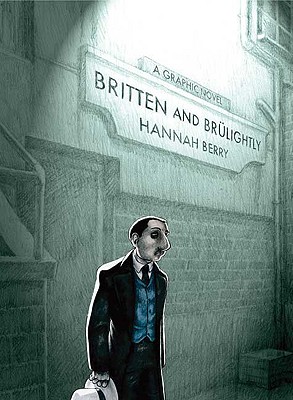 Britten and Brülightly (Paperback)
Metropolitan Books, 9780805089271, 112pp.
Publication Date: March 17, 2009
* Individual store prices may vary.
Description
A gorgeously drawn, strikingly original graphic-novel murder mystery
Private detective Fernández Britten is an old hand at confirming the dark suspicions of jealous lovers and exposing ugly truths of all varieties. Battered by years of bearing ill tidings, he clings to the hope of revealing, just once, a truth that will do some good in the world. It is a redemption that has long eluded him.
Then Britten and his unconventional partner, Brülightly, take on the mysterious death of Berni Kudos. The official verdict is suicide, but Berni's fiancée is convinced that the reality is something more sinister. Blackmail, revenge, murder: each new revelation stirs up the muddy waters of painful family secrets, and each fresh twist takes the partners further from Britten's longed-for salvation. Doing good in the world, he discovers, may have more to do with silence than truth.
A haunting story of love and grief, sharply written and luminously drawn, Britten and Brülightly is sure to establish Hannah Berry in the front rank of graphic novelists.
About the Author
Brighton-based Hannah Berry, twenty-five years old, has contributed numerous illustrations to U.K. magazines. "Britten and Brulightly" is her first book.
Praise For Britten and Brülightly…
"An audacious, wise-beyond-years debut that that hits the proverbial sweet spot of standout storytelling and ruminative reflection... The reader is advised to create a permanent space in his or her home library."—Sarah Weinman, Los Angeles Times "A surprise hit. The eerie narrative, elegantly drawn in sharp lines and monochromatic hues... catches the essense of noir."
—Marilyn Stasio, The New York Times Book Review
 "One of the most gloriously inventive and appealing comic-book debuts in years.... The writing plays wittily off Chandler; the artwork crosses Posy Simmonds with Edward Gorey; the sense of humour recalls Bob Burden.... Superb."—The Daily Telegraph (UK)
"Imaginative, beautiful work... Hannah Berry conjures up exactly the right noir atmosphere."
—The Guardian (UK) "Brilliantly illustrated.... It's hard to believe that this is writer and illustrator Hannah Berry's debut graphic novel, as it's extraordinarily accomplished."
—The Skinny (Scotland) "A beautifully executed affair, moody and mysterious in tone. What stands out is its resonant portrayal of a man in a mid-life crisis, seeking truth while drowning in an ocean of deceit.... Britten and Brülightly is satisfying on an emotional level that transcends genre and takes on philosophical textures. It's as startling and poetic as anything by Chandler or Hammett."
—Time Out London 
or
Not Currently Available for Direct Purchase