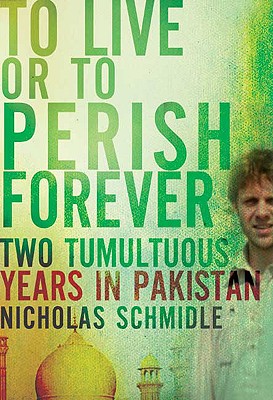 To Live or to Perish Forever (Hardcover)
Two Tumultuous Years in Pakistan
Henry Holt and Co., 9780805089387, 272pp.
Publication Date: May 12, 2009
Other Editions of This Title:
Paperback (3/2/2010)
* Individual store prices may vary.
Description
A gritty, lively, and revelatory look inside the crucial and volatile nation of Pakistan
In To Live or to Perish Forever, Nicholas Schmidle takes readers to Pakistan's rioting streets, to Taliban camps in the North-West Frontier Province, and on many surprising adventures as he provides a contemporary history of this country long riven by internal conflict. With the intimacy and good humor available only to the most fearless and open-eyed reporters, Schmidle narrates what was arguably the most turbulent period of Pakistan's recent history, a time when President Pervez Musharraf lost his power and the Taliban found theirs, and when Americans began to realize that Pakistan's fate is inextricably linked with our own.
In February 2006 Schmidle had traveled to Pakistan hoping to learn about the place dubbed "the most dangerous country in the world." It was while there that he befriended a radical cleric (who became an enemy of the state and was killed), came to crave the smell of tear gas (because it assured him that he was sufficiently close to the action), and in the end, was deported by the Pakistani authorities, managed to get back into the country, and was chased out a second time.
About the Author
Nicholas Schmidle is a fellow at the New America Foundation. He writes for the "New York Times Magazine," "Slate," "The New Republic," "Smithsonian," and the "Virginia Quarterly Review," among other publications, and received the 2008 Kurt Schork Award for freelance journalism. As a fellow of the Institute of Current World Affairs, he lived and reported in Pakistan for two years. Schmidle is a graduate of James Madison University and American University. He lives in Washington, DC with his wife.
Praise For To Live or to Perish Forever: Two Tumultuous Years in Pakistan…
"Richly reported…. Brave enough to seek out some of the country's toughest jihadis despite the grave dangers facing American reporters in Pakistan, Schmidle has amassed a treasure trove of stories."—Joshua Kurlantzick, The New York Times Book Review

"Brave and supremely timely…. A crucial policy textbook disguised as a page-turner travel memoir."—Ralph Peters, New York Post

"Much of the beauty of [Schmidle's] reportage comes from the fresh eye he brings to the ... array of forces contending for ascendancy.... He seeks out jihadists in the same city as did Daniel Pearl -- tribal insurgents, ethnic nationalists, old-school politicos, the military, the rogue intelligence agencies, the man on the street.... Always in evidence is Schmidle's willingness to listen and then report, with polish but without varnish." —Peter Lewis, Barnes and Noble Review

"Schmidle offers a gripping, grim account of his two years as a journalism fellow in Pakistan, where his travels took him into the most isolated and unfriendly provinces, and into the thick of interests and beliefs that impede that nation's peace and progress…. Schmidle has, with this effort, established himself as a fresh, eloquent and informed contributor to the ongoing dialogue regarding Pakistan, terrorism and the strategic importance of engaging Central Asia in efforts toward peace and stability."—Publishers Weekly

"Compelling and informative … If you can hardly figure out what is going on in Pakistan, this book's for you."—Military Times

"Offers genuine insight into the travails of a nation ravaged by violence and political instability…. [A] gripping and readable contribution to understanding the embattled landscape of Pakistan."—The Globe and Mail (Toronto)

"Transcend[s] political commentary."—The Telegraph (Calcutta)

"A fascinating account of [Schmidle's] years in Pakistan…. The story of two Pakistans the author discovered: one beautiful and friendly, the other frightening and deadly."—Booklist

"A fully realized portrait of a nation struggling to survive its internal divisions and hatreds." —Kirkus

"Nicholas Schmidle's portrait of Pakistan is worth more than a whole stack of intelligence reports. From remote Swat to teeming Karachi, he humanizes this labyrinthine country—where real danger has grown while the world focused elsewhere. Schmidle's blend of history and travelogue is by turns poignant and terrifying, but always relevant, always engaging, and more urgent now than ever."—Nathaniel Fick, author of the New York Times bestseller One Bullet Away
"To Live or to Perish Forever is foreign correspondence of the very best kind – the account of a natural traveler who has the language skills, temerity, and eyesight to arrive where outsiders rarely go and then to report revealingly on what he sees and hears. This is a personal, informative, empathetic, surprising, and entertaining book that illuminates Pakistan, a country of vital interest to the wider world."—Steve Coll, author of Ghost Wars and The Bin Ladens
"Nicholas Schmidle's To Live or to Perish Forever is the perfect primer on post-9/11 Pakistan. Poetically and also sensibly written, the book captures from up close the seminal events of Pakistan's recent history, including the Red Mosque siege and the assassination of Benazir Bhutto. From depicting disenfranchised Baluchis to shady ISI officers, Schmidle humanizes what has become the world's most dangerous country - and epicenter of the new Great Game."—Parag Khanna, Senior Fellow, New America Foundation, author of The Second World: Empires and Influence in the New Global Order
"A riveting read by an intrepid reporter in one of the world's most dangerous countries. Nicholas Schmidle has written a must-read book to understand turbulent but pivotal Pakistan. He crosses paths with extremists, witnesses flashpoints that transformed regional politics and, most important, makes sense of the complex challenges in south Asia. A marvelous piece of work."—Robin Wright, author of Dreams and Shadows: The Future of the Middle East
or
Not Currently Available for Direct Purchase