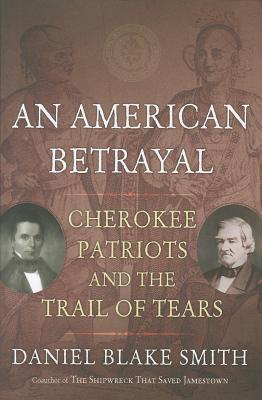 An American Betrayal: Cherokee Patriots and the Trail of Tears (Hardcover)
Cherokee Patriots and the Trail of Tears
Henry Holt & Company, 9780805089554, 321pp.
Publication Date: November 8, 2011
* Individual store prices may vary.
or
Not Currently Available for Direct Purchase
Description
The fierce battle over identity and patriotism within Cherokee culture that took place in the years surrounding the Trail of Tears
Though the tragedy of the Trail of Tears is widely recognized today, the pervasive effects of the tribe's uprooting have never been examined in detail. Despite the Cherokees' efforts to assimilate with the dominant white culture running their own newspaper, ratifying a constitution based on that of the United States they were never able to integrate fully with white men in the New World.
In "An American Betrayal," Daniel Blake Smith's vivid prose brings to life a host of memorable characters: the veteran Indian-fighter Andrew Jackson, who adopted a young Indian boy into his home; Chief John Ross, only one-eighth Cherokee, who commanded the loyalty of most Cherokees because of his relentless effort to remain on their native soil; most dramatically, the dissenters in Cherokee country especially Elias Boudinot and John Ridge, gifted young men who were educated in a New England academy but whose marriages to local white girls erupted in racial epithets, effigy burnings, and the closing of the school.
Smith, an award-winning historian, offers an eye-opening view of why neither assimilation nor Cherokee independence could succeed in Jacksonian America.
About the Author
Daniel Blake Smith is the author of "An American Betrayal," "The Shipwreck That Saved Jamestown," "Inside the Great House: Planter Family Life in Eighteenth Century" "Chesapeake Society," and many articles on early American history. Formerly a professor of colonial American history at the University of Kentucky, Smith now lives in St. Louis where he works as a screenwriter and filmmaker.
Praise For An American Betrayal: Cherokee Patriots and the Trail of Tears…
"The story of the Cherokee Nation is a study in suffering, displacement, and the determination of a people to carry on despite brutal government policies that culminated in the 'Trail of Tears,' President Andrew Jackson's 1834 policy of 'removal' that saw nearly 4,000 of the 16,000 Cherokees die on their forced migration from North Carolina, Georgia, Tennessee, and Alabama to the Oklahoma Territory. Smith opens his thoughtful, concise and detailed study of this brutal chapter in the age of Jackson with a stirring account of the assassination of three Cherokee leaders—Elias Boudinot, Major Ridge, and his son, John Ridge—by Cherokee political rivals…The personalities, political realities, and murderous resentments that stemmed from that treaty make for engrossing reading and a vivid evocation of how the Cherokees' options dwindled until no promising choices for this strong and cohesive people remained."—PW
"Is a patriot's duty to demand the absolute rights of his or her people to the end? Or is it more heroic to negotiate the best possible terms when faced with an inevitable defeat? This troubling question hangs heavy over Daniel Blake Smith's intriguing An American Betrayal, a detailed history of the Trail of Tears, the brutal forced relocation of the Cherokee people from their ancestral homeland in the southeast to the western territory that is now Oklahoma."—Shelf Awareness
"A vivid new history of the 19th-century Cherokee removal and the Trail of Tears. . . . The difference between Smith's account and other similar histories is the emphasis on infighting within the Cherokee leadership, who faced a difficult choice: Should they fight the forced removal by facing massive armies assembled by the American government, or negotiate the best possible terms while relocating peaceably? Neither answer was obviously correct, giving the narrative a tension that Smith develops skillfully. Cherokee leaders such as John Ross, Elias Boudinot, John Ridge and Major Ridge come alive on the page. Numerous little-known Caucasians also emerge as brave defenders of Cherokee humanitarian and land rights. . . . Well-written, well-researched."—Kirkus
"By examining the history of the Cherokee removal from the Southeast (the Trail of Tears) through the prism of Cherokee patriotism, Smith provides a distinct and refreshing perspective that sets this title apart from the many other books on the topic. Smith sympathizes with Chief John Ross and his faction, showing that their patriotism was evident because they refused to cede their ancestral homelands to the United States…readers will find this an enlightening take on an oft-told story. Readers should also obtain Black Indians: An American Story and The Trail of Tears Cherokee Legacy, two documentaries written by Smith."—Library Journal
"Smith has successfully written a history of ugliness that transcends the usual battlefield reports to examine the guts of nationhood and moral governance."—Steve Weinberg, St. Louis Dispatch
"The Trail of Tears was "a devastating commentary not only on white greed and power but also on the increasing racialized world of Jacksonian America," [Smith] concludes in this splendid re-creation of it and the awful circumstances that made it inevitable."—The Dallas Morning News
"[Smith's] treatment of a time of grief should make Cherokees today proud to be part of a heritage of people who survived in spite of a concerted effort by the United States government to strip them of their land and culture."—Native News Network
"This book provides interesting new insights and facts about this well-known tragedy in American history, which makes the anti-Native American sentiment prevalent in that era even more baffling to readers today."—The Peorian
Coverage from NPR
Advertisement