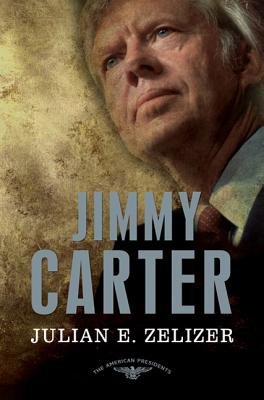 Jimmy Carter
The American Presidents Series: The 39th President, 1977-1981
Hardcover

* Individual store prices may vary.
Description
The maverick politician from Georgia who rode the post- Watergate wave into office but whose term was consumed by economic and international crises
A peanut farmer from Georgia, Jimmy Carter rose to national power through mastering the strategy of the maverick politician. As the face of the "New South," Carter's strongest support emanated from his ability to communicate directly to voters who were disaffected by corruption in politics.
But running as an outsider was easier than governing as one, as Princeton historian Julian E. Zelizer shows in this examination of Carter's presidency. Once in power, Carter faced challenges sustaining a strong political coalition, as he focused on policies that often antagonized key Democrats, whose support he desperately needed. By 1980, Carter stood alone in the Oval Office as he confronted a battered economy, soaring oil prices, American hostages in Iran, and the Soviet invasion of Afghanistan.
Carter's unpopularity enabled Ronald Reagan to achieve a landslide victory, ushering in a conservative revolution. But during Carter's post-presidential career, he has emerged as an important voice for international diplomacy and negotiation, remaking his image as a statesman for our time.
Praise For Jimmy Carter: The American Presidents Series: The 39th President, 1977-1981…
"Outstanding… An accessible, insightful examination of the Carter presidency by journalist and Princeton history professor Julian E. Zelizer... Not only a lucid overview of Carter's troubled presidency but also an almost photorealistic portrait of the former president." —Christian Science Monitor
"Engaging… The most engrossing portion of the work deals with Carter's successes (there were some) and failures as president… For general readers, this work offers a fine analysis of the man and his career." —Booklist
"In just 150 pages, Zelizer manages to effectively analyze how Carter's personality has led him to both failure and success." —Kirkus Reviews
Times Books, 9780805089578, 208pp.
Publication Date: September 14, 2010
About the Author
Julian E. Zelizer (PhD, Johns Hopkins University) is professor of history and public affairs at Princeton University. His book, Taxing America: Wilbur D.  Mills, Congress and the State, 1945-1975 (1998) won the Organization of American Historian's Ellis W. Hawley prize for the best book on political economy, politics, and institutions of the modern United States, and the Lyndon B. Johnson Foundation's D. B. Hardeman Prize for Best Publication on Congress. Zelizer is also the author of On Capitol Hill: The Struggle to Reform Congress and its Consequences, 1948-2000 (2004) and Arsenal of Democracy: The Politics of National Security--From World War II to the War on Terrorism (2010). With William J. Novak and Meg Jacobs, he is also a coeditor of The Democratic Experiment: New Directions in American Political History (2003).

Arthur M. Schlesinger, Jr., (1917-2007) was the preeminent political historian of our time. For more than half a century, he was a cornerstone figure in the intellectual life of the nation and a fixture on the political scene. He won two Pulitzer prizes for The Age of Jackson (1946) and A Thousand Days (1966), and in 1988 received the National Humanities Medal. He published the first volume of his autobiography, A Life in the Twentieth Century, in 2000.

Sean Wilentz, a professor of history at Princeton University, is the author or editor of several books, including Chants Democratic and The Rise of American Democracy. He has also written for The New York Times, the Los Angeles Times, The New Republic, and other publications. He lives in Princeton, New Jersey.