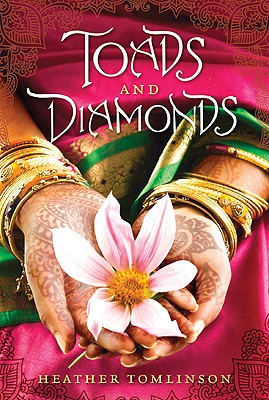 Toads and Diamonds (Hardcover)
Henry Holt & Company, 9780805089684, 278pp.
Publication Date: March 30, 2010
* Individual store prices may vary.
Description
Diribani has come to the village well to get water for her family's scant meal of curry and rice. She never expected to meet a goddess there. Yet she is granted a remarkable gift: Flowers and precious jewels drop from her lips whenever she speaks.
It seems only right to Tana that the goddess judged her kind, lovely stepsister worthy of such riches. And when she encounters the goddess, she is not surprised to find herself speaking snakes and toads as a reward.
Blessings and curses are never so clear as they might seem, however. Diribani's newfound wealth brings her a prince and an attempt on her life. Tana is chased out of the village because the province's governor fears snakes, yet thousands are dying of a plague spread by rats. As the sisters' fates hang in the balance, each struggles to understand her gift. Will it bring her wisdom, good fortune, love . . . or death?
"Toads and Diamonds" is a 2011 Bank Street - Best Children's Book of the Year.
About the Author
Heather Tomlinson has taught English in Paris and French in the U.S. She lives on a houseboat in southern California with her engineer husband, her baby boy, and cats X, Y, and Z.
Praise For Toads and Diamonds…
* "A memorable novel . . . Tomlinson is a master craftsman. This beautifully embroidered adventure is well worth the effort." —Booklist, starred review
"Tomlinson does not oversimplify in this well-told tale; human discord and the harmony of nature are entwined with simplicity and elegance as the girls travel, physically and emotionally, to places they had never imagined." —Publishers Weekly
"A great read for fans of fairy-tale retellings, this book should be very popular with older tweens and teens." —Kirkus Reviews
"Tomlinson creates a rich story with opulent visuals that make the teens' world come to life. Readers can feel the hard jewels in Diribani's mouth, and taste the dirt and dust as Tana flees. Best of all, Tomlinson creates a truly remarkable bond between the girls, obliterating the trite stepsister stereotype." —School Library Journal
or
Not Currently Available for Direct Purchase