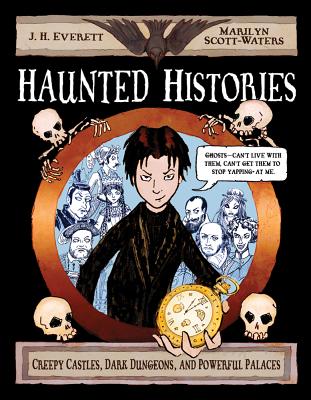 Haunted Histories: Creepy Castles, Dark Dungeons, and Powerful Palaces (Hardcover)
Creepy Castles, Dark Dungeons, and Powerful Palaces
Henry Holt & Company, 9780805089714, 160pp.
Publication Date: July 17, 2012
Description
Guided by tween "ghostorian" Virgil, readers will discover fascinating facts about calamitous events throughout history as they explore castles, palaces and dungeons and those infamous figures associated with each. For instance, did you know that many castles were made out of wood painted to look like stone? Or that wealthy prisoners in the Tower of London could keep servants? The book is chock-full of details that kids will find intriguing--dungeon life for prisoners, methods of turture, and even the most popular methods of poisoning enemies. So join Virgil and the other ghostly inhabitants for an historical adventure on the dark side.
About the Author
J.H. Everett holds a PhD in History from the University of California, Irvine. He enjoys writing and drawing about all of the creepy places he visits. He lives with his family in southern California. Marilyn Scott-Waters likes collecting old books, sketching in art museums and making things out of paper. She lives in southern California with her family.
Praise For Haunted Histories: Creepy Castles, Dark Dungeons, and Powerful Palaces…
 "Disney might have some believing that castles are clean, pink and full of unicorn tapestries. But Virgil Dante, youngest Master Ghostorian in London, is here to disabuse readers of that notion…"--Kirkus
Advertisement