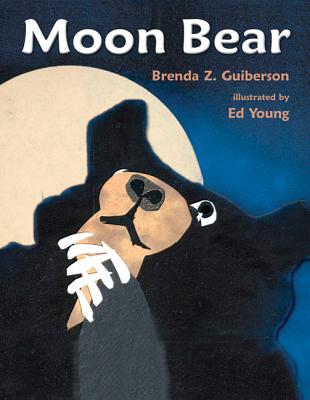 Moon Bear (Hardcover)
Henry Holt and Co. (BYR), 9780805089776, 40pp.
Publication Date: May 11, 2010
Other Editions of This Title:
Paperback (8/23/2016)
* Individual store prices may vary.
Description
Moon Bears, or Asiatic black bears, are so named because of the white moon-shaped blaze on their chests. The moon bears are seldom seen but their footprints, claw marks, hair, and bear nests high in the trees give us clues about how they live. Sadly, there are now more moon bears in captivity than in the wild, as these animals are being "farmed" for their commercially valuable bile.
Brenda Guiberson's lyrical text and Ed Young's stunning illustrations combine in a winning tribute to this endagered species. Follow one moon bear in the wild as she eats, plays, hibernates, and wakes up again in the spring.
Moon Bear is a 2011 Bank Street - Best Children's Book of the Year.
About the Author
Brenda Z. Guiberson has written many books for children, including Cactus Hotel, Spoonbill Swamp, Moon Bear and Disasters. As a child, Brenda never thought she wanted to be a writer—her dreams tended more toward jungle explorer. She graduated from the University of Washington with degrees in English and Fine Art. She started thinking about writing for children when her son went to elementary school, and she volunteered in his class and in the school library. After taking exciting trips that involved a fifty-foot cactus, hungry alligators and sunset-colored spoonbills, she wanted to create books for children that would be like a field trip. Her books are full of well-researched detail, and Brenda sees this research as an adventure—one that allows her to be a jungle explorer at last. She lives in Seattle, Washington.

Ed Young was born in China and spent his childhood in Shanghai. The illustrator of many books for children, he has received numerous awards, including a Caldecott Medal for his book Lon Po Po, and two Caldecott Honors for The Emperor and the Kite and Seven Blind Mice. He was twice nominated for the Hans Christian Andersen Medal, the highest international recognition given to children's book authors and illustrators who have made a lasting contribution to children's literature. Ed Young lives in Hastings-on-Hudson, New York.
Praise For Moon Bear…
"All who read this delightful book will be enchanted by Ed Young's evocative illustrations and Brenda Guiberson's catchy prose. It will give children everywhere a chance to peek into the little known world of the moon bear. I urge you to buy it, and I hope you will do what you can to help this magnificent and highly endangered species." —Jane Goodall
"A worthy effort highlighting a species in need." —School Library Journal, STARRED
"This is a beautiful book which I hope can spread awareness until every last bear is free. " —Olivia Newton-John
"Author Brenda Guiberson uses a call-and-response text to introduce young readers to an increasingly rare wild animal in Moon Bear. Dramatic cut-paper collage illustrations by Ed Young spotlight the beauty and playfulness of the moon bears." —The Seattle Times
"Ms. Guiberson's soothing words, "blissful moon bear, feasting on juicy summer fruit" join with Young's gorgeous illustrations, shocking red raspberries against the bear's black fur, held by its sharp claws, to create a stunning view of the moon bears' world." —Pittsburgh Post-Gazette
"Filled with passionate conservation messages, this picture book both celebrates the endangered black moon bear in Southeast Asia and warns about the urgent threats against the species. … Young's dramatic art lends itself to group sharing, and many kids will hear the author's final call." —Booklist
"The young child will believe the bear is looking directly at them and will soon love moon bears. Young's compelling illustrations fill in what words can only suggest. " —Sacramento Book Review
"How fantastic to know that a percentage of the sales of Moon Bear will help those bears (and, hopefully, others to follow) live surrounded by loving care. They deserve no less. And that the children who read this story may be inspired to protect these carriers of such special crescent moons for years to come." —Virginia McKenna, actress, Born Free
"This wonderful book lets you and your children share a year with the precious Asiatic Moon Bear. I commend Brenda Guiberson and Ed Young for collaborating on such a vital issue which is so close to my heart and shines a much-needed light on this beautiful but endangered animal. " —Dr. Katrina Warren, host of Animal Planet's Housecat Housecall
"I knew nothing about moon bears or bear farms when I picked this book up. MOON BEAR is a book that, for young prereaders, will prove a delight at storytime. For older readers, the back matter will very possibly inspire research and lead to subsequent contemplation of the issues involved in the all-too-frequently inhumane exploitation of all God's critters. " —Richie's Picks
"Children will love this book with its stunning images and simple message – that we should value these bears as the majestic animals they were born to be, not because of what they can produce. I'm sure this charming tale will touch many children, instilling in them a love and respect of animals from a very early age." —Karen Mok, singer and actress
or
Not Currently Available for Direct Purchase