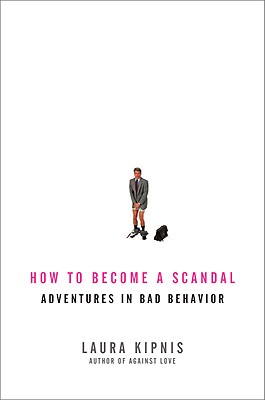 How to Become a Scandal (Hardcover)
Adventures in Bad Behavior
Metropolitan Books, 9780805089790, 224pp.
Publication Date: August 31, 2010
Other Editions of This Title:
Paperback (8/30/2011)
* Individual store prices may vary.
Description
We all relish a good scandal—the larger the figure (governor, judge) and more shocking the particulars (diapers, cigars)—the better. But why do people feel compelled to act out their tangled psychodramas on the national stage, and why do we so enjoy watching them, hurling our condemnations while savoring every lurid detail?
With "pointed daggers of prose" (The New Yorker), Laura Kipnis examines contemporary downfall sagas to lay bare the American psyche: what we desire, what we punish, and what we disavow. She delivers virtuoso analyses of four paradigmatic cases: a lovelorn astronaut, an unhinged judge, a venomous whistleblower, and an over-imaginative memoirist. The motifs are classic—revenge, betrayal, ambition, madness—though the pitfalls are ones we all negotiate daily. After all, every one of us is a potential scandal in the making: failed self-knowledge and colossal self-deception—the necessary ingredients—are our collective plight. In How to Become a Scandal, bad behavior is the entry point for a brilliant cultural romp as well as an anti-civics lesson. "Shove your rules," says scandal, and no doubt every upright citizen, deep within, cheers the transgression—as long as it's someone else's head on the block.
About the Author
Laura Kipnis is the author of "Against Love: A Polemic" and "The Female Thing: Dirt, Sex, Envy, Vulnerability," which have been translated into fifteen languages. She is a professor in the Department of Radio/TV/Film at Northwestern University, has received fellowships from the Guggenheim Foundation and the Rockefeller Foundation, and has contributed to "Slate," "Harper's," "The Nation," and "The New York Times Magazine." She lives in New York and Chicago.
Praise For How to Become a Scandal: Adventures in Bad Behavior…
"Scandal has never had it so good. . . In How to Become a Scandal, Laura Kipnis delivers consumers of high and low culture that rare twofer, taking material that self-respecting people are supposed to resist and treating it with such smarts that the reader feels nothing short of enlightened. Her book is filled with sensational subjects, but Kipnis delivers all the thrills."—The New York Times Book Review "A brilliant, funny take on our downfall-a-minute age."
—People Magazine "A must-read for anyone unable to look away from another's fall from grace. . . . Reading her clever book is like sitting in a front-row seat at Scandal Theory 101—and serves as a cautionary tale for those tiptoeing on the edges of indignity. . . . How to Become a Scandal is as transfixing and engrossing as the tremendously chaotic tales she recounts with exacting detail."—Tina Brown, Editor-in-Chief, The Daily Beast "Thrilling. . . Hypocrisy, hubris, and self-delusion are delightful intellectual tangles in Kipnis's hands."—Bookforum "Thought-provoking examination of scandals past and present. . . with the benefit of this provocative book, we can now understand why [scandals] will continue as long as human society exists."
—The Buffalo News" A deliciously flippant tone serves the reader the juicy details we savor so about scandal, while tossing in some timeless questions and speculations about the deeper meaning of it all. This is a dead serious book that's an utter lark to read."—Publishers Weekly, starred review "Those who think they are playing to an unseen audience often find that they are abruptly on stage without a stitch. Why do they need this validation and why do we so much enjoy providing it? In How to Become a Scandal Laura Kipnis investigates the dirty habits of the heart and illuminates the secret places of the psyche, speculating brilliantly and amusingly about the trouble to which people will go to get themselves exposed."
—Christopher Hitchens, author of Hitch-22   "Laura Kipnis is scarily smart and enviably funny, and with How to Become a Scandal she emerges as a Tocqueville for the age of Gawker. You'll never read Page Six in the same way again."
—Rebecca Mead, author of One Perfect Day: The Selling of the American Wedding "Read Laura Kipnis's new book if you're hoping to become the object of a media feeding frenzy. Read it if you're hoping to avoid one. This is cultural criticism of a high order."
—Jacob Weisberg, author of The Bush Tragedy "An extremely smart, funny, acid, and beautifully written meditation on a scary truth that we all try desperately to ignore: we are deeply divided animals, and we are drawn to the creation of our own demise."
—David Shields, author of Reality Hunger: A Manifesto "Excruciatingly fascinating and as fun to read as all the tabloid fodder we pretend we're not following, How to Become a Scandal deftly reveals our halls of infamy to be halls of mirrors. Laura Kipnis has written another fabulously intelligent book."
—Rivka Galchen, author of Atmospheric Disturbances  "In the future, historians will have to read How to Become a Scandal if they want to understand this bizarre century. Laura Kipnis writes about the central conflicts in our society, the great comedies of manners, with the profound wit and broad sympathy that we used to find only in ambitious novels."
—Michael Tolkin, author The Return of the Player "Laura Kipnis has the rare ability to keep her wits about her even as she treads into areas where most nice people would not go. As Kipnis so astutely observes, each epoch gets the scandals it most needs, but at their root is just the inexorable, inexpungible, humiliating fact of being human."
—Keith Gessen, author of All the Sad Young Literary Men "A brilliant original analysis of our culture's addiction to scandal. Kipnis illuminates her subjects with such wit and perception that she raises the art of critical writing to new heights. Brava."
—Patricia Bosworth, author of Marlon Brando
Coverage from NPR
or
Not Currently Available for Direct Purchase