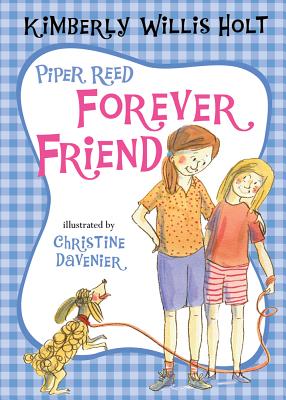 Piper Reed, Forever Friend (Hardcover)
Henry Holt & Company, 9780805090086, 160pp.
Publication Date: August 7, 2012
Description
Piper is excited to move to a new state and catch up with old friends. But the move doesn't go as smoothly as she expected: Piper has trouble feeling accepted in her new surroundings. But then she meets Arizona Smiley. Arizona is an avid stamp collector and bowls in a league. Piper is intrigued by Arizona's originality and before long, she wins Arizona's affections, and the two become great friends. This move turns out to be the best one yet, and Piper is eager to spread her trademark "Get Off the Bus" catchphrase once again.
About the Author
Kimberly Willis Holt is the author of the other books in the Piper Reed series and has written many acclaimed novels, including The Water Seeker. She lives in West Texas. Christine Davenier has illustrated many books for young readers, as well as the books in the Piper Reed series. She lives in Paris, France.
Praise For Piper Reed, Forever Friend…
Praise for Piper Reed, Navy Brat:
A Texas Bluebonnet Book
"Crisp writing from a National Book Award winner . . . Holt relays quotidian events with humor and insight." —Publishers Weekly
"Launching a new series, Piper's foray sets sail with verve, fun, and spunk." —Kirkus Reviews
Praise for Piper Reed, the Great Gypsy:
"This appealing Navy family is loving without being cloying, strong without being perfect, and optimistic without seeming unbelievable. We salute you, Piper! On to the next adventure!" —The Horn Book
Praise for Piper Reed Gets a Job:
"Piper Reed is back and is as charming as ever. . . . A natural for fans of Clementine or Judy Moody, as well as readers ready to step beyond Junie B. Jones." —School Library Journal
Praise for The Water Seeker:
"Holt infuses the American pioneer landscape with a hint of magical realism in this intimate and epic coming-of-age tale. . . . Drawing on such diverse themes as Manifest Destiny, personal identity and cross-cultural relationships, the author has crafted a satisfying all-ages story that hosts a dazzling array of richly realized secondary characters . . . and flows as effortlessly as the Platte River." —Kirkus Reviews, starred review
Advertisement