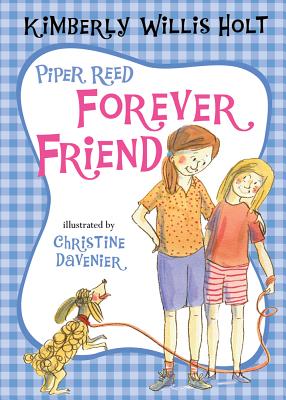 Piper Reed, Forever Friend (Hardcover)
Henry Holt and Co. (BYR), 9780805090086, 160pp.
Publication Date: August 7, 2012
Other Editions of This Title:
Paperback (5/28/2013)
* Individual store prices may vary.
Description
Piper is excited to move to a new state and catch up with old friends. But the move doesn't go as smoothly as she expected: Piper has trouble feeling accepted in her new surroundings. But then she meets Arizona Smiley. Arizona is an avid stamp collector and bowls in a league. Piper is intrigued by Arizona's originality and before long, she wins Arizona's affections, and the two become great friends. This move turns out to be the best one yet, and Piper is eager to spread her trademark "Get Off the Bus" catchphrase once again.
About the Author
Twenty three years ago Kimberly Willis Holt stopped talking about wanting to be a writer and started to pursue her dream. Because of her family's Louisiana roots she considers herself a southerner, but her father's military career took her to places beyond the South, including Paris and Guam.
She's the author of more than fifteen books for a wide range of ages, many of which have won awards and honors. Her third novel, When Zachary Beaver Came to Town won the National Book Award for Young People's Literature. She writes and gardens in Texas.
As a young girl growing up in Tours, France, Christine Davenier loved listening to her older sister read fairy tales aloud. But she frequently found herself wondering, What does the princess's beautiful dress look like? or How exquisite are her jewels? Christine was left to her own imagination, for the books had few illustrations. So it comes as little surprise that today, Christine embraces her career as an illustrator. "I'm thrilled to have the opportunity to create the illustrations I dreamed about seeing as a child," she says.
When Christine was fourteen, she received her first box of watercolor paints, a gift from her grandmother. That was the beginning of many afternoons spent painting together in her grandmother's garden. "My grandmother was an extraordinary woman," Christine says. "Even though she worked in an office all her life, she was an artist through and through. She shared everything she knew about color—in painting and in life. Her wisdom and talent still inspire me today."
She has illustrated many picture books, including Sally Jean, the Bicycle Queen by Cari Best. She lives in Paris, France.
Praise For Piper Reed, Forever Friend…
"Crisp writing from a National Book Award winner . . . Holt relays quotidian events with humor and insight." —Publishers Weekly on Piper Reed, Navy Brat
"Launching a new series, Piper's foray sets sail with verve, fun, and spunk." —Kirkus Reviews on Piper Reed, Navy Brat
"This appealing Navy family is loving without being cloying, strong without being perfect, and optimistic without seeming unbelievable. We salute you, Piper! On to the next adventure!" —The Horn Book on Piper Reed, the Great Gypsy
"Piper Reed is back and is as charming as ever. . . . A natural for fans of Clementine or Judy Moody, as well as readers ready to step beyond Junie B. Jones." —School Library Journal on Piper Reed Gets a Job
"Holt infuses the American pioneer landscape with a hint of magical realism in this intimate and epic coming-of-age tale. . . . Drawing on such diverse themes as Manifest Destiny, personal identity and cross-cultural relationships, the author has crafted a satisfying all-ages story that hosts a dazzling array of richly realized secondary characters . . . and flows as effortlessly as the Platte River." —Kirkus Reviews, starred review on The Water Seeker
or
Not Currently Available for Direct Purchase