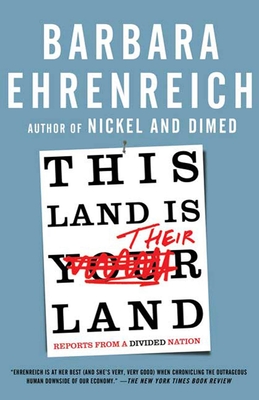 This Land Is Their Land (Paperback)
Reports from a Divided Nation
Holt Paperbacks, 9780805090154, 256pp.
Publication Date: April 27, 2009
Other Editions of This Title:
Digital Audiobook (7/7/2008)
Hardcover (6/24/2008)
MP3 CD (7/8/2008)
Compact Disc (7/8/2008)
Compact Disc (7/8/2008)
Pre-Recorded Audio Player (12/1/2009)
* Individual store prices may vary.
Description
America in the 'aughts—hilariously skewered, brilliantly dissected, and darkly diagnosed by one of the country's most prominent social critics
Now in paperback, Barbara Ehrenreich's widely acclaimed This Land Is Their Land takes the measure of what we are left with after the cruelest decade in memory and finds lurid extremes all around. While members of the moneyed elite have bought up congressmen, many in the working class can barely buy lunch. While a wealthy minority obsessively consumes cosmetic surgery, the poor often go without health care for their children. And while the Masters of the Universe have thrown themselves into the casino economy, the less fortunate have been fed a diet of morality, marriage, and abstinence. With perfect satiric pitch, Ehrenreich reveals a country scarred by deepening inequality, corroded by distrust, and shamed by its official cruelty.
Full of wit and generosity, these reports from a divided nation—including new and unpublished essays—confirm once again that Ehrenreich is, as the San Francisco Chronicle proclaims, "essential reading."
About the Author
Barbara Ehrenreich is the bestselling author of several books, including Nickel and Dimed, Bait and Switch, Bright-sided, This Land Is Their Land, Dancing In The Streets, and Blood Rites. A frequent contributor to Harper's and The Nation, she has also been a columnist at The New York Times and Time magazine.
"A simply brilliant, hilarious satirist."—The Baltimore Sun
"It would be hard to find a wittier, more insightful guide to the last three decades than Ehrenreich. Arguing with her is part of the pleasure of reading her."—Laura Shapiro, Newsweek
Praise For This Land Is Their Land: Reports from a Divided Nation…
"Provocative, angry and funny, often at the same time." - Kirkus Reviews
"Ehrenreich's vicious, hilarious and striking tour de force of American culture and society today addresses a range of issues from class warfare to health care, higher education to feminism to religious institutionalization and political power. She weighs in with wit, clarity and authority that few authors can match." - Publishers Weekly
"The cliché that you laugh until you cry takes on new meaning when reading This Land is Their Land. Incisive, trenchant and furious, it celebrates the have-nots. At the same time, it asks an important question: What will it take for America's beleaguered residents to rise up and say, 'Enough'?" - The Indypendent