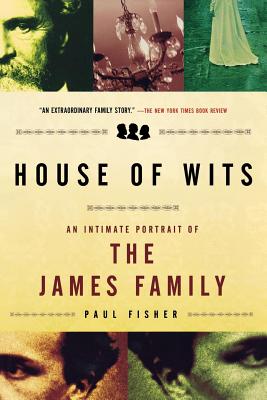 House of Wits (Paperback)
An Intimate Portrait of the James Family
Holt Paperbacks, 9780805090208, 704pp.
Publication Date: May 26, 2009
* Individual store prices may vary.
Description
"A sweeping biography . . . [Fisher] gives fair and sympathetic time to everyone, and provides a lively and detailed social history of the period." —The New York Times
The James family, a true American dynasty, gave the world three famous children: Henry, a novelist of genius; William, an influential philosopher; and Alice, an invalid who became a feminist icon, despite her sheltered life and struggles with mental illness.
Paul Fisher's masterly biography provides a captivating account of the conflicts—bitter struggles with depression, alcoholism, jealousy, and panic disorders—that shaped the members of this brilliant family, including the two other brothers, Wilkie and Bob, whose achievements were constantly overshadowed by those of their siblings. Their mother, Mary, lent the family some stability, while the mercurial Henry James Sr. nurtured, inspired, and emotionally wounded his children, setting the stage for their intense rivalries and extraordinary achievements. House of Wits is a revealing cultural history that completes our understanding of its remarkable protagonists and the changing world in which they came of age.
About the Author
Paul Fisher is the author of House of Wits: An Intimate Portrait of the James Family and Artful Itineraries: European Art and American Careers in High Culture, 1865–1920. He grew up in Wyoming, was educated at Harvard and Trinity College, Cambridge, and received his Ph.D. from Yale. He teaches American literature at Wellesley College and lives in Boston, Massachusetts.
Praise For House of Wits: An Intimate Portrait of the James Family…
"Paul Fisher's portraits of the famous members of the James household are brilliant; our fascination grows exponentially as he enlarges the frame to include the others. He appreciates the web of characters, the dynamics of influence. Dramatic, richly detailed, House of Wits is a prime contribution to our understanding of this prodigious family." —Daniel Mark Epstein, author of The Lincolns: Portrait of a Marriage
"In House of Wits, an account of one of America's most interesting and influential families--the Jameses--Paul Fisher has managed to turn a remarkable feat of scholarship into a story more engaging, and far more rewarding, than any fictional saga. He breathes life into every individual in several generations of the dysfunctional family that produced novelist Henry and psychologist William, and he recreates with telling detail the times of nineteenth century American and Europe through which they moved." —Samuel A. Schreiner Jr., author of The Concord Quartet: Alcott, Emerson, Hawthorne, Thoreau and the Friendship that Freed the American Mind
"House of Wits is a rich and engaging contribution to James biography, weaving together the developing lives of each member of the family in a way that shows how enabling and disabling their collective entanglement could be. The treatment of the father's alcoholism, Henry's sexuality, and Alice's social agonies strikes me as sound and acute. But there is more than psychic tension here. We are also given the public spaces and social geographies and institutional drift that shaped the Jameses' lives. Fisher has done as much as anyone to get this expansive and unruly family between the covers of a book." —Alfred Habegger, author of My Wars are Laid Away in Books: The Life of Emily Dickinson and The Father: A Life of Henry James, Sr.
"In this amazing portrait of a family that may have been the Royal Tenenbaums of the 19th century, Paul Fisher has written a biography which brings the Jameses to life on the page as if they were our own fascinating, brilliant friends and neighbors." —Susan Cheever, author of American Bloomsbury: Louisa May Alcott, Ralph Waldo Emerson, Margaret Fuller, Nathaniel Hawthorne, and Henry David Thoreau: Their Lives, Their Loves, Their Work
"A solid and crisp narrative of this fascinating American clan . . . For all of its successes, the James family harbored its share of trouble: alcoholism, repressed sexuality, heartbreak, jealousy and adultery. Most importantly, in a rigidly prim Victorian world, the expatriate Henry, a resident of London, wrestled with homosexuality. He lived a closeted life of clandestine affairs with younger men--always wary of the dark fate that had befallen Oscar Wilde. Fisher narrates all of this, and more, vividly, cleanly and engagingly." —Publishers Weekly
"[A] stunning multigenerational portrait of one of the most complex families in American intellectual history . . . A golden bowl, brimming full." —Kirkus, starred review