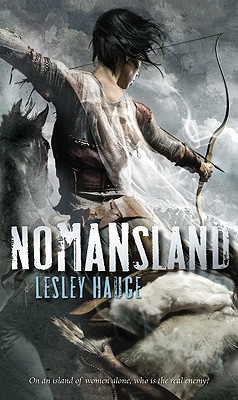 Nomansland (Hardcover)
Henry Holt and Co. (BYR), 9780805090642, 256pp.
Publication Date: June 22, 2010
* Individual store prices may vary.
or
Not Currently Available for Direct Purchase
Description
Sometime in the future, after devastating wars and fires, a lonely, windswept island in the north is populated solely by women. Among these women is a group of teenaged Trackers—expert equestrians and archers—whose job is to protect their shores from the enemy. The enemy, they've been told, is men.
When these girls come upon a partially buried home from the distant past, they are fascinated by the strange objects—high-heeled shoes, teen magazines, make-up—found there.  What are they to make of these mysterious things, which introduce a world they have never known? And what does it mean for their strict society where friendship is forbidden and rules must be obeyed—at all costs?
Reminiscent of The Giver but with a feminist twist, Nomansland is a powerful, shocking story that will challenge young readers' perspectives and provoke much discussion over the timely and controversial issues presented.
About the Author
Lesley Hauge was born in England and raised in Zimbabwe. She lived in Norway for many years before moving to her current home in Brooklyn, NY. This is her first novel.
Praise For Nomansland…
"Vividly imagined." —The New York Times Book Review
"This postapocalyptic novel will grab you from the first page and hold you long past the last. . . [Debut author] Lesley Hauge raises provocative questions about the value of beauty, who determines it and the ramifications of absolute authority." —Jennifer Brown, Shelf Awareness
"In Nomansland by Lesley Hauge, teenage girls protect their makeup-and mirror-free island against the enemy—men (a sequel is already in the works)." —Publishers Weekly, in a feature on Dystopian Fiction.
"Secrets revealed make for a compelling emotional journey." —Kirkus Reviews
"What Hauge really offers today's readers . . .  is the chance to look afresh at the strangeness of contemporary cultural artifacts we take for granted." —Horn Book Magazine
"Hauge offers a gripping study of nature versus nurture." —Publishers Weekly, in review section
 "I loved this story of discovery, secrets, and rebellion. Nomansland is an extraordinarily gutsy and intelligent read that will keep readers thinking long after they reach the last page." —Jocelyn Koehler, Bookseller, Boswell Book Company (Milwaukee, WI)
"Nomansland challenges the ways we think about our world by examining it through the lens of brainwashed and disillusioned teenagers looking for answers. Hauge stands every cultural norm on its head. . . .  Extremely compelling. The author put forth completely new interpretations of how our popular culture affects us and what it could mean years from now." —SLJ Teen, an online newsletter from School Library Journal; in its "The Interesting Reader Society" feature
"A stunningly bleak and desperate portrayal is effectively wrought here through eloquent prose, creating an atmosphere steeped in deception and mystery." —Bulletin of the Center for Children's Books
"Hauge is a fine writer and has a light hand with minor characters, and the nasty ones are especially well wrought." —School Library Journal
Advertisement